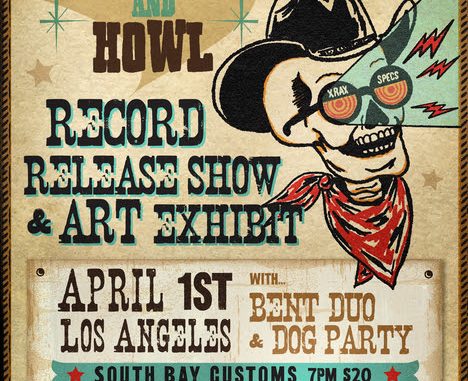 For New Jason Cruz and Howl Album Wolves
Strung Out Frontman Jason Cruz Announces Album Release Shows
For New Jason Cruz and Howl Album Wolves
In Partnership With Punk Rock & Paintbrushes
In Addition To Performing New Songs, Jason Will Also Exhibit
Original Paintings For Each Track On The Album
April 1: Los Angeles at South Bay Customs
April 21: Austin at Kick Butt Coffee

Strung Out vocalist Jason Cruz has partnered with Punk Rock & Paintbrushes for a pair of multi-disciplinary album release shows in Los Angeles and Austin this April in support of the new album Wolves from his outlaw folk project Jason Cruz and Howl. In addition to performing tracks from the new album, Cruz will also be exhibiting some of his artwork, including a new original painting for each song off the new album.
The scheduled shows include April 1 at South Bay Customs in Los Angeles, CA with support from
Bent Duo & Dog Party, and April 21 at Kick Butt Coffee in Austin, TX with support from Stacey Dee and Lin Le of Bad Cop Bad Cop, Josh Langford Music (featuring members of Starving Wolves and Krum Bums), Austin natives Paul Val and Josh Langford and a DJ Set from Greg Hetson from Circle Jerks. The April 21 date in Austin is the night before the kickoff of punk fest Punk in Drublic the weekend of April 22-23.
"For our new album Wolves, I've created a piece of artwork for each song. I wanted to make the album release more than just a band playing; I wanted it to be a show," says Cruz. "I've teamed up with Punk Rock & Paintbrushes to bring the art and music together for two nights. All ten song paintings will be on display along with some killer opening acts . Art is more than just about the things we create, it's how we choose to live and color our days."
Cruz has been working with Punk Rock & Paintbrushes for many years, including an art show for Cruz's book release party in 2019 as well as an art tour through Japan in late 2022.
Jason Cruz and Howl's
new album
Wolves
will be released April 7 under a new deal with Liars Club, the new label formed by
Amigo the Devil
and indie powerhouse
Regime Music Group
. See the music video for the album's lead single "Good Hands" at
https://youtu.be/RGdz6rlqHZA
. The song combines elements of Americana, pop and dark psychedelics that stray from the expectations that would normally shackle the frontman of a legendary punk outfit. Rooted in Americana and dark psychedelic murder folk,
Jason Cruz and Howl
flickers like late-night television noir, high on mescaline and American promises.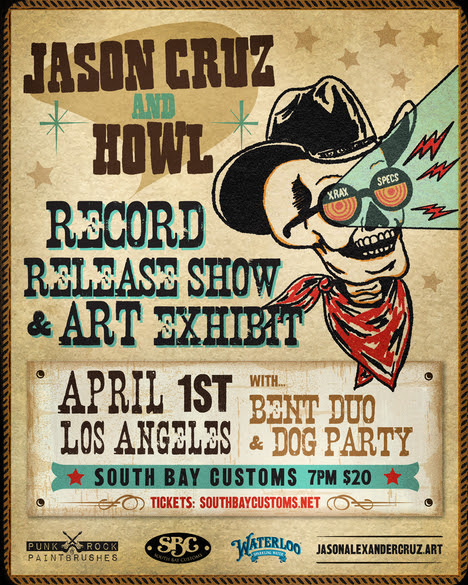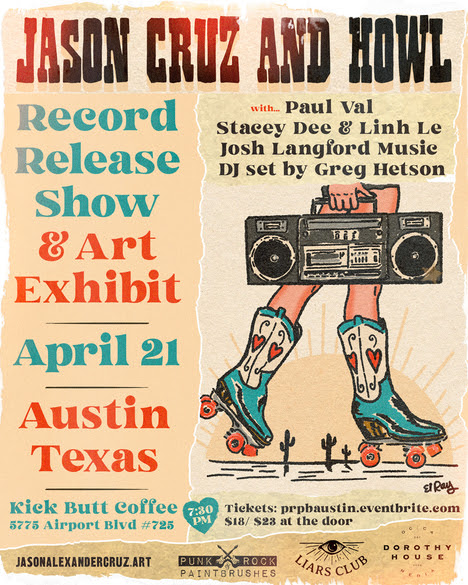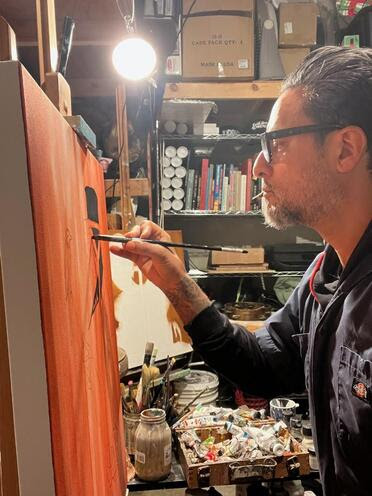 Jason Cruz in his studio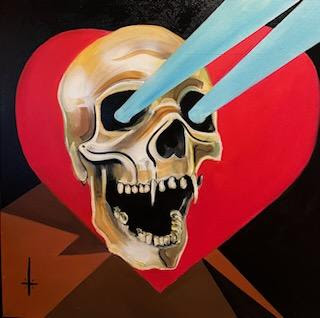 Sample of Jason Cruz's artwork: VAMPIRES is an original art piece that will be in both shows and has created from a track off the new album