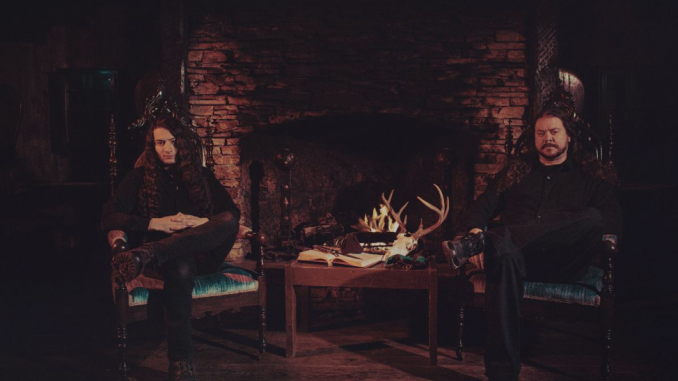 | | |
| --- | --- |
| Kicking off April 21 alongside Rotting Christ, Borknagar, and more! | |
Rising Black Metal outfit STORMRULER are ready to unleash their unique, Midwestern brand of fantasy-inspired black metal on stages all across North America once again! Earlier this year, the band announced that they had been invited to join the lineup for the 2022 Devastation on the Nation North American Tour. The trek kicks off on April 21st in Berkeley, CA, and concludes in Los Angeles, CA on May 22nd. A complete list of dates can be found below.
Speaking on joining this excellent lineup for the upcoming Spring trek, Jason & Jesse from Stormruler comment, "We're incredibly proud to announce that we'll be a part of this year's Devastation On The Nation tour supporting the mighty Rotting Christ and Borknagar. We are eager to lay siege alongside all of our fans across North America, leaving behind a sea of ash and embers."
STORMRULER on the "Devastation on the Nation" 2022 North American Tour
w/ Rotting Christ, Borknagar, Abigail Williams, Ghost Bath & Vale of Pnath
4/21 – Berkeley, CA – Cornerstone
4/22 – Portland, OR – Bossanova Ballroom
4/23 – Vancouver, BC – Rickshaw Theatre
4/24 – Seattle, WA – El Corazon
4/26 – Salt Lake City, UT – Metro Music Hall
4/27 – Denver, CO – The Roxy Theater
4/28 – Kansas City, MO @ BLVD
4/29 – Minneapolis, MN – Skyway Theatre
4/30 – Chicago, IL – Reggies *SOLD OUT*
5/01 – Detroit, MI – Sanctuary
5/03 – Toronto, ON – Lees Palace
5/04 – Montreal, QC – Foufounes Electriques
5/05 – Quebec City, QC – Imperial
5/06 – Manchester, NH – Jewel
5/07 – Brooklyn, NY – Saint Vitus Bar *SOLD OUT*
5/08 – Baltimore, MD – Soundstage
5/10 – Greensboro, NC – Blind Tiger
5/11 – Nashville, TN – Exit/In
5/12 – Birmingham, AL – Zydeco
5/13 – Atlanta, GA – The Masquerade (Hell)
5/14 – Tampa, FL – The Orpheum
5/16 – Houston, TX – White Oak Music Hall
5/17 – Fort Worth, TX – Haltom Theater
5/18 – Austin, TX – Come and Take It Live
5/19 – El Paso, TX – Rockhouse Bar
5/20 – Phoenix, AZ – Nile Theater
5/21 – San Diego, CA – Brick By Brick
5/22 – Los Angeles, CA -1720
STORMRULER – featuring the dark lyrical genius and deft skill of guitarist/vocalist Jason Asberry and drummer Jesse Schobel – have built a noteworthy subterranean following since their formation, leading to their recent signing with Napalm Records. Combining unrelenting black metal atmosphere and vision from varying metal genres with a brutal, modernized twist of inspiration, careful listeners may just be able to identify themes from some of their favorite stories, games, and more…
Featuring 19 tracks alternating between ominous instrumental ambiance and incendiary black metal riffs and fury, their latest album, 'Under The Burning Eclipse', tells harrowing tales of war, death, victory, and defeat, and delivers an unmatched, hellscaped auditory experience. The album is a solid hour of fantasy-laden, grim fables transfixed in blackened scourge. Fans of extreme metal will not want to miss this debut offering from the mighty STORMRULER!
STORMRULER – "Reign Of The Winged Duke" (Official Video)