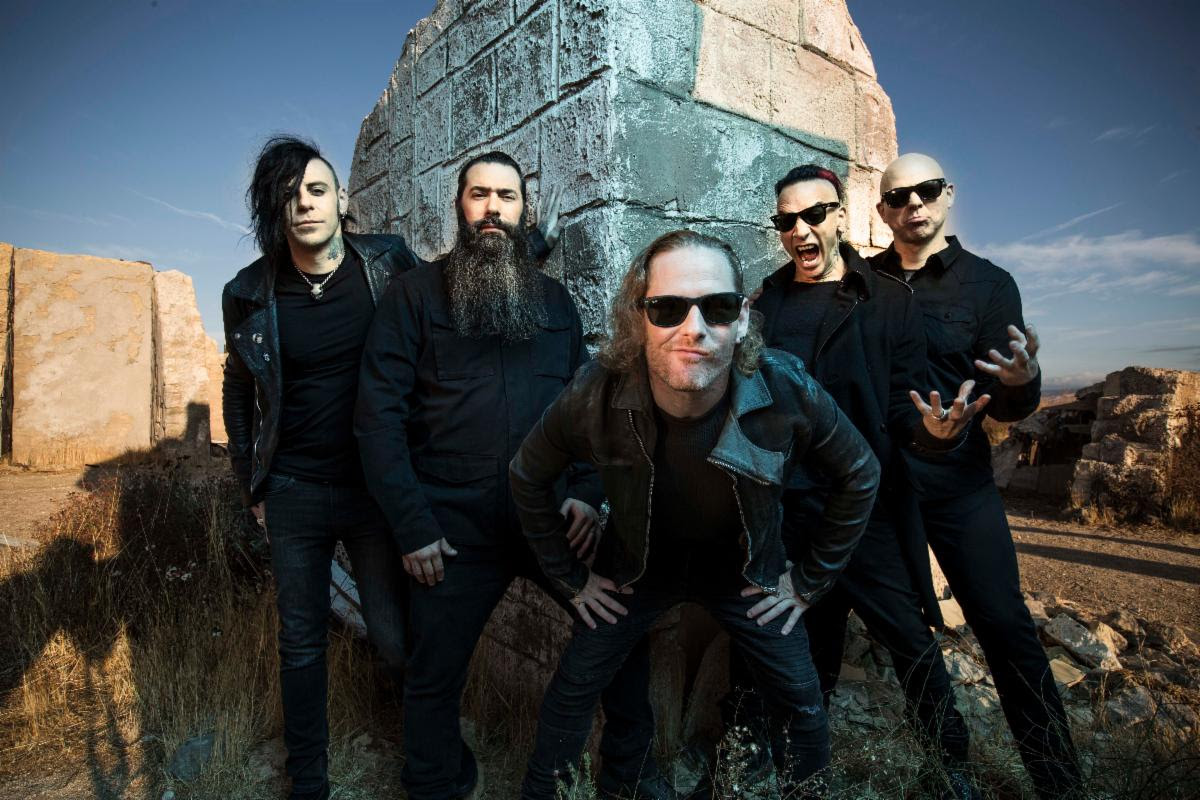 FIRST OFFICIAL LIVE ALBUM
'HELLO, YOU BASTARDS: LIVE IN RENO'
OUT NOW
100% LIVE – NO OVERDUBS!
16 OF THE BANDS MOST ACCLAIMED TRACKS, INCLUDING ABSOLUTE ZERO, THROUGH GLASS AND SONG #3
Friday, December 13th, 2019 – Internationally acclaimed, Grammy nominated rock five-piece, STONE SOUR have released their first official live album; 'Hello, You Bastards: Live In Reno' out now via Cooking Vinyl. Find the album
here
.
STONE SOUR shared the official live video for 'Whiplash Pants' taken from 'Hello, You Bastards: Live In Reno' earlier this week. Watch the video
here
and below.
'Hello, You Bastards: Live In Reno' is STONE SOUR's first official live album and features 16 of the band's most loved tracks, including Absolute Zero, Through Glass and Song 3 recorded live in October of 2018. The album will be available on CD, digitally, and as a numbered 180gram double vinyl package, limited to just 2500 copies, which also includes a poster, backstage pass, guitar pick, autographed setlist, and a download card. Vinyl pre-orders sold out in advance with a limited number will become available at select retailers when the album releases on December 13th. You can pre-order the album on CD and digitally at
stonesour.lnk.to/LiveInReno
and
eustore.stonesour.com
.
Speaking on the band's first official live release, guitarist Josh Rand says,
"This is the Reno show in its entirety, just how it went down on October 5th, 2018. We're extremely proud of the fact that it's 100% live with absolutely no overdubs! It's not perfect but neither are we. I hope you enjoy this as much as we did playing it."
'Hello, You Bastards: Live In Reno'

Tracklisting

1. YSIF

2. Taipei Person / Allah Tea

3. Do Me A Favor

4. Knievel Has Landed

5. Whiplash Pants

6. Absolute Zero

7. Bother

8. Tired

9. Rose Red Violent Blue

10. 30/30-150

11. Get Inside

12. Reborn

13. Song #3

14. Through Glass

15. Made of Scars

16. Fabuless
What The Press Are Saying About 'Hello, You Bastards: Live In Reno'
"Stone Sour have some great songs and they know how to deliver them in an effective, raucous fashion."
Kerrang!
"'Hello, You Bastards' captures Stone Sour in their creative and commercial sweet spot, serving up over an hour's worth of their greatest hits, with all of the shouting, solos, and banter you could want in a live album."
Metal Hammer
"The album isn't just real, but raw"
Billboard
"Hello, You Bastards: Live In Reno has captured the atmosphere, energy and passion of a live performance to magnificent levels."
Rock n Load Magazine
"Stone Sour are a brilliant band. "Hello You Bastards: Live In Reno" is a brilliant live record. The emphasis on the word "live" is all-important."
Maximum Volume
STONE SOUR's 2017 opus, Hydrograd, rocketed up global charts upon release, debuting at #1 on three Billboard rundowns: 'Top Current Albums,' 'Top Rock Albums,' and 'Top Hard Rock Albums.' It also debuted at #8 on the 'Billboard 200,' marking the band's fifth consecutive Top 10 debut. Hydrograd also racked up a #5 debut in the U.K. (the band's highest ever UK chart ranking), #2 in Australia (highest debut ever), and was Top 5 in Germany, Japan, and Switzerland. The album featured the singles
St. Marie
,
Rose Red Violent Blue (This Song Is Dumb & So Am I)
and the smash
Song #3
, which was #1 for five straight weeks on U.S. Active Rock Radio chart.
STONE SOUR unleashed their eponymous debut album in 2002 and were immediately acknowledged as one of the most significant new hard rock outfits of the 21st century when the release earned RIAA gold certification and singles Get Inside and Inhale each received GRAMMY® Award nominations for 'Best Metal Performance.' Come What(ever) May followed in 2006, making an even bigger splash, debuting on the Top 5 debut of the SoundScan/Billboard 200, plus a #1 entry on Billboard's 'Rock Albums' chart. The acclaimed collection spawned yet another GRAMMY®-nominated single in 30/30-150, whilst stacking up another RIAA gold certification. Come What(ever) May birthed a series of rock radio classics, including
Sillyworld
,
Made of Scars
, the #1 hit, Through Glass, which spent seven weeks atop Billboard's 'Hot Mainstream Rock Tracks,' while also reaching #2 on 'Alternative Songs' and a Top 40 slot on the overall 'Hot 100.' The song's companion video is also a fan favorite, with over 72 million views to date on
YouTube
alone.
STONE SOUR's 2012 sister LPs, the colossal House of Gold & Bones – Part 1 and House of Gold & Bones – Part 2, both made Top 10 debuts on the SoundScan/Billboard 200 just six months adrift of each other.
STONE SOUR is:
Corey Taylor (vocals)
Josh Rand (guitar)
Roy Mayorga (drums)
Johny Chow (bass)
Christian Martucci (guitar)