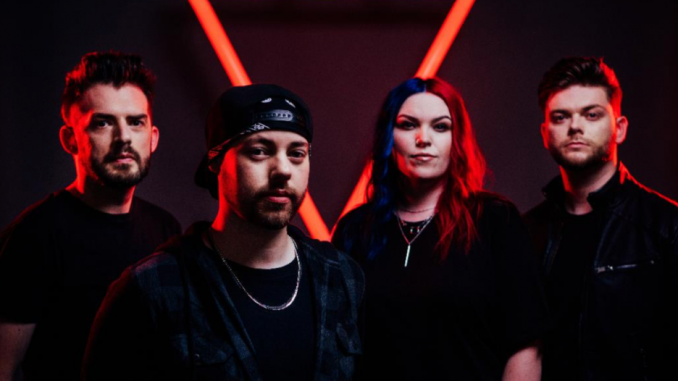 | | |
| --- | --- |
| NEW ALBUM REVELATION ARRIVES APRIL 15 VIA SPINEFARM | |
STONE BROKEN have shared the video for the new single "
Black Sunrise
." Watch it
here
.
Frontman Rich Moss says, "'Black Sunrise' explores the darker side of portrayal."
He continues, "Sometimes people only want to show a certain side of themselves, maybe even an exaggerated version or completely fictitious personality. The truth is, it's going to be hard to keep up the act. The mental impact will ultimately take its toll. This is where the title stems from: a 'Black Sunrise' doesn't exist; it's the opposite of reality."
Stone Broken will release their dynamic new studio album Revelation via Spinefarm
on April 15. Pre-order it here.
Borrn from a desire to push themselves into new realms of musical creativity, Revelation sees Stone Broken storming into rock's big leagues.
Watch the video for the title track and first single
here
.
Having partnered with award-winning producer and former SikTh guitarist Dan Weller (Enter Shikari, Holding Absence, Bury Tomorrow) back in early 2019, both artist and producer hit it off right from the get-go. Working remotely with Weller between Walsall and London, the band shared lots of new ideas, experimenting with aspects of electronic sound design and fusing different strands of their more straight-ahead hard rock with darker electro elements — something frontman Rich Moss and drummer/backing vocalist Robyn Haycock had long wanted to try.
Revelation is an album both for Stone Broken fans and for the band itself. And between the enforced COVID break and these exhilarating new elements that have been iincorporated into the music, the band and their Broken Army are ready to take on the world.
"We had a completely different approach on this record compared to our previous records," says Moss. "We wanted to try everything. We wanted to experiment, we wanted to build our sound from the ground up and totally re-imagine the 'Stone Broken Sound' — but without losing what we already had. It wasn't easy, not in the slightest. But we managed to break down a few walls to get there, and along the way had some awesome discoveries, like [drummer] Robyn now having more vocal duties across the whole record. It really works well and brings a whole new dynamic to our songs."
STONE BROKEN ARE (L–R IN PHOTO ABOVE):
Chris Davis —Lead Guitar
Rich Moss — Vocals + Guitar
Robyn Haycock — Drums
Kieron Conroy — Bass
STONE BROKEN SOCIAL MEDIA: