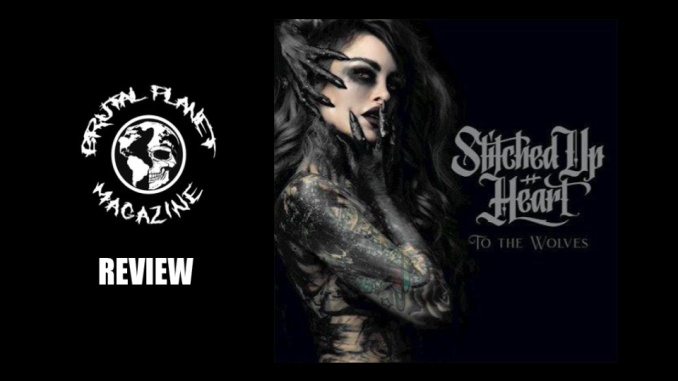 Los Angeles-based band, Stitched Up Heart (Alecia "Mixi" Demner- vocals, Merritt Goodwin- guitar, Randy Mathias-bass, James Decker-drums) has returned with a thunderous bang, delivering their third album, "To The Wolves," on September 1st through Century Media. The band made an impression in the scene with their 2016 debut, "Never Alone" and follow-up album, "Darkness" in 2020. While both of the albums are great, I would argue that "To The Wolves" is superior in every way. Compared to its predecessors, this album is much heavier and hits like a punch to the face. 
The first and title track "To the Wolves" is a solid introduction to the new standard the band decided to set.  The song features really low riffs, a great guitar solo, and guest vocals featuring Craig Mabbit of Escape the Fate. The song was released as the album's first single on May 16th. The official music video has already amassed over 100,000 views on YouTube and there is not a negative comment to be found. In their second single, "Possess Me," Mixi delivers raw emotion and powerful vocal delivery. Her growls are other-worldly and the song leaves listeners craving more ferociousness. "Immortal" is one of the strongest songs on the album and was released as the band's latest single. It's heavy and has a really catchy chorus. You'll love it.
In Brutal Planet's recent interview with Mixi, we learned that the band wrote this album differently than their previous albums. Mixi stated that "they stopped caring about what anyone else wanted us to do and just wrote the music we wanted to write." Any fan of Stitched Up Heart can tell that the band has matured since their early days, while not abandoning their roots. As a visual person, Mixi shared that the lyrics to the song "The Hunting," were written while she was sitting in the woods getting the vibe of a wolf hunting its prey. It's a strong track that will hopefully be a music video someday.
One of my favorite tracks is "The Architect." The song is about leaving a toxic relationship and the emotions that can stem from that. The song has a lot of aggression and angst and if you've ever been burned in a relationship, you will love rocking out to this one. I know this may sound cliche, but this album is the best the band has put out. It has a huge sound and my only issue is that my little earbuds can't handle how heavy it is. It's meant to be played loud I guess! Whether you've been a fan for a long time or just hearing them now, please give this album a spin. "To the Wolves" is packed with aggressive metal that you will want to sink your teeth into.