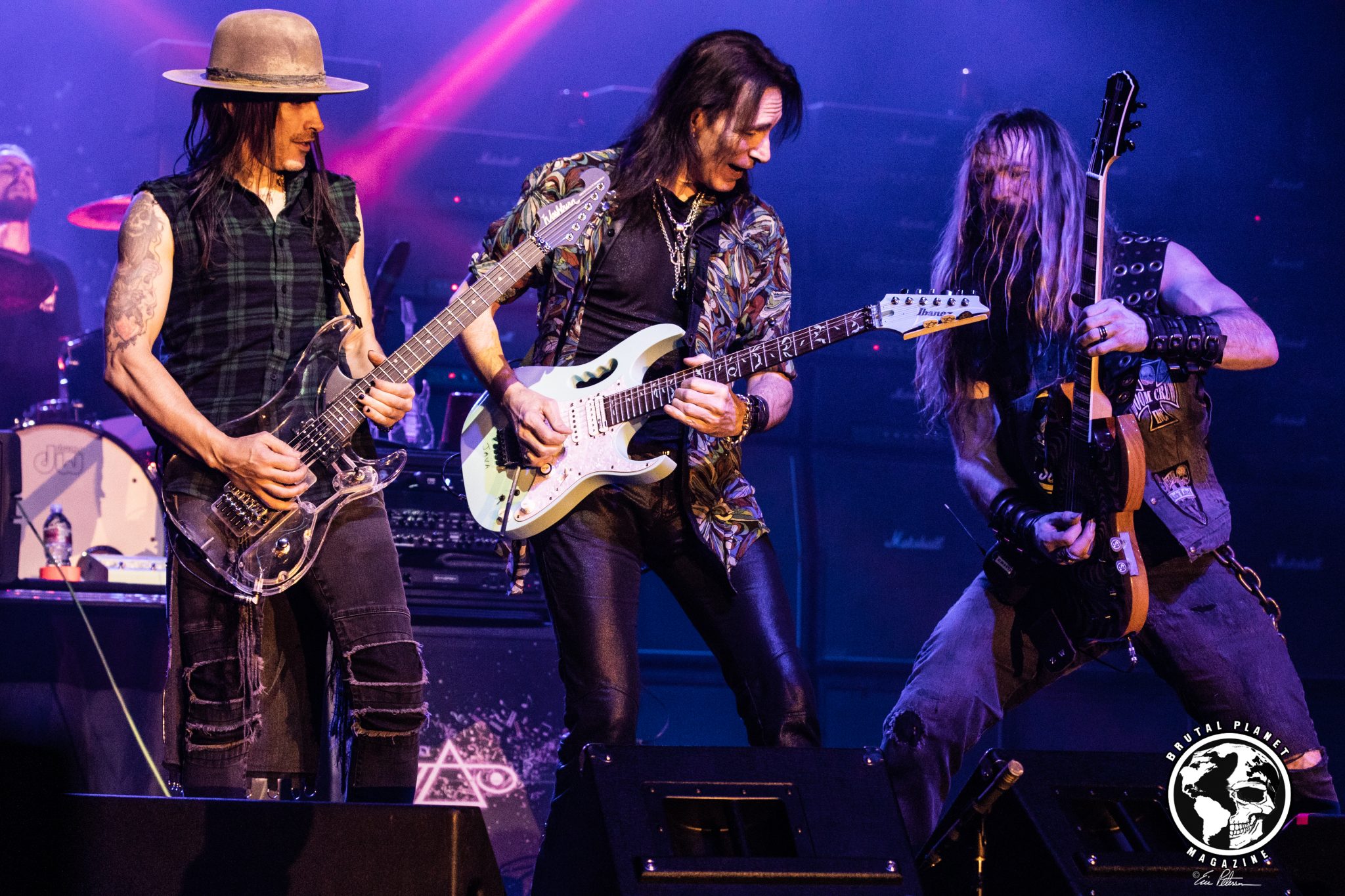 BILLBOARD PREMIERES "SIDEWAYS" HERE: 
www.billboard.com/articles/columns/rock/8510512/steve-vai-generation-axe-sideways-premiere
Pre-Order: https://GenerationAxe.lnk.to/GuitarsThatDestroyed
Hamburg, DE – Steve Vai, Yngwie Malmsteen, Zakk Wylde, Nuno Bettencourt, and Tosin Abasi, collectively Generation Axe, will release The Guitars That Destroyed The World (Live in China) via earMUSIC / Edel on June 28. The performance of "Frankenstein" can be previewed here: https://www.youtube.com/watch?v=5dsIXp3q2tU. Generation Axe first staged a North American tour in April – May, 2016, and then travelled to Asia in April, 2017. They returned to the road this past November and December, 2018 for an extensive 32-date tour of North America.
When asked which song performed captures the true essence of Generation Axe, Steve Vai shares, "For me, I might say that our arrangement and performance of "Highway Star" captures a good essence of what Gen-Axe is about. In this song we all came together and worked out a spectacular five guitar arrangement of this classic masterpiece, with an interplay of harmonies that is uniquely structured and potent. There are shifting solo sections tailor made for each guitarist, and a deep respect to the structure of wicked fast harmonies engineered around Richie Blackmore's historic solo. And then there's Yngwie's powerful vocal performances on this track too. It has a high degree of rock and roll energy in it." On Nuno Bettencourt's reflection, he offers, "Personally, 'Sideways'…was part of these connections we'd have with two of us from time to time throughout the show… It was great to see intimate numbers like 'Sideways' and 'Black Star' with Vai and Malmsteen."

For Steve Vai, the song most enjoyable to play within the set was the opening number "Foreplay." He offers, "I like the feeling of going out on the stage to open the show with the whole band, all the guitar players, and hitting that song. It's some great blow-away factor in it. But 'Highway Star' as the closer of the show, with everyone out there playing off of each other, is like living the childhood fantasy." For Nuno Bettencourt, it was "Frankenstein." He reveals, "
Everyone on stage and the audience probably thought that when these guys trade solos they are going for blood and try and cut each other's heads off. Which is the norm for typical guitarists. But instead, what was beautiful is we had an amazing, and fun conversation using our own voices, techniques and notes. So, to me, the conversation we have with each other on stage using guitars, symbolized what Gen Axe was all about. A village, a community, respect for each other's art and skill."
The complete track listing features: Generation Axe – "Foreplay"; Tosin Abasi – "Tempting Time"; Tosin Abasi and Nuno Bettencourt – "Physical Education"; Nuno Bettencourt – "A Side of Mash:' Nuno Bettencourt and Zakk Wylde – "Sideways"; Zakk Wylde – "Whipping Post"; Steve Vai – "Bad Horsie"; Yngwie Malmsteen ' "Valhalla" / "Baroque n Roll" / "Overture" / "From a Thousand Cuts" / "Arpeggios from Hell" / "Far Beyond The Sun"; Yngwie Malmsteen and Steve Vai – "Black Star"; Steve Vai, Zakk Wylde, Nuno Bettencourt, and Tosin Abasi – "Frankenstein"; and Generation Axe – "Highway Star." Generation Axe: The Guitars That Destroyed The World (Live In China) will be released as a CD digipack, limited edition colored 2-LP set with download, and digitally by earMUSIC on June 28. Additional repertoire from this event release will be revealed in the coming weeks.
Many artists fit easily into a single category, while Steve Vai remains unclassifiable. He is a virtuoso guitarist, visionary composer, and consummate audio producer who sculpts musical sound with infinite creativity and technical mastery. He is one of the most in-demand, versatile, eloquent and soulful guitarists in the business. The GRAMMY Award-winner has sold over 15 million albums and toured the world as a solo artist, a member of G3, and with Frank Zappa, Alcatrazz, David Lee Roth, and Whitesnake. Vai launched his successful solo career with the release of Flex-Able in 1984 and has written, produced, and engineered all of his solo albums. He has appeared as a guest artist on more than 40 albums and created music for blockbuster films, best-selling video games, national sports franchises, and corporate brand initiatives. Vai has earned honorary doctorates from Berklee College of Music and Musicians Institute. For more info, visit: www.vai.com.
GRAMMY Award-winner Zakk Wylde's legendary career includes a lengthy tenure with Ozzy Osbourne in which Wylde co-wrote and recorded several albums, including the multiplatinum No More Tears, Osbourne's largest selling solo album featuring the classic hit single, "Mama, I'm Coming Home" and the bulk of the double platinum 2002 set, Ozzmosis. With Osbourne, Wylde has played on countless world tours and television appearances, with his signature bullseye Les Paul in tow. Wylde has his mitts imprinted on Hollywood's Rock Walk of Fame; guest-starred alongside Mark Wahlberg and Jennifer Aniston in the movie "Rockstar"; and even momentarily joined Axl, Slash and Duff in Guns N' Roses. But nothing offers the pure expression of Zakk Wylde's animalistic "id" like Black Label Society, the stomping, heavy, bluesy, recklessly unhinged hard-rock-metal quartet who are quick to rip up a solo as to dip into a piano-fueled anthemic ballad. For more info, visit: www.zakkwylde.com.
When Yngwie J. Malmsteen hit the scene in the early 80s, he turned the entire guitar world upside down. Never before was guitar playing like his ever heard. Drawing inspiration from his love for Baroque and Romantic classical music, Malmsteen employs classical violin techniques such as four and five octave arpeggios, pedal notes, and harmonic minor, diminished and Phrygian scales, flawlessly delivered at mind-boggling levels of speed and clarity. In doing so, he has singlehandedly created a brand-new style of guitar playing and composing that is still derived from today. In addition to having written and produced 35+ neoclassical rock albums, Malmsteen composed and orchestrated the "Concerto Suite for Electric Guitar and Orchestra," which he recorded with the prestigious Czech Philharmonic in Prague, conducted by Yoel Levy of Atlanta Symphony fame. Malmsteen subsequently performed the piece live with the New Japan Philharmonic and the Taipei Symphony, among others. Malmsteen has received numerous Grammy nominations, hundreds of magazine covers, dozens of Reader's Poll and Composer of the Year Awards, a plaque on the Rock Walk of Fame, signature model guitars, amps, pickups, strings, picks, pedals, microphones, and more. TIME Magazine placed him as one of the top ten guitarists of all time. Some 35 years and 25 million+ album sales later, Yngwie shows no signs of slowing down. Recently, he released a new studio album titled Blue Lightning. For more info, visit: www.yngwiemalmsteen.com.
Guitar virtuoso, singer-songwriter, and record producer, Nuno Bettencourt rose to international prominence as a guitar player with the GRAMMY-nominated, Boston-area band EXTREME, one of the most successful rock acts of the early to mid-1990s selling over 10 million records worldwide. Musically, EXTREME is dominated by Bettencourt's blistering guitar riffs, often with funky, syncopated timing, and incendiary, high-speed rock/metal solos. Bettencourt penned the acoustic ballad "More Than Words" that went to #1 on the Billboard charts and "Hole Hearted" that reached #4. He has released multiple solo albums as well as with bands he founded including Mourning Widows Population 1, Dramagods and Satellite Party. Bettencourt has written, produced and performed with many legendary artists including Rihanna, Steven Tyler, Paul McCartney, Janet Jackson and many others. For more info: www.nunobettencourt.com.
Oluwatosin Ayoyinka Olumide Abasi, better known as Tosin Abasi, is a Nigerian American guitarist known as the guitar player and founder of the instrumental progressive metal band, Animals as Leaders. Abasi's compositions of intricate music have garnered critical acclaim in a few short years. Abasi is part of the breed of new contemporary players who are raising the bar on the concept of electric guitar virtuosity. His approach to the guitar stems from a passion for advanced techniques and harmony. Using 7-, 8-, and 9-string guitars have allowed Abasi to create a highly unique and individual sound. For more info, visit: www.facebook.com/ animalsasleaders
In front of the last North American tour, Steve Vai shared, "The Generation Axe experience goes way beyond simply gathering five guitar greats on one stage to jam. The idea was to create a seamless show with one backing band and 5 completely accomplished and astonishing guitarists that take to the stage in various configurations, performing some of their solo music and merging together as cohesive co-creators of lushly orchestrated guitar extravaganzas. Guitar Jams like this can get really messy when there is no organization and my idea was to create parts for everybody to play in harmony and off each other so it's not a mess of noise. This worked out remarkably well. There are places where everyone is playing together in wild harmony."