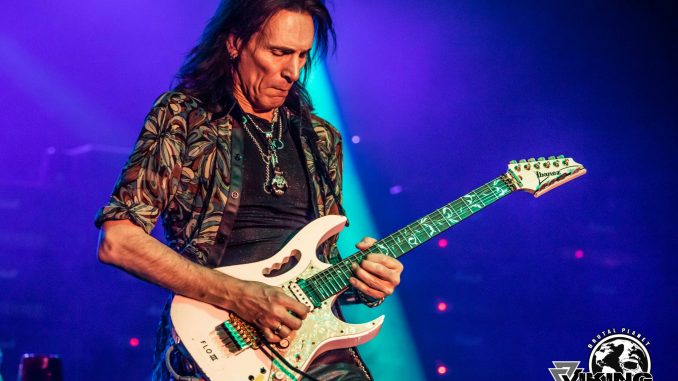 NEW STUDIO ALBUM INVIOLATE OUT ON JANUARY 28
LP Will Follow On March 18
View "Zeus In Chains" Video Here: https://youtu.be/gJkek77UV8g
Pre-Order Here: https://smarturl.it/steve_vai
Los Angeles, CA – Steve Vai and Favored Nations / Mascot Label Group have presented an official visualizer for "Zeus In Chains." The composition is featured on Vai's upcoming studio album titled Inviolate which will be released digitally and on CD January 28, 2022. The LP will follow on March 18. To view, click here: https://youtu.be/gJkek77UV8g.
Steve Vai shares, "The title for this track 'Zeus In Chains' was told to me by the track when I was listening back and asked it… 'What's your name'? This happened during the heavy guitar breakdown with the dissonant high note that happens right before the solo. It sounded like Zeus in Chains. Hey, it's art. You can make up anything you want and it's legitimate."
Just prior to the new year, Vai and Favored Nations / Mascot Label Group presented an official music video for "Little Pretty," which captured the artist performing in his inner sanctum also known as "Harmony Hut" which can be screened here: https://youtu.be/bkrmzVMWlLo.
Over the course of a more than 40-year career, Steve Vai has routinely transformed what would appear to be outrageously impossible into something very, very possible… and still also pretty outrageous. From his days as Frank Zappa's "stunt guitar" player to his more recent expansive and exploratory solo work, Vai has continually challenged notions of traditional guitar playing and composition – and on more than one occasion even reimagined the very instrument itself.
Vai's newest and 13th solo album, Inviolate, is a nine-song opus that pushes the boundaries of instrumental guitar music. The body of work presents his most focused, streamlined and perhaps invigorating music in years. "It's very 'Vai,' whatever that means," he says, and then laughs. "Someone else might be better than me at explaining what that is. But it's just very honest music. Because a lot of my records, they're long and there's a lot of concepts and playing around with stories. This one has none of that. This is nine pretty dense all-instrumental compositions that I wanted to capture and record so I could get out there and play them live for people."
"An inviolate inspiration is one that comes to you completely pure," Vai explains. "It appears almost in its completeness, and there's a recognition of it as being right for you – perfectly right for you. There's no excuses in it. There's no fantasy in it, just enthusiasm. There's a recognition of 'yes.' And then you capture that in a way that's authentic to your unique creativity, and I feel as though that's what I've done with this record."