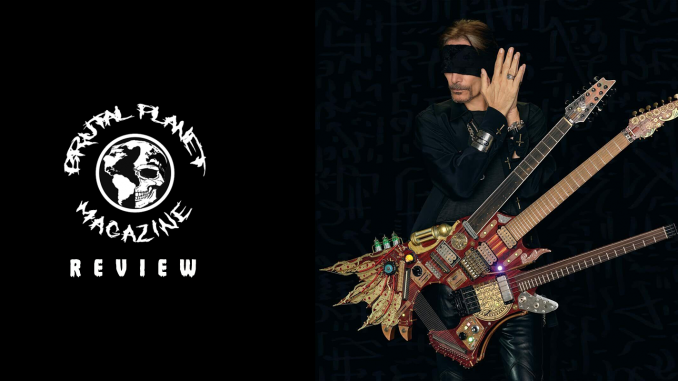 Review by: Emily Tipping
In Greek Mythology the Hydra is a reptilian monster with a crocodile body and multiple snake-like heads. It was believed that if one head was cut off, two would grow in its place. Only the strongest would dare test their skills against this fearsome creature. Steve Vai is poised to bring this blood-poisoned beast back to life, creating his own "Hydra." In conjunction with Ibanez designers at Hoshino, this triangular, one-bodied, two-headstock-ed, three-necked colossus has seven-and 12-string guitars, a four-string bass, sympathetic heart strings, half-fretless necks, single-coil humbucking, piezo and sustainer pickups, floating and hardtail temolo bridges and phase splitters. Now, what do you do when you re-create such a serpent? You tame the beast and chronical the journey to celebrate the victory. Inviolate is that victory, and it drops January 28th, 2022.
Vai perfected the Hydra in his free and safe space dubbed "Harmony Hut". With quarantine time on his hands, he really dug into his musical theory knowledge for this album. "Teeth of The Hydra", the first cut, is made up of a mystical sound like the beginning of a futuristic movie. It was said that the teeth of a Hydra had the ability to raise skeletons from the dead. Ironically while listening to "Teeth of The Hydra," it felt like at any moment the skeleton of Zappa would rise to celebrate its glory.
"Zeus in Chains" is next, and it fits right in with the mythological motif, melting your face off with strong string bends and hard-driving drums.
The third track, "Little Pretty" is a funky jazz-infused rock-opera type followed by the groovy "Candlepower". Next is "Apollo in Color," which is like a blend of an orchestral rock with metal mixed in. "Knappsack" thrills with his recognizable style of fast fingers running all over the neck.
"Avalachna" conjured memories of an 80's metal sound that Steve is best known. "Greenish Blues" is a slow, smoldering blues ballad. Lastly, "Sandman Cloud Mist" really makes you feel like you could float above it all and escape.
Inviolate is a masterpiece-of-a-record fit for those who dare walk with warriors.
This guitar Godfather is not only a composer, singer, songwriter, producer, beekeeper, but also a philanthropist working with young musicians to provide music education through his "Make A Noise Foundation". Vai is also a three-time Grammy award winner and fifteen-time nominee. He's known to have been Frank Zappa's transcriptionist and played with Whitesnake as well as David Lee Roth.
All that said, Steve's solo work has separated him from the rest. This virtuoso has created one of his greatest albums in 2022 with Inviolate. He created a beast and was destined to tame its strings, so he could bring this odyssey to the masses. January 28, 2022 is the day the adventure begins, so pick up your copy of Inviolate on Mascot Label Group and let the journey begin.