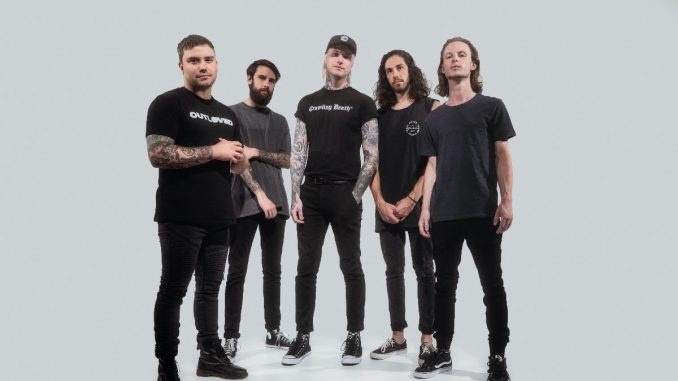 NEW ALBUM HELP ME, HELP YOU OUT MARCH 26 VIA SHARPTONE RECORDS
STEPSON, the high-octane punk/hardcore outfit from Brisbane, Australia, have revealed new details regarding their forthcoming full-length. Help Me, Help You will be released worldwide on March 26 via SharpTone Records.
The band has also shared the video for the new single "Deeper Sleep." Watch it here.
"'Deeper Sleep' is about the insecurities and subconscious frailties that surface while we are dreaming," the band says about the song. "Everyone at some point has had a dream or nightmare that feels all too real. The lyrics of 'Deeper Sleep' represent that, but more specifically, the way we get treated if we have done something to someone we love in a larger-than-life dream and they have projected it back onto us."
Singer Brock Alan Conry explains a little further, saying, "'Deeper Sleep' is also about the inner turmoil experienced every day from past trauma can affect present and future relationships to the point where even dreams feel real. Insecurity is contagious and unfortunately can be transferred from person to person. This song is a helpless plea to help someone they love and care about from their own mind."
"Deeper Sleep" is the most outside-the-box track that Stepson have released to date. "We tried to do a lot of different things, technically, like dance beats, more staccato guitar work, and a solo toward the back end that makes for a really cool crescendo," the band shares. "The song is a toe-tapper that carries a genuine sense of motion that makes you want to break out into a boogie at any given moment."
Stepson are eager to release Help Me, Help You — after a turbulent 2020 and the disappointment of delaying not only their debut album but also their maiden European voyage, due to the COVID-19 pandemic we've all been dealing with. "We are so proud of Help Me, Help You for many different reasons, but the main focus is the diversity and range of genres and influences we have been able to capture across the 11 tracks," the quintet explains. "We are all inspired by different musicians and artists and to have that represented in our music is really exciting! We'd like to think that everyone — mums and dads, emos and lads — can all find at least one song they dig musically or connect to lyrically and we can't wait to hear what everyone's favorite songs are!"
HELP ME, HELP YOU TRACK LISTING:
"Learning To Let Go"
"Run"
"Deeper Sleep"
"Who Are We"
"The Entire History Of You"
"I Wish"
"Dilemma"
"Come With Me"
"Hush" Feat. Zach Britt
"The Shift, The Blur"
"Say Something"
STEPSON ARE:
Brock Alan Conry — Vocals
Jayden Ridley — Bass/Vocals
Nick Bennett — Guitars
Robert Suthern — Guitars
Jordan McDonald — Drums