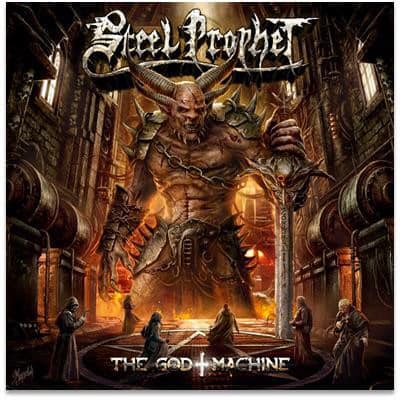 US Power metal legends Steel Prophet return with their new album The God Machine, five long years after the release of their last album, Omniscient, only this time they have recruited the extraordinary voice of R.D. Liapakis of Mystic Prophecy.
The album, the bands tenth, features long time and only original member remaining guitarist Steve Kachinsky, who also co-produced the release with Liapakis. They have made an incredibly guitar oriented album that not only has thunderous hooks, but Liapakis' unique voice takes these songs to a new level for Steel Prophet.
Leading off the album is the title track, a full frontal attack like no other from Kachinsky and drummer John Tarascio even before Liapakis' voice takes the song over. Right then, I knew why Kachinsky chose R.D. for vocalist duties. If heavy and brutal is what they were seeking, they got my full attention here.
"Crucify" was up next and it's more of the same here with brutally smashing drums and a guitar harmony that keeps the song fueling forward like a freight train. Let's not forget second guitarist Jon Paget and bassist Vince Dennis as well who shine just as bright on this song.
"Buried and Broken," one of the surprises on the album, starts off slow and then becomes a powerful, melodic masterpiece. This song, maybe among all others, showcases Liapakis' vocal range as he is truly the perfect piece for this band.
My personal favorite on this album is "Dark Mask(Between Love And Hate)." This is the song that just screams out in my opinion that Steel Prophet are back and here to stay. Melodic and crunchy, this song just stood out from all the rest.
"Soulhunter," is just fantastic if I had to choose one word and only one word. The music reminded me of early Iron Maiden. Again, Kachinsky and Paget trade off riffs and just take control of the song.
The album comes out on April 26th on Rock of Angels Records and God willing, these guys will be going out on tour to play these songs live for us.