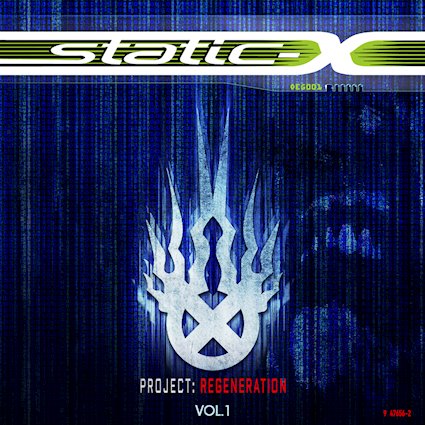 Since the release of their debut album, "Wisconsin Death Trip" in 1999, the Los Angeles-based band, Static-X, has been a refreshing source of creativity and energy in an era of nu-metal bands that all come from a generic mould. The band took a heavy dose of industrial metal, threw in a bit of disco beat, and a splash of electronic samples to give their fans 6 incredible albums over the course of the following decade. When the band went on hiatus after the release of "Cult of Static," fans were disappointed but clung to hope that after some time and a few side-projects, the band might join back together and write some new music. However, when vocalist Wayne Static died tragically on November 1, 2014, Static-X fans knew that was the end of the band- and it was for many years. No one would ever be able to replace or create songs like Wayne…that is, until the regeneration.
One of the definitions of the word "regenerate" is to "bring into renewed existence" and that is exactly what Static-X did. "Project: Regeneration Vol. 1" is the band's seventh studio album and will be released on July 10, 2020. The album features many of the last recordings of vocalist Wayne Static. Drummer Ken Jay has been quoted saying, "While hearing Wayne's voice again provided some incredibly emotional moments for us all, the feeling I've ultimately gotten from being in this band and from making music together is FUN… I hope that everyone who listens to this album feels the same way."
The band's first single to be released in over ten years was "Hollow." It was released February 7th and is exactly what you would expect from the band- fast upbeat riffs, electronics, and menacing growls. Likewise, the second single, "All These Years," (released May 14th) keeps the band's signature sound, but leaves a haunting feeling as Wayne belts out, "visions of hell consume my thoughts" and "my fainting hopes have disappeared."
One of the most satisfying aspects of "Project: Regeneration Vol. 1" is having the original lineup of members at the helm. While Wayne Static's vocals are wonderfully distinctive, the band similarly deserves acclaim for their recognizable work. "Terminator Oscillator" delivers a constant thunder from drummer Ken Jay's double pedals and a deep roar from Tony Campos bass. Thanks to guitarist Koichi Fukuda, "Accelerate" gives listeners a steady dose of crunchy tone, and "Worth Dyin' For" will be sure to satisfy with its swing-like riffs. The band stays true to keeping an "Otsego" song on each album, and the latest installment, "Otsego Placebo" might be the heaviest song the band has written in its twenty-six-year existence. The last track, "Dead Souls" slows the tempo down and features guest vocals by Al Jourgensen of Ministry.
Long-time fans of Static-X will not be disappointed with Project: Regeneration Vol. 1" It is evident that the band has worked extremely hard exorcising the last known recordings of Wayne's vocals and writing an incredible album in honor of their legendary frontman. Static-X has proved regeneration is not only possible, but thrilling and monumental.