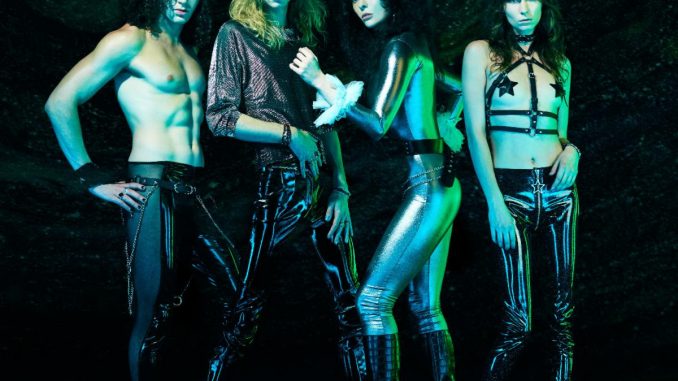 Friday, May 27, 2022 – Atlanta-based glam punk rockers Starbenders have dropped their new single "If You Need It" and the accompanying music video via Sumerian Records. Speaking about the inspiration behind the track, Kimi Shelter commented:
"The band recorded 'If You Need It' during a very difficult time in our lives. The sands were shifting beneath our feet as we stood in the studio. The sentiment of the song is captured in the chorus, "I've got love if you need it, drugs to keep it even. I can't take the pain." It's impossible to fix people and that doesn't mean we didn't love them enough or do enough. Pain is a dignity that we alone have to transmute. The result is a metallic clash between feathers and switchblades."
Prior to today, Starbenders released their track
"
Seven White Horses
"
, as well as their deluxe album "Love Potions (Zodiac Deluxe)" which has five additional songs captured during the making of their full-length debut "Love Potions", including a Celtic-tinged, mandolin-laced interpretation of their single "BITCHES BE WITCHES" along with a trip-hop, nineties inspired remix of "Push". Watch the music video for "If You Need It"
here
or at the link below.
WATCH: Starbenders' New Music Video For "If You Need It"
"If You Need It" Single Artwork
Starbenders fans also have the chance to see the band hit the road starting next week. For ticket information, please click
here
.
Starbenders Tour Dates:

June 1 – Atlanta, GA @ Purgatory at The Masquerade

June 3 – Nashville, TN @ Exit/In

June 4 – Durham, NC @ Motorco Music Hall

June 7 – Philadelphia, PA @ Kungfu Necktie

June 8 – Brooklyn, NY @ Knitting Factory Brooklyn

June 9 – Cambridge, MA @ Sonia Live Music Venue

June 13 – Buffalo, NY @ Rec Room

June 14 – Columbus, OH @ Big Room Bar

June 16 – Detroit, MI @ El Club Detroit

June 17 – Indianapolis, IN @ Hi-Fi

June 19 – Minneapolis, MN @ 7th St Entry

June 21 – Denver, CO @ Marquis Theater

June 22 – Salt Lake City, UT @ The Beehive

June 25 – Portland, OR @ Holocene

June 29 – Sacramento, CA @ Goldfield Trading Post

July 1 – Los Angeles, CA @ The Moroccan Lounge

July 2 – San Diego, CA @ Soda Bar

July 3 – Phoenix, AZ @ Valley Bar

July 6 – Dallas, TX @ Dada Dallas

July 7 – Houston, TX @ The Secret Group

July 9 – Orlando, FL @ HENAO Contemporary Center

July 10 – Jacksonville, FL @ Jack Rabbits Live
There really isn't anyone else out there doing what Starbenders have been since forming in 2014: The intoxicating combination of '70s glitter and '80s glam with new wave and new romantic, seduced into this new decade by four thrilling musicians (bassist Aaron Lecesne, guitarist Kriss Tokaji, drummer Emily Moon) and, in frontwoman Kimi Shelter, one of the most exciting songwriters in contemporary rock & roll.