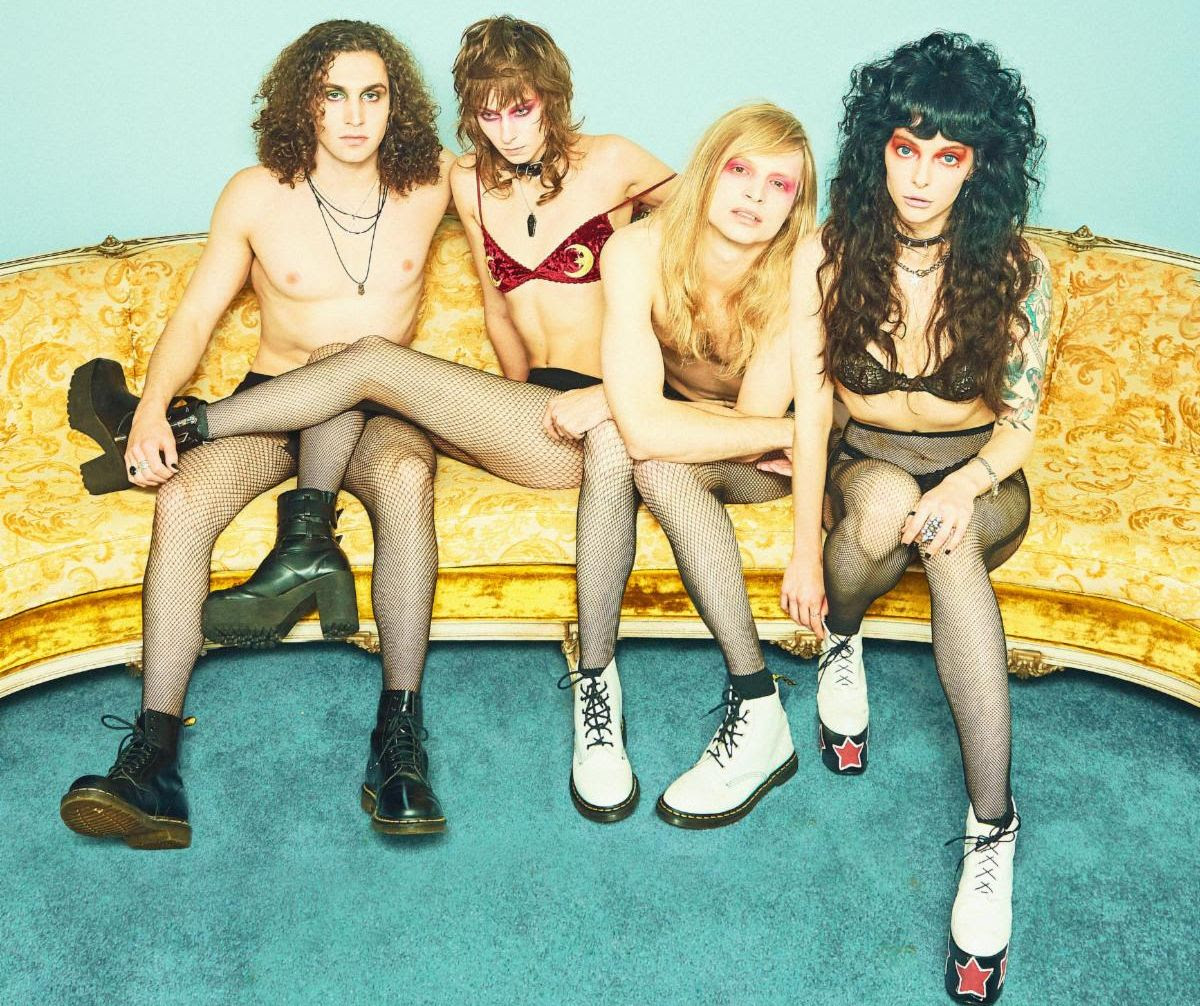 "It's such a wonderful thing when a new band pops up that is so exciting, so impossible to ignore, that not only do they stand out from the pack, they positively leap out of it and hang off of your ears. Atlanta's Starbenders did exactly that."
– LA Weekly
Friday, February 14th 2020- Atlanta glam punk four piece, STARBENDERS have released their hauntingly unpredictable brand of rock n roll alchemy upon the world with their new album 'Love Potions'. The band have also announced a run of live shows with Doll Skin and a special, one-off show opening for The Struts in their hometown of Atlanta. Listen to 'Love Potions' on your streaming platform of choice by clicking
here
.
With a unique combination of ethereal fragility, magnetic rock n roll swagger, perfectly crafted pop choruses and punk rock fury, frontwoman Kimi Shelter and her glamorous gang of misfits cast a captivating spell with the 14 track sonic grimoire that is 'Love Potions'. The album features previously released singles '
Holy Mothe
r
' and '
London
' (watch the video below). Speaking on the upcoming release, Kimi Shelter opines:
"There comes a time when dreams turn into reality. We have to be careful what we wish for, as anything goes in the land of our creation. The friction of this existence is my deepest source of inspiration. The making of 'Love Potions' pushed us beyond the walls of our perceived limitations. This record is a living diary of a band that exists between two worlds. Please be warned that upon listening, you will become a part of a ritual that is in motion. You will be a part of our story. If you're with us, you must be kind, you must be brave and above all, you must be free."
'Love Potions' is STARBENDERS first full-length release with world renowned independent label, Sumerian Records and follows the announcement of their signing last year. B.I.J.Records will be releasing 'Love Potions' in Japan on March 14th, with exclusive bonus tracks and spring dates in Tokyo to be announced soon.
STARBENDERS | LOVE POTIONS

Sumerian Records

Release Date: February 14th 2020

1. Hangin' On Tonight

2. Getting Harder

3. Precious (feat. Remington Leith)

4. Holy Mother

5. BITCHES BE WITCHES

6. London

7. Push

8. Never Gonna Die

9. Cover Me

10. Can't Cheat Time

11. Coming Up Roses

12. Down & Out

13. Something Ain't Right

14. One Of Us
STARBENDERS will be hitting the road in support of 'Love Potions' with a run of shows with Doll Skin starting March 29th in Westland, MI through April 10th in Portland, OR and will also be playing a one-off show in their home town of Atlanta as direct support for The Struts when they play The Masquerade on June 13 in association with Alt 105.7.
STARNBENDERS Live

3/29 – The Token Lounge, Westland, MI*

3/31 – The Garage, Twin Cities, MN*

4/1 – Lefty's, Des Moines, IA*

4/3 – Herman's Hideaway, Denver, CO*

4/5 – Liquid Joes, Salt Lake City, UT*

4/7 – The Pin, Spokane, WA*

4/8 – El Corazon, Seattle, WA*

4/10 – Cruzroom Annex, Portland, OR*

6/13 – The Masquerade, Atlanta, GA+

* With Doll Skin

+With The Struts
There really isn't anyone else out there doing what STARBENDERS have been doing since forming in 2014: The intoxicating combination of '70s glitter and '80s glam with new wave and new romantic, seduced into this new decade by four thrilling musicians and, in frontwoman Kimi Shelter, one of the most exciting songwriters in contemporary rock & roll.
The band is completed by bassist Aaron Lecesne, guitarist Kriss Tokaji and drummer Emily Moon, with Moon making her full-length debut with the band on 'Love Potions'. The album sees the band moving in a more adventurous and slightly experimental direction. Speaking on the process of creating 'Love Potions', Shelter adds
"It's really interesting to see it bloom into what it is now, I guess us leveling up as far as musicians go, and having to be capable of pivoting — be decisive and be resourceful in the midst of creating as well — has really shaped us. The sound has captured this sort of restless, relentless side of my spirit. We got to that very hungry place and, as a writer, my voice started to become more confident, while it became more vulnerable. As a band, we've been doing some big tours in-between the recordings and have been playing live quite a bit. The violence of the stage has shown up in our sound as well."
Open your minds and ready your souls, STARBENDERS are coming for both.
STARBENDERS are
Kimi Shelter – Vox & Guitar
Aaron Lecesne – Bass
Emily Moon – Drums
Kriss Tokaji – Guitar