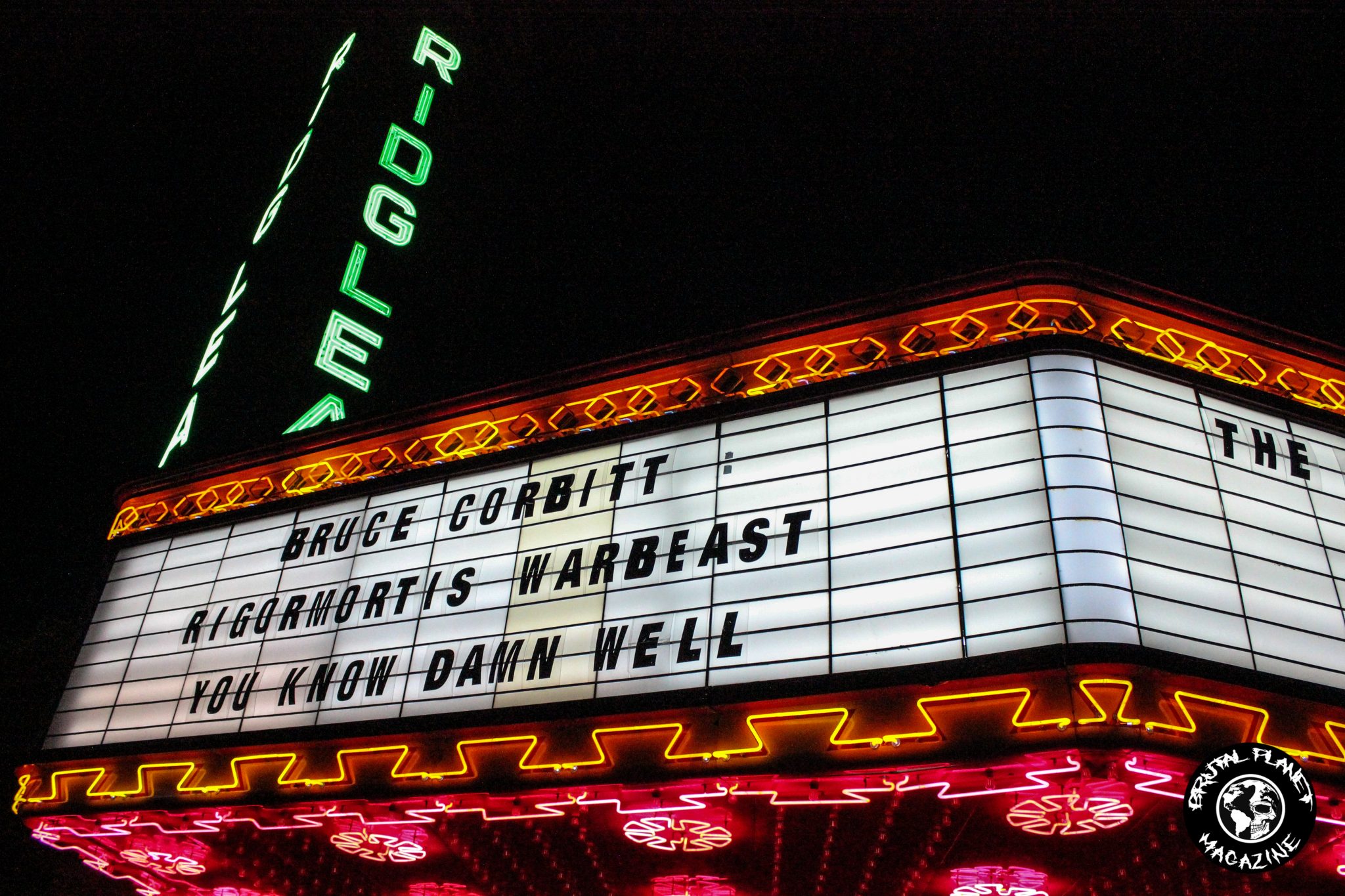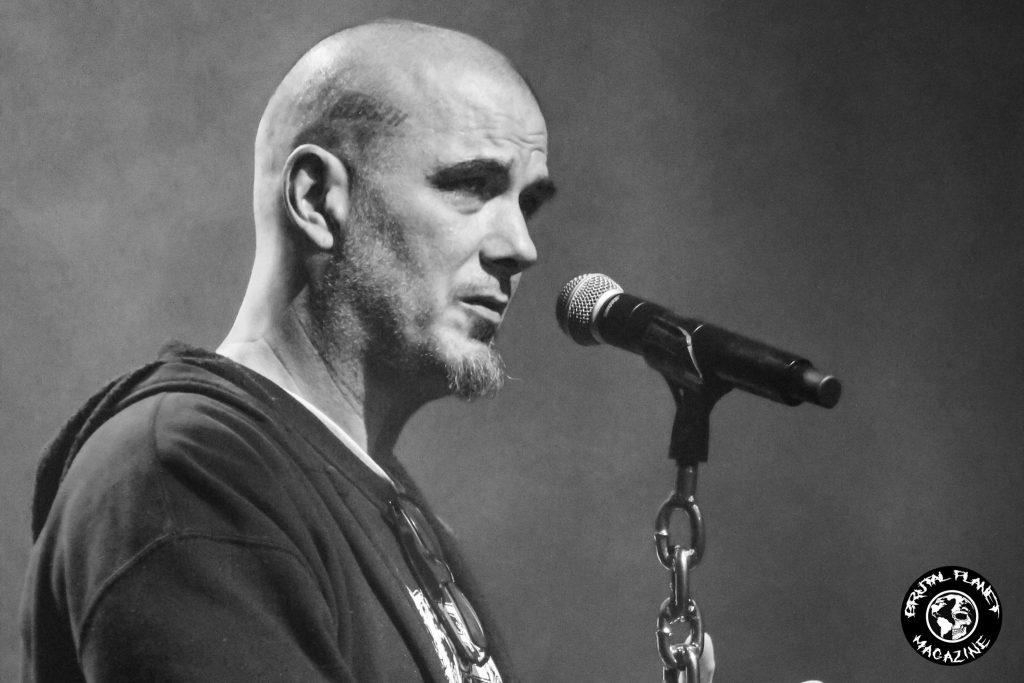 The Dallas Fort Worth music scene has taking some serious hits since the 2000 Millennia with musicians passing on and soaring away with their wings. From classic rock rockers to metal legends, tragedy to health, those musicians who have passed on, exiting the realm of the DFW Metroplex music scene have left gaping holes in the hearts of fans and family that can never be filled.
Not even a month into 2019, another beloved brethren of the metal order was taking away from the DFW scene. His name was Bruce Corbitt and was known for fronting Rigor Mortis on their 1987 Capitol Records debut, the band's resurgence in 2005 and most recently the 2014 Slaves to the Grave release, the band's final studio offering.
For the last decade, Corbitt could also be seen fronting Warbeast formerly known as the Texas Metal Alliance, a thrash metal outfit whose roster consisted of a Who's Who of DFW Metal that put out several releases on Phil Anselmo's Housecore Records.
Those outside of the DFW area or even the Texas state lines may not realize the impact Corbitt had on the DFW Metal scene as an individual. When things were sluggish and support for the metal scene was low, it was Corbitt who was always flying the flag, making sure it was visible.
Corbitt utilized and mastered the tools of social media to promote the cause early on reaching back to the days of America Online and Myspace, as silly as it sounds now. Some even referred to him as a social media guru.
And it was via social media in May 2017 that Corbitt let the music world know he would be in a battle, literally for life with the diagnoses of stage-four esophageal cancer. Corbitt would journal his rounds of chemotherapy and frustrating struggles with insurance providers via the social media platform. His narrative writings and live videos were informative yet at times discouraging and disheartening. He wanted to keep everyone informed of his battle. Corbitt kept it real.
Corbitt's battle would wage and rage on for 20 months until January 25, 2019 when he finally succumbed to the cancer.
Then the phone calls nobody wanted to accept or believe came.
Warbeast bandmate and a founding member of Gammacide Scott Shelby was one of those who was by Corbitt's side many times during his bandmate's battle. He was one of those that didn't want to believe.
"It was the most difficult talk and phone call I've ever had." Shelby continued, I mean we knew it was coming but when it happens you realize you're not as prepared as you thought you were."
In the months leading up to that black day in January, Corbitt began to plan his public memorial. Reaching as far back to the summer of 2018, Corbitt was enlisting the services of those who he would like to take part in his public memorial which was recently held at the Ridglea Theater in Fort Worth on March 9, the final sendoff of several that had been held since his passing.
"I had talked with Bruce quite a bit about what he wanted done for a memorial and there was a small amount of notes for songs he wanted so I was determined to make his wishes happen." Shelby added, "We had to put together a large team to make it all happen and everyone did a remarkable job."
That team was referred to as Team Corbitt. "There were a lot of people on the team, like ten," Shelby continued, "I knew he wanted it done in a big fashion like he did everything."
Another individual Corbitt reached out to was Rick Perry currently of Iron Jaw, an original member of Warbeast and another founding member of Gammacide who shared the stage with Rigor Mortis on several occasions back in the day.
"Bruce asked me sometime last summer. Although he put up a ferocious battle against cancer, he also knew sooner or later, he would be leaving us." Perry said, "So he actually had his entire memorial planned out months ago: which venue, which bands, who would do the eulogies, even the music they would play during the event was all chosen by Bruce."
Perry added, "When Bruce asked me if Iron Jaw would do it, I told him that I hoped his memorial was not going to be happening for a long time but of course, I would do it. We considered it to be an honor that he asked."
Having Iron Jaw being personally selected to be part of the memorial was "pretty mind blowing" as Perry put it.
"Obviously if he didn't think we were any good, he wouldn't have asked us" Perry continued, "but I think our longtime friendship also had a lot to do with it."
Perry added, "Bruce and I always had a good friendship, a lot of mutual respect I think."
Unlike the formal and more private memorial at the Kessler Theater in Dallas, the memorial at the Ridglea Theater was more informal and open to the public. The Ridglea Theater opened their doors and hearts to allow the memorial to happen as Corbitt wished.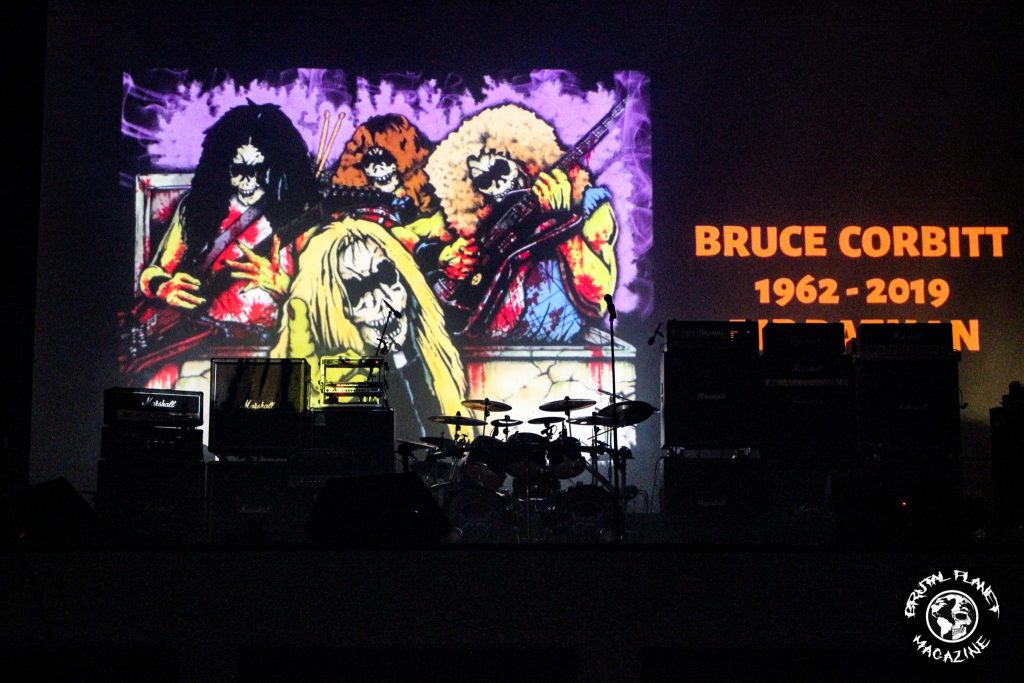 The Ridglea Theater memorial was an emotional and celebrative event of Corbitt filled with a lengthy slide show of his life backed by music of the Beatles and Aerosmith, favorites of his. Individual eulogies were delivered by local radio personalities such as Hard Time Radio's Thrashin' Alan, KEGL's Debbie Sexxton, Reckless Rock Radio's Spicoli, Warbeast graphic artist "Carcass" John Fossum, Ed Neal (Texas Chainsaw Massacre hitchhiker), Rigor Mortis bandmates Casey Orr and Harden Harrison, Warbeast bandmate Scott Shelby and Phil Anselmo.
But what followed the eulogies was the gut punch to every beating heart in attendance. Unbeknownst to those in attendance, out of the blue, Corbitt's voice began to echo off the walls as he introduced each Warbeast band member followed by an emotional yet live ripping version of "Nightmares in the Sky" from the 2013 Warbeast debut performed by his fellow bandmates.
Shelby said, "Only the team (Team Corbitt) knew."
Pulling the off the final Warbeast hurrah while playing with Corbitt's vocals from a video was not an easy task according to Shelby. "It was very emotional."
Once the goosebumps and emotions settled from the unannounced treat, Iron Jaw and Rabid Flesh Eaters both delivered blistering sets that consisted of a few surprises as well.
Shelby joined Perry with Iron Jaw for a version of a "Stalker" from the 2013 Warbeast debut.
For Perry, it was a special and emotional occasion to have Shelby join him on stage.
"Every time Scott and I get a chance to play together on stage, it feels special." He added, "I feel like we are the Texas edition of the classic metal guitar duo, like Tipton / Downing or Hanneman / King."
An emotional experience it was. Perry added, "Music is always an emotional experience. If it isn't then you're not doing it right but when you realize you've lost brothers like Bruce and Mike Scaccia and Dimebag Darrel and Vinnie Paul, it really makes you treasure these moments on stage even more."
Rabid Flesh Eaters, the second band personally selected by Corbitt not only delivered a crushing set but had Rigor Mortis bassist Casey Orr join in on bass for "Shroud of Gloom" and "Re-Animator" from the 1987 Rigor Mortis debut. Sharing the mic with Orr on "Re-Animator" was Harden Harrison, drummer for Rigor Mortis.
When all the adrenaline finally settled from the Rabid Flesh Eaters set, Team Corbitt, all the bands who played, the guest speakers, and crowd members graced the stage. All in the memory of Bruce Corbitt and toasted a final toast to the air for the DFW Flag Flying Metal Warrior.
For those involved in organizing the Ridglea memorial like Shelby, the memorial was a major thing.
"We poured our hearts out for him like he would for us and I do feel there is a sense of closure for me now and can move on", Shelby said.
The Ridglea memorial was a step in the healing process for many.
Perry said of the memorial, "I think it gave a good sense of closure to everyone who attended and I feel that we executed the memorial just as Bruce had envisioned it."
Corbitt accomplished quite a bit for an avid fan of music whose goal in life three decades ago was to become the vocalist for Rigor Mortis. Not only was Corbitt that raging fan of metal, horror, NFL football, Aerosmith and Batman, he was also just an individual, husband, father and step-father, a devoted family man.
Many like Shelby and Perry will remember Corbitt in their own ways.
"He will be greatly missed for doing so much for the scene and helping others by putting together benefit shows to the help a cause and how he fought death with no fear and inspired lots of doctors and other cancer patients." Shelby continued, "Also all the great accomplishments he has done and helped get things done as well as him being one of a kind voice in metal and a great front man known around the world."
"Bruce fought for what he believed in but he always took other people's feelings into consideration." Perry said, "He was a damn good friend, one of the best guys I've known."
Perry summed Corbitt's passing perfectly, "We all miss Bruce but the Texas Metal Alliance lives on."
If Corbitt could elicit a response to Perry, he more than likely would respond with his catch phrase he said many times, "You know damn well."
The memorial event raised money through merchandise sales and silent auctions to benefit the Corbitt Family. Ridglea also served as a donation site for memorabilia to be used as auction and raffle items for an upcoming benefit show in Houston, Texas on March 30th. The show is named, "You Know Damn Well." For more info about the event, click here:
https://www.facebook.com/events/2192007347779632/)