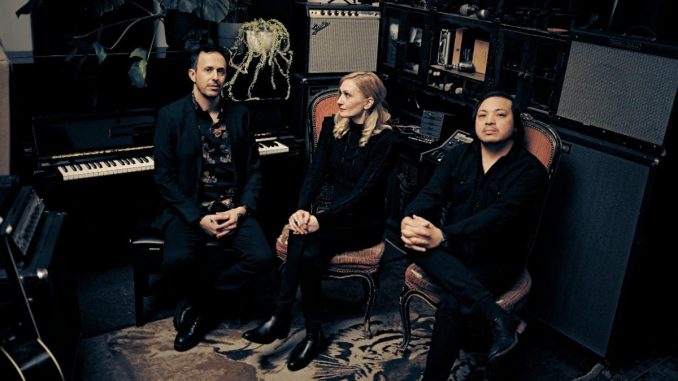 SPOTLIGHTS RETURN WITH NEW ALBUM, ALCHEMY FOR THE DEAD
(APRIL 28, IPECAC RECORDINGS)
PRE-ORDER HERE
WATCH THE VIDEO FOR "ALGORITHMIC" NOW
EXTENSIVE U.S. TOUR BEGINS APRIL 26
"That a band as heavy and romantic as Spotlights have become a fixture in the rock scene Is impressive; that they've done so in such a short period of time is tremendous." – Kerrang!
Feb. 7, 2023, PITTSBURGH – Spotlights, the hypnotic trio featuring married couple Mario and Sarah Quintero with Chris Enriquez, release their new album, Alchemy For The Dead, on April 28 via Ipecac Recordings.

The album, written and recorded following the band's move to Pittsburgh, finds the trio once again balancing the tightrope of light and dark, toying with sonic texture, and as Invisible Oranges described Spotlights' unique "magic" that's "flickering with unnamable emotionality." Mario Quintero shares the band's mindset while writing and recording Alchemy For The Dead: "Our focus when making this record was to not repeat ourselves. I think we achieved our goal. Though we're proud of all our releases, making just another 'Spotlights' album wasn't an option. Pushing our own boundaries while creating something cathartic, yet strangely suffocating, with new sounds and textures as well as more personal and self-reflective themes, this album feels like a new fork in the path for us. Hopefully the listeners will follow."

A preview of the nine-song collection arrives today with the release of the Oleg Rooz- created video for "Algorithmic" (https://youtu.be/19TqHZBUOgY). "For me, the song has a religious theme to it," Mario adds. "It touches on the story of resurrection and afterlife in this one narrative, while wondering, does any of it really matter?" That narrative, one of death, the resistance and acceptance to one of life's most secretive aspects, is a lyrical theme throughout Alchemy For The Dead.

Album pre-orders, which include two 2LP vinyl variants: a standard black version and a limited-edition gold edition available exclusively via Ipecac.com and on the band's upcoming Alchemy For The Dead tour, can be found here: https://spotlights.lnk.to/AFTD. Vinyl is slated for an Aug. 4 release.
Alchemy For The Dead tour:

April 26 Pittsburgh, PA Club Café

April 27 Grand Rapids, MI Pyramid Scheme

April 28 Chicago, IL Subterranean Downstairs

April 29 Tolono, IL Loose Cobra

April 30 St. Louis, MO Red Flag

May 1 Kansas City, MO Mini Bar

May 3 Denver, CO Hi Dive

May 4 Salt Lake City, UT Kilby Court

May 6 Sacramento, CA Club Colonial

May 7 San Francisco, CA Winters Tavern

May 11 Los Angeles, CA Hollywood Palladium*

May 12 San Diego, CA Tower Bar

May 14 Las Vegas, NV House of Blues*

May 16 Denver, CO Mission Ballroom*

May 17 Salt Lake City, UT Union Event Center*

May 19 Seattle, WA Showbox*

May 20 Seattle, WA Showbox*

May 21 Portland, OR Crystal Ballroom*

May 23 Oakland, CA Fox Theater*

May 24 Oakland, CA Fox Theater*

May 27 Denton, TX Dan's Silverleaf

May 28 Austin, TX Hotel Vegas

May 30 Tulsa, OK Whittier Bar

May 31 Shreveport, LA Bear's

June 1 Little Rock, AR Mutants Fest

June 2 Nashville, TN Drkmttr

June 3 Atlanta, GA The Earl

June 4 Gainesville, FL The Backyard

June 9 Miami, FL Gramp's

June 10 Tampa, FL The Orpheum

June 11 Orlando, FL TBA

June 13 Columbia, SC TBA

June 14 Charlotte, NC Snug Harbor

June 15 Asheville, NC The Odd

June 16 Knoxville, TN The Pilot Light

June 17 Louisville, KY Kaiju Bar

June 18 Columbus, OH Big Room Bar

June 21 Harrisonburg, VA The Golden Pony

June 22 Baltimore, MD Metro Gallery

June 23 Philadelphia, PA Ortlieb's

June 24 Brooklyn, NY Saint Vitus

*-Ipecac Geek Show performances

Birdhands open on dates between April 27 to May 1. Rile open from May 3 to May 6. Dates between May 11 and 24 are the Ipecac Geek Show with labelmates Mr. Bungle and the Melvins.
Alchemy For The Dead tracklist:

1. Beyond The Broken Sky

2. The Alchemist

3. Sunset Burial

4. Algorithmic

5. False Gods

6. Repeat The Silence

7. Ballad In The Mirror

8. Crawling Toward The Light

9. Alchemy For The Dead
Spotlights is Mario Quintero (guitar, vocals, keys), Sarah Quintero (bass, vocals) and Chris Enriquez (drums). The band has released three albums to date: Tidals (2016), Seismic (2018) and Love & Decay (2019). Consequence praised their "unique amalgam of sounds that is both heavy and heavenly," Brooklyn Vegan said Spotlights "balances the pretty with metallic sludge," and Invisible Oranges said they thrive "on the ambient and krautrock inspired edges of post-metal." In the wake of their 2020 EP We Are All Atomic, Kerrang! observed, "That a band as heavy and romantic as Spotlights have become a fixture in the rock scene Is impressive; that they've done it in such a short period of time is tremendous."

# # #