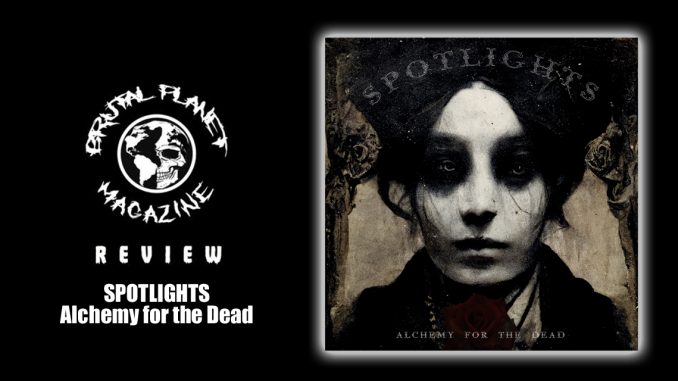 Mike Patton's label Ipecac has been putting out a lot of exciting music lately. Take The Bobby Lees for example… a high energy, female fronted indie-punk band. Dalek the darkwave indie hip-hop group with a name that references Dr. Who… or in this case Spotlights, an alternative rock band that has some very impressive, dark and dynamic material.
The band is a trio that features husband-and-wife Mario Quintero [guitar, vocals,keys] and Sarah Quintero [bass, vocals] who are joined by Chris Enriquez [drums]. In the wake of their 2020 EP "We Are All Atomic", Kerrang! observed, "That a band as heavy and romantic as Spotlights have become a fixture in the rock scene Is impressive; that they've done so in such a short period of time is tremendous." Their latest release Alchemy for the Dead [Ipecac Recordings], finds them exploring something we all face, yet few embrace…
"One of the major parts of our lives, is the fact we're all going to die," says Mario. "Most people are terrified of it, some people learn to look forward to it, and some see it as a way out of their misery. Various cultures view it differently. There isn't necessarily a story to the album as a whole, but each song deals with the theme of death. It could be fantasy such as bringing a loved one back to life or darker moments like suicide and deep depression. Then, there are thoughts about death overall in terms of the entire human race. The 'Alchemy' part plays more into occult themes such as seance and crossing the threshold between the living and the dead, or religious rituals that humans use to connect with lost loved ones."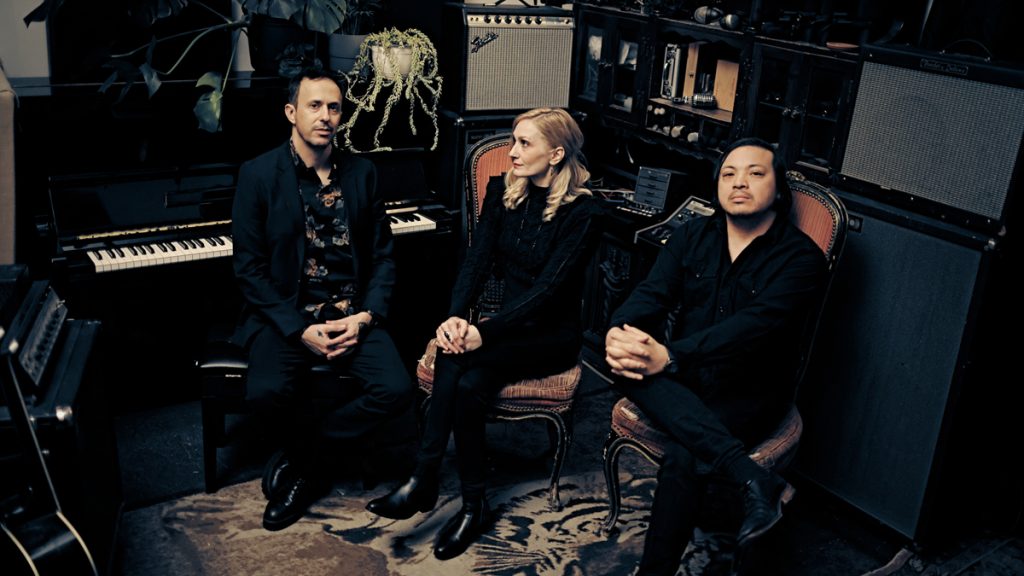 The opening track "Beyond The Broken Sky." Has an interesting story behind it. "We had gone to our rehearsal space in Brooklyn to practice for the second time, as Spotlights, and got stuck in a raging thunderstorm walking back," recalls Mario. "So, we sat in a bar drinking all night, I woke up hungover the next morning, and wrote that song. It's been kicking around for eight years, but finally, seemed perfect as an intro for this album. It draws you into what's about to happen."
The 2nd track "The Alchemist" begins with an hip-hop style groove that could almost be a Portishead song. The haunting melodic vocals wash over a massive fuzz-bass riff. An industrial beeping noise plays as if a garbage truck might be backing up in the distance. The soundscape eerily paints a picture of a dark and grimy city.
"Sunset Burial" has one of the more memorable hooks on the record as well as the most Patton influenced vocal lines. The influence of bands like Faith No More and the Deftones are noticeable throughout the album and the band has spent some time touring with these influences. During 2016, the band earned coveted spots on tours with Deftones (Chino is a fan), and Refused. Not long after, they caught the attention of Patton's Ipecac Recordings, releasing Seismic in 2017, touring relentlessly and landing outings with Mr. Bungle, Quicksand, Pallbearer, and more.
The pace of the album picks up with the track "Algorithmic" a song which also showcases the bands rich dynamics. While "False God" has some of the heavier breaks on the album, featuring sonics that bend and crash along with a Saxophone break. "Repeat the Silence" has a slow build reminiscent of a band like Isis or to be even more specific, Ipecac label mates "Palms" (which features members of Isis and Deftones).
The last leg of the record opens up a bit more with songs like "Ballad in the Mirror" and "Crawling Toward the Light" which reminds me a little bit of Type O Negative – minus Peter Steele's deep Lurch like voice of course. I think it's the synths they use during the opening and bridge portion of the song.
The final and title track "Alchemy for the Dead" builds slowly to a gigantic power chord crescendo and then fades away quietly ending with a glitch followed by a lightly played guitar drifting away into oblivion.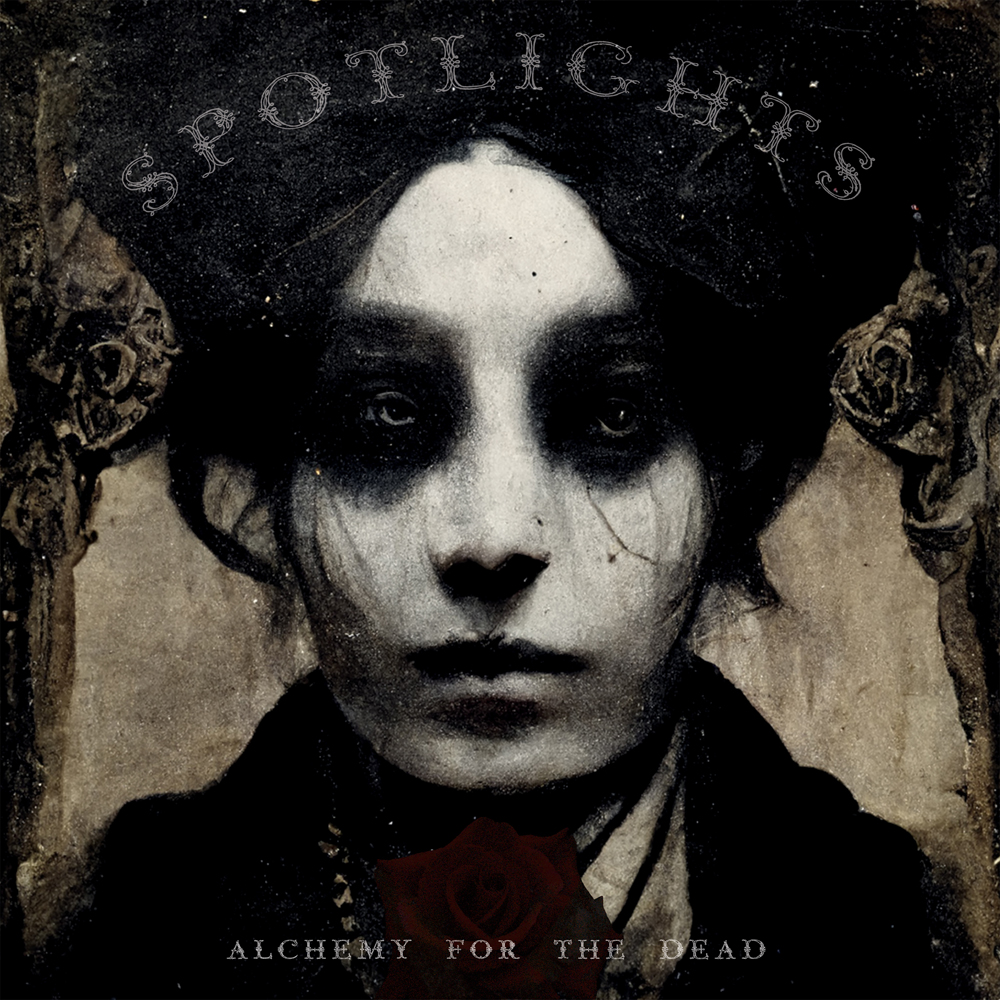 Alchemy for the Dead was a record that pleasantly surprised me. It has an interesting way of sounding familiar and brand new at the same time. It's a great quality to have – I liken it to the return of an old friend that you haven't seen in a long time, who you didn't even know you missed. The composition and performances are top tier and I would highly recommend this album to anyone who is a fan of hard rock and heavy music, or just good music in general.
"If you're an artist, I hope our music inspires you to make art and push the envelope," Mario says. "If you're not, I hope it inspires you to think differently, and get your mind off the day to day bullshit. Even though the themes might seem morbid and dark, as always we hope our music creates positivity. We all need to care for one another and all living beings on this planet, while we can."
Alchemy for the Dead by Spotlights is available everywhere Friday, April 28th 2023. Catch them out on tour as well:
Alchemy For The Dead tour:
April 26 Pittsburgh, PA Club Café
April 27 Grand Rapids, MI Pyramid Scheme
April 28 Chicago, IL Subterranean Downstairs
April 29 Tolono, IL Loose Cobra
April 30 St. Louis, MO Red Flag
May 1 Kansas City, MO Mini Bar
May 3 Denver, CO Hi Dive
May 4 Salt Lake City, UT Kilby Court
May 6 Sacramento, CA Club Colonial
May 7 San Francisco, CA Winters Tavern
May 11 Los Angeles, CA Hollywood Palladium*
May 12 San Diego, CA Tower Bar
May 14 Las Vegas, NV House of Blues*
May 16 Denver, CO Mission Ballroom*
May 17 Salt Lake City, UT Union Event Center*
May 19 Seattle, WA Showbox*
May 20 Seattle, WA Showbox*
May 21 Portland, OR Crystal Ballroom*
May 23 Oakland, CA Fox Theater*
May 24 Oakland, CA Fox Theater*
May 27 Denton, TX Dan's Silverleaf
May 28 Austin, TX Hotel Vegas
May 30 Tulsa, OK Whittier Bar
May 31 Shreveport, LA Bear's
June 1 Little Rock, AR Mutants Fest
June 2 Nashville, TN Drkmttr
June 3 Atlanta, GA The Earl
June 4 Gainesville, FL The Backyard
June 9 Miami, FL Gramp's
June 10 Tampa, FL The Orpheum
June 11 Orlando, FL TBA
June 13 Columbia, SC TBA
June 14 Charlotte, NC Snug Harbor
June 15 Asheville, NC The Odd
June 16 Knoxville, TN The Pilot Light
June 17 Louisville, KY Kaiju Bar
June 18 Columbus, OH Big Room Bar
June 21 Harrisonburg, VA The Golden Pony
June 22 Baltimore, MD Metro Gallery
June 23 Philadelphia, PA Ortlieb's
June 24 Brooklyn, NY Saint Vitus
* Ipecac Geek Show performances