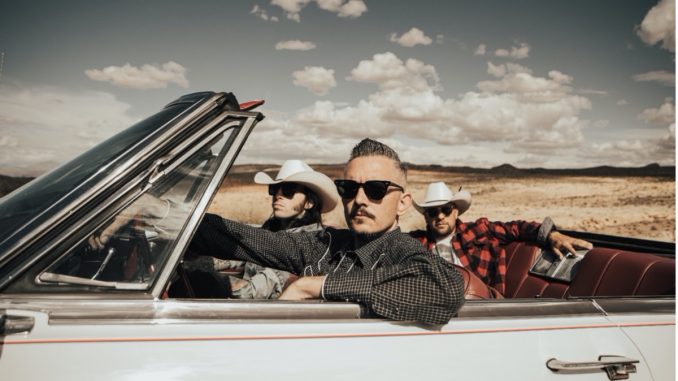 BAND RETURNS TO THE ROAD IN FEBRUARY 2022
Self-described as "Death Western,"
SpiritWorld
are also the aural vision quest of
Stu Folsom
, a Las Vegas native who has taken the intensity of that blasted desert heat and given it a voice on the band's debut
Pagan Rhythms
.
The record was dubbed "a blistering piece of pure evil" by Stereogum, while Brooklyn Vegan called it "a vicious, whiplash-inducing racket." Loudwire praised it for "bringing strong rock 'n' roll vibes to a sound that's seriously heavier and hardcore-inflected, predicated on an elbow-swinging rhythm and a bit of a dusty road flair alongside a gravely vocal bark."

Pagan Rhythms was re-released on November 5 via Century Media Records and is now available physically for the first time outside of North America. Get it here.

Today, SpiritWorld have premiered the video for "Unholy Passages" over at Decibel.
Watch it here.
"'Unholy Passages' is the JAM!," says Folsom. "If I could pick one song off of Pagan Rhythms to show people, this is it. 270 BPM of hella nasty riff vomit!!! Just when you think, 'Okay, this song fucks, I'm diggin' it…,' it drops another banger riff on you. It's even got the Hellraiser, 'Do I look like I care what God thinks?' breakdown sprinkled with some field recordings of a monsoon season thunderstorm I recorded on my cell phone to top it off!"
He continues, "When I made the visualizer for it, everything was still on lockdown, so a real video was out of the question. I knew I needed something striking to compliment the song, so I pivoted down the rabbit hole of archival footage sourcing old rodeo footage, go-go dancers, and occult rituals. Enjoy!"
SpiritWorld are releasing an exclusive, bone-colored vinyl version of Pagan Rhythms with alternate artwork via Decibel's site. It arrives on April 22, 2022 and celebrates the band's appearance at the Decibel Metal & Beer Fest in Los Angeles, set for December 10 and 11, and on the Decibel Magazine tour this coming winter.
PAGAN RHYTHMS TRACK LISTING:
"Pagan Rhythms"
"
The Bringer of Light
"
"Unholy Passages"
"Night Terrors"
"The Demon Storm"
"Armageddon Honkytonk & Saloon"
"Godless"
"
Comancheria
"
"Ritual Human Sacrifice"
Conceived entirely by Folsom and produced by Sam Pura (The Story So Far, Self Defense Family), songs like "Comancheria" or the blast-beat propelled "Unholy Passages," courtesy of drummer Thomas Pridgen (The Mars Volta/Trash Talk) who plays on half the album with ex-Apiary skinsman Adam Elliot playing on the other, are unforgettable.

"It's about trying to write killer songs and craft a classic record," says Folsom, whose love for the likes of George Jones or the legendary L.A. punk band X runs as deep as his metallic roots. "With Pagan Rhythms, I set out to distill my love of thrash, old school death metal, and hardcore into something new that would hit like a tomahawk right in the face. When I first started telling people about this idea I had to merge Western imagery, horror fiction, and heavy metal into an all-out sonic assault, it seemed ridiculous. But I truly believe that if you make great records, people are a lot more willing to embrace your weirdness and come along for the ride."

SPIRITWORLD ARE:
Stu Folsom — Vocals
Matt Schrum — Guitar
Randy Moore — Guitar
Justin Fornof — Bass
Nick Brundy — Noise
Preston Harper — Drums

PAGAN RHYTHMS FEATURES ADDITIONAL MUSICIANS:
Thomas Pridgen — Drums
Adam Elliot — Drums
Sam Pura — Guitar/Bass/Vocals
Ben Verhoek — Back Up Vocals
Reif Barlow — Back Up Vocals

SpiritWorld will hit the road in February as part of the 2022 Decibel Magazine tour with Obituary, Municipal Waste, Gatecreeper, and Enforced. All dates featuring SpiritWorld are below.
SPIRITWORLD ON TOUR:
WITH OBITUARY, MUNICIPAL WASTE, GATECREEPER, + ENFORCED:
2/3 — Mesa, AZ — The Nile
2/4 — Pomona, CA — The Glass House
2/5 — Berkeley, CA — The UC Theatre
2/6 — Sacramento, CA — Ace of Spades
2/7 — San Diego, CA — Music Box
2/9 — Grand Junction, CO — The Mesa Theater
2/10 — Colorado Springs, CO — The Black Sheep
2/11 — Denver, CO — Gothic Theatre
2/12 — Omaha, NE — The Waiting Room
2/14 — Belvidere, IL — The Apollo Theater
2/15 — Joliet, IL — The Forge