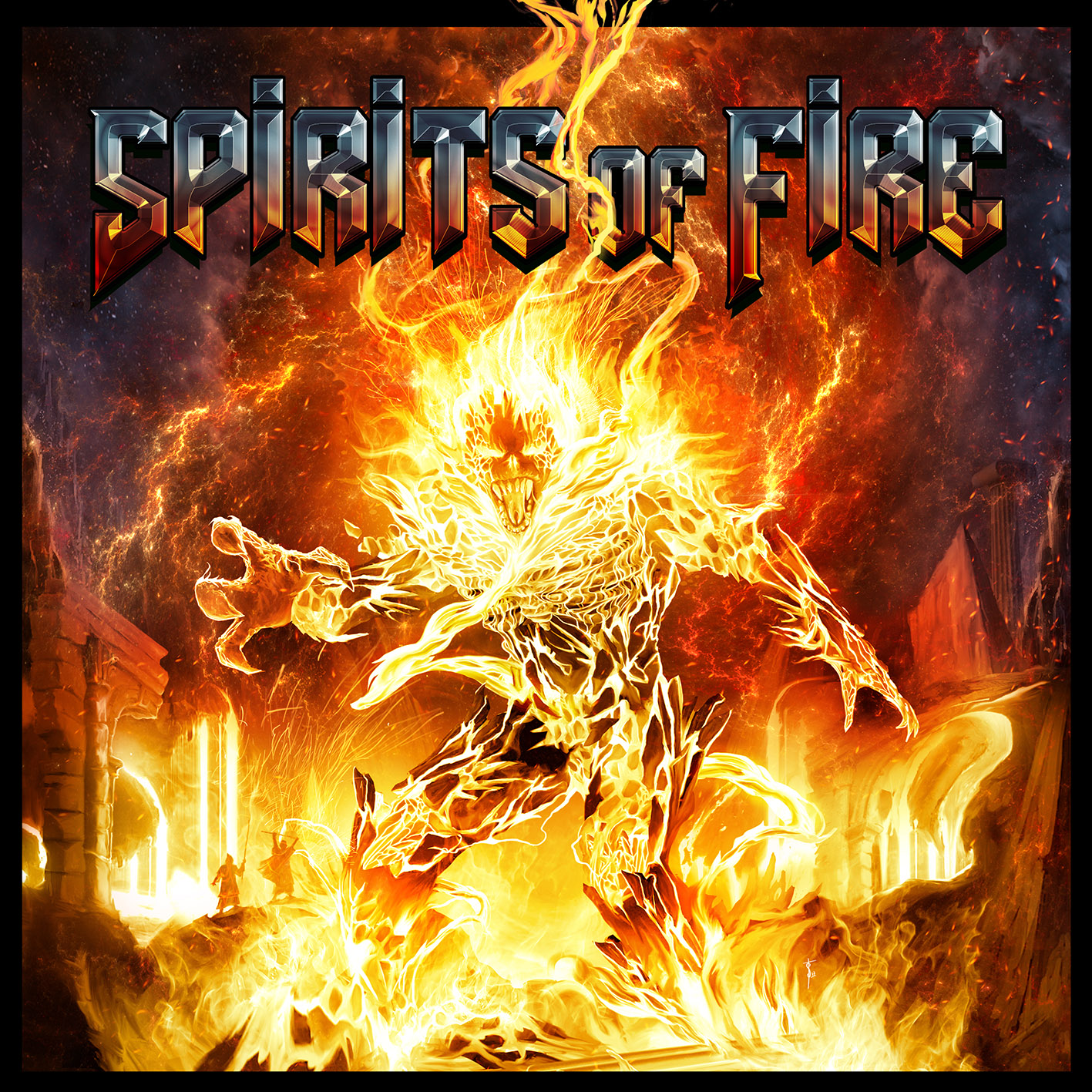 If it's the right chair, it doesn't take too long to get comfortable in it.
Robert De Niro (Brainyquote)
You ever just meet someone and know they're going to be a friend? Or walk into a place and instantly feel at home? It's just right and you immediately know it.
That's the feeling I got from Spirits of Fire's self-titled debut album, Spirits of Fire releasing February 22nd from Frontiers Music Srl. Like the coldest beer on the hottest day; tastes so good, I can't help but want more.
It's not surprising. The band is a crew of renowned metal music names including Tim "Ripper" Owens (ex-Judas Priest,Iced Earth), Chris Caffery (Savatage,Trans-Siberian Orchestra), Steve DiGiorgio (Testament,Death, etc.) and Mark Zonder (ex-Fates Warning, Warlord). They were brought together and worked with producer Roy Z. (Brude Dickinson, Halford, Tribe of Gyspies). When you put all that talent and experience in one room, amazing things are bound to happen.
Is the term "supergroup" coming to mind? It should.
Guitarist Caffery puts it this way, "This was the first time that I ever worked with Roy and it was so much fun. I have been a huge fan of his work for a long time. He's written music, played on, and produced some of my favorite metal albums ever. He had a difficult job bringing this all together and I can't think of anyone that would have been a better producer and co-worker for this album." He adds, "I wanted to write songs that [Judas] Priest, Savatage, Testament, and Fates Warning fans would like. But, I wanted them to have a personality of their own as well. To give it a vibe that was Spirits of Fire!"
Listening to Spirits of Fire is like sitting down with old friends to get comfortable and hang out. Opener "Light Speed Marching" starts the conversation off with speed and hard-hitting vocals. "Temple of the Soul" kicks off the back and forth duels between guitars and drums that are the foundation of the album.
Title track, "Spirits of Fire" lights it up for fans of guitar riffs and rhythms that get your head banging. Need a break? "A Game" reminds us that the quiet, thoughtful friends are just as much fun. We're back at it with "Stand and Fight" and "Meet Your End" both symbolic of the style and sound that make up the hard rock and metal genre.
"Never to Return" ironically casts back to an 80's vibe and is one of my favorites. The 'last call' of the night is made by "Alone In the Darkness", ending out our time together, but ensuring we'll do it again.
Spirits of Fire is just one of those albums that I knew was going straight to my playlist. If you're a fan of Judas Priest, Savatage, Fates Warning or Metal Church, check it out.
I think you'll feel right at home.
Spirits of Fire Video: Light Speed Marching
Spirits of Fire Album Info
Spirits of Fire releases February 22, 2019 on Frontiers Music srl. Produced by Roy Z. Spirits of Fire members: Tim Owens – lead/background vocals, Chris Caffery – lead/rhythm/acoustic guitars, background vocals, Steve DiGiorgio – bass guitars, and Mark Zonder – drums
Spirits of Fire Tracklisting
Light Speed Marching
Temple Of The Soul
All Comes Together
Spirits Of Fire
It's Everywhere
A Game
Stand And Fight
Meet Your End
Never To Return
The Path
Alone In The Darkness