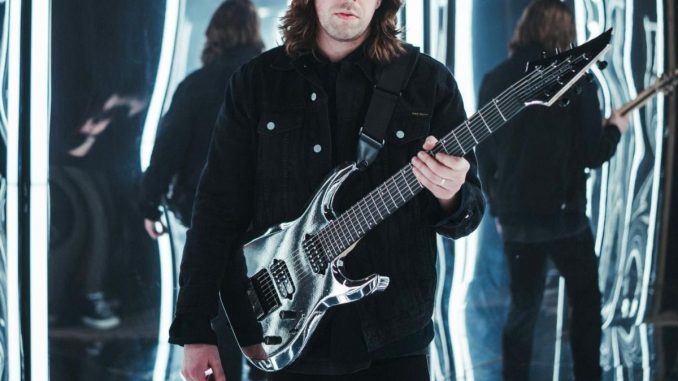 Spiritbox Guitarist Mike Stringer Teams Up With MixWave
For Game-Changing New Signature Plug-In
Available Now HERE
Mike Stringer of Spiritbox | Credit Alexander Bemis | Download HERE
Thursday, August 17th, 2023 – Acclaimed guitarist Mike Stringer of chart-topping metal band Spiritbox has collaborated with MixWave for the release of a new signature guitar plug-in – MixWave: Spiritbox – Mike Stringer. This powerful plugin gives users access to the highly sought-after guitar tones and effects that Stringer has meticulously crafted over his career.

Developed hand-in-hand with Stringer himself, MixWave: Spiritbox – Mike Stringer encapsulates the full range of the guitarist's versatile sound palette – from crystalline, ambient cleans to face-melting, ultra-heavy distorted rhythms and leads. The plugin authentically recreates three intricately modelled guitar amplifiers personally dialled in by Stringer to capture every nuance of his tone.

The "Clean" channel emulates Stringer's go-to tube amp for pristine, edge-of-breakup cleans with immaculate articulation. The "Rhythm" channel delivers the massively distorted yet tight modern metal tones that Spiritbox built their reputation on. And the "Lead" channel provides soaring, sustain-drenched leads and harmonies.

In addition to the amps, MixWave: Spiritbox – Mike Stringer includes Stringer's complete effects signal chain, from the guitar straight into the interface. Chorus, delay, reverb – this plugin covers all the textural effects that give Stringer's playing its atmospheric, multi-dimensional quality. Elaborating on the news of this exciting new signature collaboration, Stringer shares

"I am very proud to announce my brand new plugin in collaboration with MixWave. Introducing MixWave: Spiritbox – Mike Stringer. We've been working on this for almost two years now, and I can honestly say it's the most fun and inspiring plug-in I've ever used. It caters to every sound I'd want out of a plug-in, and I am finding myself having endless creativity while using it. The wide variety of tones, effects, and possibility this plugin gives you is really something special, and I can't wait for you to try it out yourself."

MixWave founder and producer, Taylor Larson adds

"We are ecstatic about our collaboration with Mike Stringer! It pushed us to create not only the heaviest sounding and feeling plug-in on the market but also an incredibly flexible and diverse tool that can deliver really anything you can imagine!"
WATCH: The MixWave: Spiritbox – Mike Stringer Plug-in in Action. Demonstrated by Mike Stringer
With its extensive collection of expertly crafted presets and intuitive interface, MixWave: Spiritbox – Mike Stringer makes the previously inimitable guitar sound of one of modern metal's most influential players accessible for guitarists of all skill levels. Order yours now from mixwave.net/products/spiritbox-mike-stringer
ABOUT SPIRITBOX:
Spiritbox are arguably *the* hottest band in heavy music. Their debut album, Eternal Blue, dropped September of 2021 and rolled in on a global tsunami of critical acclaim, perfect score reviews and features everywhere including Spin, Forbes, Billboard and Alternative Press to multiple front covers including Kerrang!, Metal Hammer, Alternative Press, Rock Sound, Distorted Sound, Pollstar, and Revolver. The album spawned a string of hit singles including "Holy Roller", "Constance", "Circle With Me", "Secret Garden" and most recently, "Hurt you". 'Eternal Blue' charted #13 Billboard Top 200, #1 Rock, #1 Hard Rock, #1 Vinyl, #2 Internet Albums, #2 Independent, #3 Digital Albums, #3 Album Sales and top 20 of the official charts in Australia (#8), Germany (#17) and UK (#19). To date, Eternal Blue has clocked up 235 million streams.
Spiritbox followed the release of Eternal Blue with the 3-song Rotoscope EP, in 2022. The title track for which came accompanied by an official music video shot by Max Moore, which has run up over 3.1 million YouTube views. The EP has clocked up 24.9 million streams.
To date, Spiritbox have accumulated over 395 million career streams across platforms and 76.4 million YouTube views. They were also nominated for 2 Juno Awards last year for Breakthrough Group Of The Year and Metal/Hard Music Album of The Year last year.