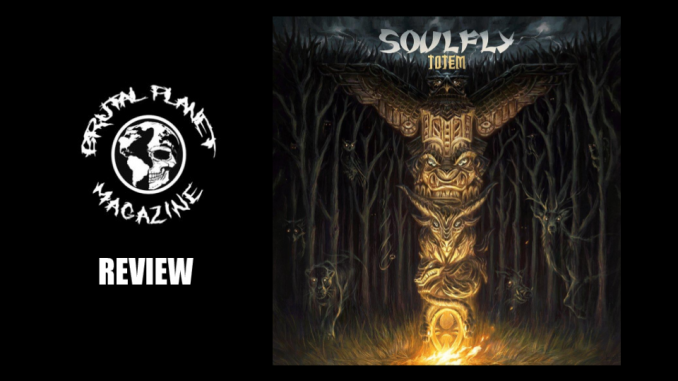 As I child, I was always fascinated by North Americans and their customs. I used to imagine myself as a brave warrior hunting animals as I ran through the woods on the property my grandfather owned. My parents knew of my interests and even took me to observe a real Pow Wow. It was great. Now, more than twenty-five years later, I am feeling nostalgia from my childhood conjuring up within me as I listen to Soulfly's new record, "Totem," which pays homage to Native Americans and their tribal customs. It has been nearly four years since the band's previous release, "Ritual," and I couldn't have been more ready for new music from this legendary band. "Totem" is Soulfly's twelfth album, and will be released on August 5 through Nuclear Blast.
Unless you've been hiding under a rock for the last few decades, you know what a mastermind Max Cavalera is. The man has written more riffs than any musician I can think of, and great riffs at that! This album is no exception. The opening track, "Superstition," starts out with distant tribal drumming and soon transitions into a barrage of riffs and blast beats. I had first heard this song when the band played it live on their last tour. It was released as the album's first single on May 5 and the official lyric video has racked up nearly 300,000 views on YouTube. The second song, "Scouring the Vile," not only carries that heavy Soulfly sound, but also features guest vocals by John Tardy of Obituary. Throughout the song, guitar solos abound. This is a great song that mixes tribal and thrash.
The latest single, "Filth Upon Filth," was released on July 8th and is one of my favorite tracks on the album. Like "Superstition," this single was also played live on the band's tour last spring. This song is one of the shortest tracks on the album, coming in at just under three minutes, but it is brutal and I guarantee my fellow metalhead will love it. "Rot in Pain" starts out will a threatening and ominous intro and transitions into a wild cacophony of noise. Halfway through the album is the bass-heavy song, "The Damage Done," which tackles the topic of our ever-disappearing environment. I found that the very end of the song really made me think of what will happen to our world if we continue on the course of not stewarding it well. Once you hear it you'll know what I mean.
The title track, "Totem," feels like heavy metal assaulting your head. It features catchy riffs, aggressive drum beats, and every tempo you can imagine. "Ancestors" is another solid track that nods its head to those who lived before us. One of my favorite tracks on the album is "Ecstasy of Gold." I love songs that seem to momentarily stop and then thrust a killer riff into the proverbial spotlight. As with every Soulfly album, there is an instrumental track titled "Soulfly" and then the roman numeral that corresponds with the album. Since this is album number twelve, we get "Soulfly XII." This is by far the shortest of these instrumental tracks in their discography and gives a short break before the album's grand finale, "Spirit Animal." This ending track is one of the longest Soulfly songs, coming in at nine and a half minutes. It features ambiance, animal calls, and incredibly heavy tribal metal. It is Soulfly at its finest.
All in all, this is another phenomenal metal album by Max and company. One thing to note is that as I listened to this album over and over, I noticed that there seems to be an eerie presence behind the music. Maybe you think I sound crazy for saying that, but maybe you'll hear it too. By once again mixing spirituality with heavy music, the band has raised their legacy high with "Totem."