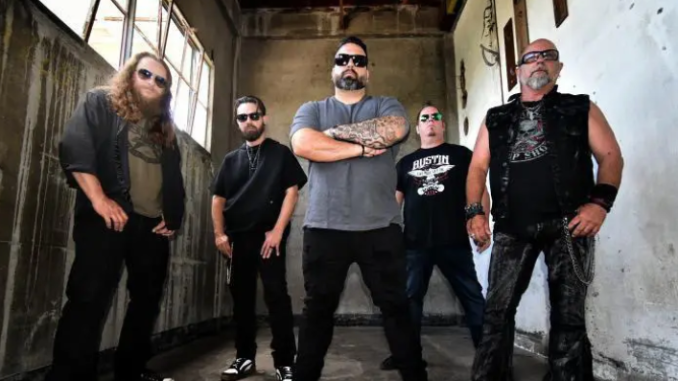 Photo credit @kimmillerphotography
WATCH Sons ON Fire "Collapse" Music Video (OFFICIAL)
https://www.youtube.com/watch?v=gsoEU6LZtYg
Stream/Download "Collapse"
"Sons On Fire prove why they are not afraid to tap into the emotions of mental health that so many deal with. The diversity of their songwriting can take you from the intensity of "Rise" into the darkness of "Collapse" and not miss a beat."
LA Lloyd/ LA Lloyd's Rock 30 Countdown
"Sons on Fire is on the "Rise" with their latest song "Collapse" to rock radio, it's a must add! " JZ MD 94Rocks KFML-Little Falls
"'Collapse' is the strongest single the guys in Sons On Fire have put out so far. This is a band that has found their sound and identity. I'm very excited to see what they do next!"
Ryan Fantozzi Morning DJ at WQLZ /Springfield, IL
"A band in charge and going for it full-throttle with the music goods to prove it."
Wayne Benson at 107 ROCK WBRR – The Gator
Sons ON Fire released the official music video for single "Collapse." The single was produced and mixed by Joe Marlett (Blink 182, Switchfoot, Foo Fighters, Queens of the Stone Age).
"We feel this is the most wide appealing most commercial song we've written. It sheds a light on life's everyday problems and how suicide is not the answer. Everybody has their own problems and issues and we just want everyone to know that help is just a phone call away. You are not alone," says the band's drummer Bill Nychay.
San Diego's own Sons ON Fire has quickly become known to fans around the world as a band bound and determined to make its mark among the heavy hitters of modern rock. You could hear it as their first singles "Faded" and "Just A Man" (Pavement Music) tore up the charts for almost a full year and they have now reloaded with the addition of vocal heavyweight Josh Marin and guitarist Shawn Morgan (formerly of Papercut Massacre/Wind-Up Records) along with founding members Trevor Edwards, Bill Nychay and JK MCKinney aka Johnny Fingerz (both formerly of Kicking K8/Crash Music/EMI).
This lethal combo has created a synergy resulting in an amazing new partnership with Curtain Call Records, huge performances ( Puddle of Mudd, Trapt, Tommy Vext, Black Top Mojo and Saving Abel) and culminated with the release of their first single "Rise"; an anthem for everyone looking to "Get Up and Rise" over whatever is keeping you from moving forward in life. The band has had tons of experience performing with heavy hitters Disturbed, Stone Sour, Seether, Black Label Society and many more. They are influenced by the likes of Sevendust, Motley Crue, Jimi Hendrix, Staind, Chevelle and Three Days Grace.
This band has faced it and even been knocked down at times, but being knocked down does NOT mean knocked out. The great ones get up, dust themselves off, kick adversity in the teeth and push forward to "Rise" up bigger and better than ever. THAT is Sons ON Fire!
In this world today you can either "embrace" and overcome what the world throws at you or be "destroyed" and crushed by it. Sons ON Fire chose to "Get Up and Rise" in order to bring its new music to the people. Embrace THAT or get out of the damn way!
Show Dates:
June 9 @ The Back Bar in Janesville, WI
June 10 @ Monster Hall Music Fest in Unity, WI with Tantric, Flaw, Trapt and more
September 10 @ Cruisers Bar and Grill in Post Falls, ID
December 2 @ Fitzgerald's in San Antonio,TX
Sons On Fire are:
Josh Marin- vocals
Trevor Edwards – lead guitar
Shawn Morgan – guitar
John McKinney – bass
Bill Nychay – drums
For More Information Please Visit: