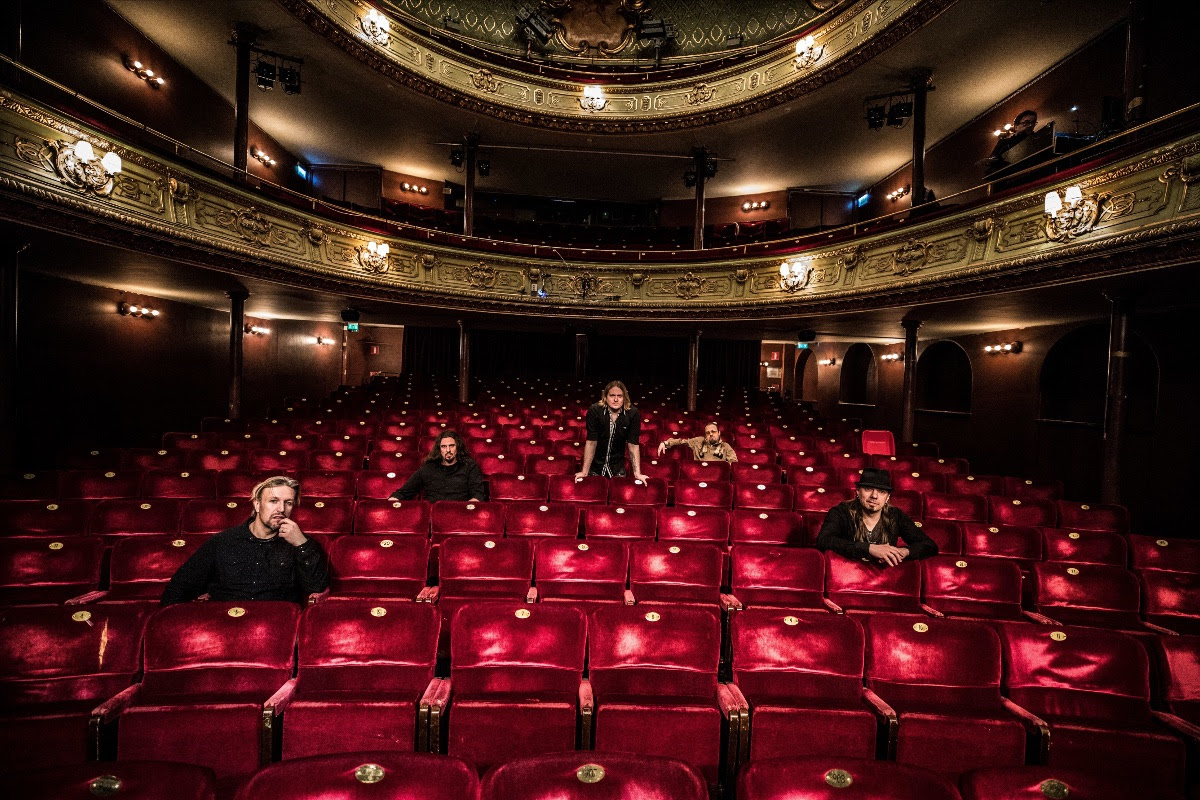 Today, melodic metal titans SONATA ARCTICA herald the start of the cold season as the group releases their 10th studio album Talviyö ("Winter Night"), through Nuclear Blast. To mark the occasion, the Finns have launched a brand new music video for "Who Failed The Most," which was produced by renowned director Patric Ullaeus (rEvolver Film Company; DIMMU BORGIR, ENSLAVED, IN FLAMES etc.). Watch it over on YouTube: https://www.youtube.com/watch?v=ZQT292b8E88

Keyboardist Henrik "Henkka" Klingenberg states, "The wait is finally over, now all of you will hear what we've been working on for the past year or so as we present our latest album Talviyö. It was quite an experience getting this album ready for you guys and for the first time ever, we had some outside help from our very own Mikko Tegelman who produced the album. We focused on playing live this time and I think the album really captures how SONATA ARCTICA sounds like today. It will be a blast to go out and perform this new music alongside selected cuts from our catalogue. See you soon and meanwhile we hope you enjoy the album as much as we did making it.

"It's also time for the second video of Talviyö. 'Who Failed The Most' is one of the more approachable songs on the album and we worked with Patric Ullaeus once again to create the video. We took advantage of the nice Finnish summer and shot our performance outside for a change, which turned out quite cool. You'll probably hear this song throughout the Talviyö World Tour that's starting right now in North America and from there we'll continue to Europe and the rest of the world. Cheers!"

Additionally, the band is about to embark on a North American tour (w/ KAMELOT and BATTLE BEAST among others). The extensive run, which starts in Margate, FL tonight, will be followed by a string of homeland shows as well as a European headline tour with support coming from EDGE OF PARADISE and TEMPLE BALLS. All dates can be found below.

SONATA ARCTICA live:
w/ BATTLE BEAST
06.09. USA Margate, FL – O'Malley's
07.09. USA Orlando, FL – The Abbey
08.09. USA Charlotte, NC – The Underground

The Shadow Tour – North America 2019
w/ KAMELOT, BATTLE BEAST
10.09. USA Silver Spring, MD – The Fillmore
11.09. USA Philadelphia, PA – Theatre of Living Arts
13.09. USA Worcester, MA – Palladium
14.09. USA New York, NY – Terminal 5
15.09. CDN Montréal, QC – Club Soda
16.09. CDN Québec City, QC – Impérial Bell
18.09. CDN Toronto, ON – The Phoenix Concert Theatre
19.09. USA Detroit, MI – Harpos Concert Theatre
20.09. USA Cleveland, OH – Agora Theatre
21.09. USA Chicago, IL – Patio Theater
23.09. USA St. Paul, MN – Amsterdam Bar & Hall
24.09. USA Kansas City, MO – The Truman
25.09. USA Denver, CO – Ogden Theatre
26.09. USA Salt Lake City, UT – The Complex
28.09. CDN Edmonton, AB – The Ranch Roadhouse
29.09. CDN Calgary, AB – Marquee
01.10. CDN Vancouver, BC – Venue Nightclub
02.10. USA Seattle, WA – Neptune Theatre
04.10. USA San Francisco, CA – Palace of Fine Arts
05.10. USA Anaheim, CA – City National Grove
06.10. USA Tempe, AZ – Marquee Theatre
08.10. USA Dallas, TX – Canton Hall
09.10. USA St. Louis, MO – The Ready Room
11.10. USA Atlanta, GA – The Masquerade
12.10. USA Tampa Bay, FL – Jannus Live

w/ BATTLE BEAST
13.10. USA Durham, NC – Motorco Music Hall
14.10. USA Charleston, SC – Music Farm *NEW*
16.10. USA Baltimore, MD – Soundstage
17.10. USA Clifton Park, NY – Upstate Concert Hall
18.10. USA Hartford, CT – Webster Theater

23. – 28.09. D Kiel – Full Metal Cruise *NEW*

SONATA ARCTICA
The Raven Still Flies Over Europe
w/ EDGE OF PARADISE, TEMPLE BALLS
EMP, Metal Hammer, musix, Rock It!, Hardline, metal.de, Nuclear Blast & Dragon Productions present
11.11. SE Stockholm, Kraken
12.11. NO Oslo, Parkteatret
13.11. NO Trondheim, Byscenen
15.11. SE Trollhättan, Folkets Park
16.11. DK Aarhus, Train
17.11. DE Berlin, Bi Nuu
18.11. DE Mannheim, MS Connexion Complex
19.11. DE Leipzig, Hellraiser
21.11. SK Zvolen, Rates Arena
22.11. RO Cluj Napoca, Form Space
23.11. BG Sofia, Music Jam Club
25.11. HU Budapest, Barba Negra
26.11. AT Vienna, ((Szene))
27.11. CH Pratteln, Z7
29.11. IT Padova, Hall
30.11. IT Milan, Live Club
01.12. FR Lyon, Le Ninkasi Kao
02.12. FR Paris, La Machine du Moulin Rouge
04.12. ES Madrid, La Riviera
05.12. ES Barcelona, Salamandra
06.12. FR Limoges, Cc John Lennon
07.12. BE Izegem, Cultuurhuis De Leest
08.12. FR Pagney, Chez Paulette
11.12. UK London, The Electric Ballroom
12.12. NL Tilburg, 013
13.12. DE Hamburg, Markthalle
14.12. DE Bochum, Matrix

Order Talviyö now: http://nblast.de/SonataArctica-Talviyoe
Listen to the band's new tracks in the NB New Releases Playlists:
http://nblast.de/SpotifyNewReleases / http://nblast.de/AppleMusicNewReleases

Talviyö will be available in the following formats:
CD-DIGI
Jewelcase CD
2 LP (black, blue, clear)
BOX SET (CD-DIGI, 2LP (marbled), puzzle, poster, photo card)
ICYMI:
Watch the first track by track episode (song 1-5) , here:
https://www.youtube.com/watch?v=0tlhhIXqzg4
More on Talviyö:
"A Little Less Understanding" OFFICIAL LYRIC VIDEO: https://www.youtube.com/watch?v=FiM94N3FnQA
"Cold" OFFICIAL MUSIC VIDEO: https://www.youtube.com/watch?v=8imDPFtw2P4
Trailer #1 – Music & production: https://www.youtube.com/watch?v=Si-8cG44vm0
Trailer #2 – Title & Artwork: https://www.youtube.com/watch?v=1pKuMTE89aA
Trailer #3 – Lyrical Concept: https://www.youtube.com/watch?v=1k2qeeE3px4
Trailer #4 – The 10th Album: https://www.youtube.com/watch?v=kxtpFoR72WU
Talviyö – Track Listing:
01. Message From The Sun
02. Whirlwind
03. Cold
04. Storm The Armada
05. The Last Of The Lambs
06. Who Failed The Most
07. Ismo's Got Good Reactors
08. Demon's Cage
09. A Little Less Understanding
10. The Raven Still Flies
11. The Garden
Talviyö was recorded between September 2018 and May 2019, produced by Mikko Tegelman and SONATA ARCTICA in Studio57. Additional recordings took place in various other places. "Mikko produced the album and he really managed to push us to do our best, even with the more experimental stuff. Working with an outside producer was the biggest new thing we tried this time," says Henrik "Henkka" Klingenberg. The mixing was done by Mikko Tegelman and Pasi Kauppinen and the mastering was handled by Svante Forsbäck (Chartmakers Mastering).