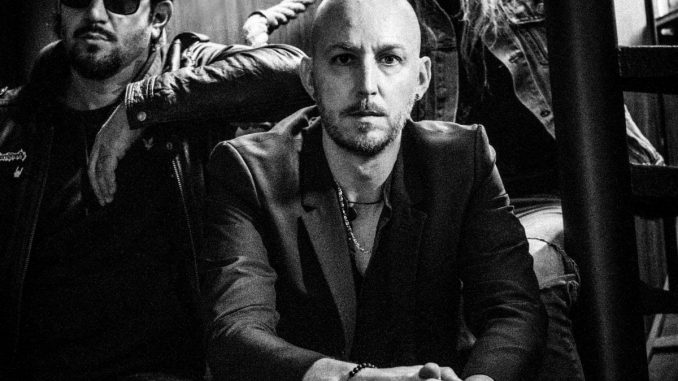 Friday, December 11, 2020 – The provocative, imperious and engaging Swedish-based metal group SOEN unveil the captivating yet unnerving video for "Monarch" today, taken from their forthcoming fifth album, IMPERIAL, via Silver Lining Music on January 29th, 2021.
Founder members Joel Ekelöf (vocals) and Martin Lopez (drums), along with Lars Enok Åhlund (keyboards and guitar), Oleksii "Zlatoyar" Kobel (bass) and Cody Ford (lead guitar) are an undeniable cypher for all the issues and emotions which swirl around us. With its epic, dynamic tale alluding to men raised in aggression and sent to war, 'Monarch' commences with a stomping crushing riff that is perfectly juxtaposed with moments of pure majestic melodic bliss.
"'Monarch' is an epic, dynamic song about the traditional attributes of mankind. The belief that showing compassion and kindness is a sign of weakness." explains Lopez. "The lack of direction and guidance in society is turning younger generations into violent and destructive creatures," furthers Ekelöf "because they are living in an age where bullies are kings and the rest are prey."
On the making of the video, Lopez comments:
"Making videos is a difficult task because it means that you need to hand over the control of your music to someone on the outside. You want to make a video that not only represents the lyrical content but that also captures the atmosphere and emotion of the song and for that you need to find a producer that has the capability of understanding and transforming all these words and notes into images and I think we found the right person in Daniele Berretta… It was a pleasure to work with him and we're very happy with how the video turned out."
Watch the music video for "Monarch"
here
or by clicking the image below.
WATCH: The Official Music Video for "Monarch"
Produced by Iñaki Marconi and the band, IMPERIAL was mixed and mastered by Kane Churko, who has worked with the likes of Ozzy Osbourne and Bob Dylan. IMPERIAL is an album which will engage the listener immediately and sustain long after this crazy time has passed, its rich details destined to make it a classic metal album of this era.
IMPERIAL will be released on January 29th, 2021 via Silver Lining Music and will be available in CD Digipak, Vinyl Album, digital formats and special D2C bundles. Click
here
to pre-order IMPERIAL.
IMPERIAL
SOEN
Track Listing:
1. Lumerian
2. Deceiver
3. Monarch
4. Illusion
5. Antagonist
6. Modesty
7. Dissident
8. Fortune
IMPERIAL CREDITS:
All songs written by SOEN
Produced and recorded by Iñaki Marconi
Vocal editing by Ricardo Borges
Vocals on track 1 to 5 and drums recorded and produced by David Castillo
Mixed and mastered by Kane Churko
Cover design by Enrique Zabala
Art Design by Wriliya
Cover photo by Mark Laita
Excited to bring the new material on the road, SOEN recently announced the first leg of their IMPERIAL European Tour 2021, which will kick-off in spring in Oslo, Norway with more dates to be announced soon. Tickets and additional information are available
here
.
Tour Dates:
6 April – John Dee, Oslo – Norway
7 April – Pustervik, Gothenburg – Sweden
8 April – Posten, Odense – Denmark
9 April – Hellraiser, Leipzig – Germany
10 April – Proxima, Warsaw – Poland
11 April – Fraanz, Berlin – Germany
13 April – Colos Saal, Aschaffenburg – Germany
14 April – Z7, Pratteln – Switzerland
15 April – Backstage Halle, Munich – Germany
16 April – Revolver Club, San Donà di Piave – Italy
17 April – Largo Venue, Rome – Italy
20 April – Magazzini Generali, Milan – Italy
21 April – Luxor, Cologne – Germany
22 April – o2 Academy Islington, London – United Kingdom
23 April – Melkweg, Amsterdam – The Netherlands
25 April – Logo, Hamburg – Germany
28 April – Klubben, Stockholm – Sweden
30 April – Olympia, Tampere – Finland
1 May – Tavastia, Helsinki – Finland
SOEN: Joel Ekelöf – Vocals / Martin Lopez – Drums / Lars Enok Åhlund – Keyboards and Guitar / Oleksii "Zlatoyar" Kobel – Bass / Cody Ford – Lead Guitar