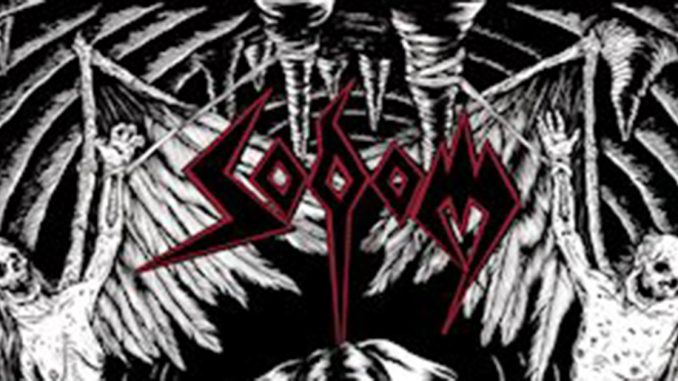 As the world creeps towards 2024, there are bands that will be celebrating 40 years of this or that. Some bands have already reached that career milestone. One such band is Germany's Sodom.
Even though Sodom's debut, Obsessed by Cruelty was released in May, 1986, the band released demos in 1982 and 1984. The year 1982 can be considered ground zero for the German thrash band.
Eventually Sodom would earn their spot high respects as part of the The Big Four of Teutonic Thrash.
With that in mind, Sodom has revisited their roots, releasing 1982, a five song EP through Steamhammer / SPV Records. The tracking of 1982 consists of a re-recorded version of "1982" which was written in 2022. Originally, "1982" was released as a new single for the 40 Years At War – The Greatest Hell Of Sodom in 2022.
Along with "1982", "Sodom re-recorded" "Witching Metal" from the first demo as well as "Victims of Death" and "Let's Fight in the Darkness of Hell" from the second demo. Rounding out 1982's track listing is "Equinox" from the band's 1986 debut.
It's the first time these five songs have been available on vinyl.
The EP can be seen as a journey back in time for the Sodom camp and recapturing the atmosphere of the early eighties.
Since those days, Sodom has gone through many personnel changes but there's been a constant name and face, bassist Tom Angelripper. Along with Angelripper, there's guitarist Frank Blackfire and Yorck Segatz and drummer Toni Merkel.
It's this four man roster that recorded the material on 1982 bridging a gap between past and present.
The tracks are tight rhythmically and sound amazing sonically on 1982 but it's not overly produced. According to Angelripper, traditional instruments were utilized during the recording process. Marshall amps and microphones for guitars and triggers were not used for the drums.
Merkel (Sodom's drummer) did a fine job producing, mixing and mastering the tracks.
The songs are sharp, crisp and clean while maintaining that heavy Sodom edge. The adrenaline that's being pumped through the audio's copper veins can truly be felt.
The remixed "1982" immediately gives that classic heavy metal feel from the year of the same name.
Angelripper's rattling bass near the 3:00 minute mark during the ferocious "Victims of Death" just makes the listening experience that more enjoyable.
Whether blasting "Witching Hour," "Let's Fight in the Darkness of Hell," or "Equinox," there's plenty of speed to devour. There's not a weak link anywhere within 1982 making the EP flawless from start to finish.
Sodom will be making a few appearances in North America during 2024. It's highly recommended to catch the German thrashers as an appearance on the western side of the Atlantic is rare.
1982 will be released in select vinyl formats as well as CD through Steamhammer / SPV Records on November 10, 2023. Pre-orders for 1982 are currently open and options can be viewed on the Steamhammer or Napalm Records America website.