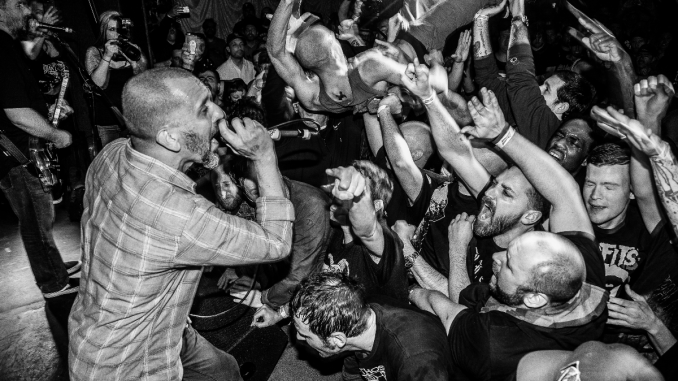 CRAFT RECORDINGS CELEBRATES THE 25TH ANNIVERSARY OF SNAPCASE'S
GENRE-DEFINING ALBUM, PROGRESSION THROUGH UNLEARNING,
WITH COLORFUL VINYL REISSUES
The influential hardcore album, featuring the songs "Caboose," "
Zombie Prescription,"
and "Guilty by Ignorance," will be available in three limited-edition variants
Band set to perform a hometown show at Buffalo, NY'
s Rec Room on November 4, in celebration of their forthcoming book, Optic
Craft Recordings
celebrates the 25th anniversary of
Snapcase
's hardcore classic,
Progression Through Unlearning
, with
three limited-edition vinyl reissues
. Set for release on
November 18
, the album will be available in
three exclusive colorways
:
pearlescent copper swirl
(via the band's website),
clear yellow wax
(
Revolver
), and
white-yellow-swirl
vinyl (CraftRecordings.com). All three pressings of the highly influential title —which includes such genre-defining songs as "
Caboose
,"
"
Zombie Prescription
,"
and "
Guilty by Ignorance
" —can be pre-ordered
here
.
On
November 4
, meanwhile, Snapcase will play a sold-out hometown show at
Buffalo, NY's Rec Room
, to celebrate the release of their forthcoming book,
Optic
—a 144-page visual history of the band's earliest moments all the way through to their not-so-final show in January 2005. In addition to hundreds of images,
Optic
will feature insight from friends and colleagues throughout the hardcore scene that tell stories from the road, the studio and of the band's widespread impact. Full details on the book will be announced closer to the early-November release date and show in Buffalo. Joining them on stage during the sold-out show will be a cross-generational line-up of local hardcore acts, including Against All Hope, Cinderblock, Exhibition, Spaced and Smash N' Grab.
Snapcase
—originally known as
Solid State
— was formed in 1989 in the suburbs of Buffalo, NY. After several line-up changes, the quintet gelled with singer
Daryl Taberski
, drummer
Tim Redmond
, bassist
Bob Whiteside
, and guitarists
Jon Salemi
,
and
Scott Dressler
. They soon caught the ears of
Victory Records
and released their debut album,
Lookinglasself
, in 1993. But just three years later, after the release of their
Steps
EP, Dressler left the band to pursue a graduate degree, with
Frank Vicario
(formerly of the group Fadeaway) stepping in as guitarist. As Dressler had been the group's primary songwriter, the five-piece found themselves at a creative crossroads. Turning the loss into an opportunity, however, the band resumed their momentum, reinventing themselves along the way. With a collection of crowd-tested material, the five-piece entered New Jersey's
Trax East
studio to record their sophomore album with producer
Steve Evetts
(Lifetime, Hatebreed, The Dillinger Escape Plan).
The results were revolutionary.
Progression Through Unlearning
, notes
Vice
, "
Felt decidedly unlike anything else in the scene in the mid-'90s… This had a feisty personality to it
." One stylistic choice that set apart the band from their peers was bringing Redmond's propulsive drumming to the forefront of the mix. Another was performing their material at a breakneck speed — their unrelenting performances delivering an all-out sonic assault, punctuated by crisp stops and starts. At just 32 minutes long, the album found the band members giving their all individually while working together with military-like precision.
One of the most unique aspects of Snapcase, however, was their introspective approach to songwriting. "A lot of the lyrics [on
Progression Through Unlearning
] are about recognizing what's been holding you down and the strength you might have hidden or squashed by your upbringing or other people, and trying to bring it to the surface," Taberski told
Vice.
"Even the title. You have to unlearn some of your negative habits and ways of thinking to learn and understand new ones that are more positive."
This theme runs throughout the album and is even represented in
Limbert Fabian
's cover art, which features a woman emerging from a set of nesting dolls — as if shedding the outer layers of herself.
Progression Through Unlearning
'
s opening anthem, "
Caboose
," which went on to become one of the group's most recognizable songs, challenges listeners to find —and reveal— their true selves. "
Can you expose yourself / Can you peel off another layer?
"
asks Taberski. He continues,
"
Once you save yourself / Insecurities will die / Genuine qualities / And true character will shine
."
Other songs offer a broader critique of modern society, including "
Guilty by Innocence
,"
which denounces corrupt corporations, and "
Zombie Prescription
," in which Taberski declares, "
We are the signs of the changing times… Your preconceptions / Condemning race / And your solutions they cramp our space
."
The track "
Priceless
,"
meanwhile, asks listeners to question the importance placed on money and consumerism. "
Have you lost your heart to greed's control / Do you bow down and kiss the ground / To your possessions your life is bound
."
Another highlight is the song "
Harrison Bergeron
."
Titled after the short story by Kurt Vonnegut, which takes place in a dystopian society in which all people must have equal intelligence, beauty and physical strength, the song is sung from the point of view of someone who has boldy taken back their autonomy. In a similar vein, "
Breaking and Reaching
,
"
encourages listeners to break free of their inhibitions, as Taberski sings, "
Give someone a piece of your mind / Regrets are tokens of what has gone untold / You

'

re only special when you break from the mold
."
Upon its release in April 1997,
Progression Through Unlearning
was a critical and commercial success, selling more than 72,000 copies and bringing the band hordes of new fans. Speaking to
Culture Creature
, guitarist Jon Salemi recalled that the impact of the album was felt immediately: "
It was like, all of a sudden, the shows went from two- or three-hundred people to a thousand people. It was an eruption
."
Following the release, the band took to the road, supporting such acts as Quicksand and Deftones, and joining the Warped Tour. Their spirited album, meanwhile, would impact the hardcore scene for years to come, inspiring such bands as Refused, New Found Glory and even their tourmates The Deftones.
Snapcase would go on to record three more albums, including
Designs for Automotion
(2000) and
End Transmission
(2002), before disbanding in 2005. Since then, the group—whose current lineup includes
Taberski
,
Salemi
,
Vicario
,
Redmond
and bassist
Dustin Perry
(who replaced Whiteside in 1999)—has reunited every few years for shows, while their steadfast fanbase and enduring influence only continues to grow.
Click
here
to pre-order
Progression Through Unlearning.
PROGRESSION THROUGH UNLEARNING VINYL REISSUE TRACK LISTING:
SIDE A:
"Caboose"
"Guilty By Ignorance"
"Harrison Bergeron"
"Priceless"
"Zombie Prescription"
SIDE B:
"Killing Yourself To Live"
"She Suffocates"
"Weak Tyrant"
"Vent"
"Breaking And Reaching"
"Outro"
ABOUT CRAFT RECORINGS:
Craft Recordings is home to one of the largest and most prestigious collections of master recordings and compositions in the world. Its rich and storied repertoire includes legendary artists such as Joan Baez, Ray Charles, John Coltrane, Creedence Clearwater Revival, Miles Davis, Bill Evans, Vince Guaraldi, John Lee Hooker, Little Richard, Nine Inch Nails, Thelonious Monk, Otis Redding, R.E.M. and Traveling Wilburys, to name just a few. Renowned imprints with catalogs issued under the Craft banner include Concord, Fania, Fantasy, Fearless, Milestone, Musart, Nitro, Prestige, Riverside, Rounder, Specialty, Stax, Sugar Hill, Vanguard, Vee-Jay, and Victory, among many others. Craft creates thoughtfully curated packages, with a meticulous devotion to quality and a commitment to preservation — ensuring that these recordings endure for new generations to discover. Craft Recordings is the catalog label team for Concord Recorded Music. For more info, visit
here
and follow on
Facebook
,
Twitter
,
Instagram
,
YouTube
, and
Spotify
.