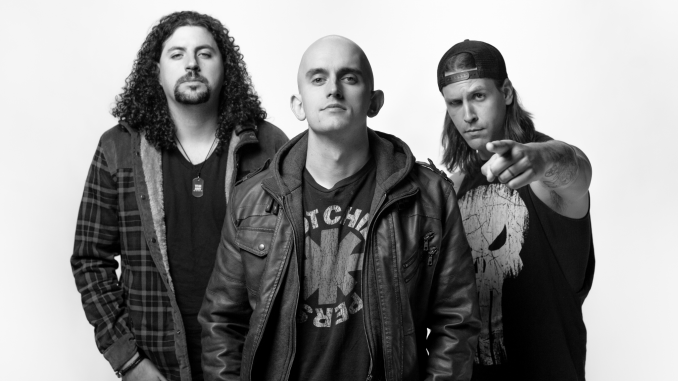 Saturday, February 6th, gave Small Town Titans fans the event that had been months in the making. Rescheduled twice due to health and safety conflicts, STT were finally able to perform their first run through of their new album, The Ride as a livestream concert. Fans from around the globe gathered in what has become the current medium for live music in most places.
Small Town Titans and about 300 of their closest fans celebrated with the band as they gave a proper launch to their fourth album, The Ride. Tickets were first available back in November with the album's initial release and loyal fans have held onto them until now. Fans were also able to purchase tickets to a Zoom after party.
It's been a long time since a performance of this magnitude. Ben Guiles (Guitar) admitted to having to conquer some nerves. Nerves didn't get in the way for the power trio. STT brought their same high octane energy to the stage.
STT could have played "The Man" ten times through and I would have been thrilled each time. "Behind the Moon" only got better as you witnessed the powerful accapella harmonies live. The guys talked about how BTM is their hardest song vocally. Most bands will tell you, there are songs you perform and there are songs that are more for listening. But, when you promise a full album run through, you deliver.
Another brutal piece to tackle live is the amped up "Universal Limits;" which is like an IV drip of your daily caffeine fix. The vibe was then mellowed out with the classic rock storytelling of "9-5," no, not the Dolly Parton one.
If you were able to catch the event live, STT threw in a couple surprises for the Titan Army. Not only did they absolutely kill a rendition of System of a Down's "Aerials;" they performed their break out cover of "You're a Mean one Mr. Grinch."
Taken straight from the live chat amongst fans during the show: Meule26393- "Does hitting REFRESH work the same as shouting ENCORE?!" My thoughts exactly.
You can check out Brutal Planet's interview with drummer, Jonny Ross; and the full review of The Ride by following the links. If you missed the event, don't worry, you can still catch their pre-show on YouTube. If you've never heard Phil play the harmonica while Ben plays his bass…click below.