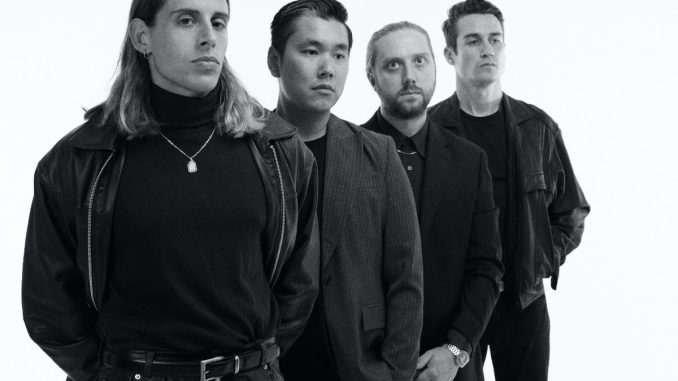 BAND SHARES VIDEO FOR TITLE TRACK — WATCH
Slowly Slowly, the Melbourne indie faves, have announced their brand new album Daisy Chain, due out November 4 via UNFD.
Pre-orders for Daisy Chain will be available at 9am on July 1. Pre-order it here.
Today, the band has shared the video for the title track. Watch the visual for the irresistible anthem here.
Slowly Slowly are set to unveil their most ambitious and uninhibited selves yet to the world this November with Daisy Chain. They will also come armed with a brand new sonic palette on vivid display; one soaked in oscillating fragility and boisterous delights that pay homage to the quartet's stylistic past while firmly linking to their very bright future ahead.
An effervescent charmer with a breezy pop spine, "Daisy Chain" perfectly captures the themes tucked into the broader album, covering acceptance, self-discovery, and growth. And while "Daisy Chain" follows previously released singles "
Blueprint
," "
Forget You
," and "
Nothing On
," it's on this latest track, and one that incidentally also came quite late in the writing game, that the album's pieces all truly fell into place for Slowly Slowly. And thus,
Daisy Chain
's opening track was born.
"'Daisy Chain,' I feel, is a culmination point," shares vocalist Ben Stewart. "It's a story about how the strongest supports in your life can also be the most delicate. It's about how lucky I am. It's about growing up, accepting myself. Life is not linear; it seems for me to be this constant circular process. It's about the ugly nature of fate and and how if we don't find the beauty in it we're doomed for failure. It's about the process of turning a blind eye to the weakest parts of yourself so you never grow. It's about hating yourself. 'Daisy chain, stay the same' is a mantra for me about keeping the things I care about most front of mind at all times — there is freedom in that. It's about the golden years, being every year, from now on."
Kicking off Slowly Slowly's fourth studio album, the band's first since 2020's Race Car Blues and its accompanying follow up Race Car Blues Chapter 2 in 2021, Daisy Chain is a perfect entrée to raucous party-starters ("Blueprint"), slick dancefloor vibes ("Forget You"), poppin' bops("Achilles' Heel"), and upbeat emo singalong moments ("Longshot") throughout the LP's 12 tracks.
And while Daisy Chain's title track may have been a late, yet very welcome, addition that tied proceedings together, one of the album's most vigorous moments comes in the form of penultimate track "Moving Trains"; a song 10 years in the making, and also boasting one of Stewart's heroes: Chris Carrabba of Dashboard Confessional fame.
"I wrote this love song over 10 years ago, and when I listened back to the demo, I was flooded with emotion," Stewart shares. "I mainly felt pity at all of the angst, competitiveness, and self-deprecation that plagued my younger years when navigating love. It was quite sad but empowering to see how far I've come in trying to mend that. I had always envisaged Chris from Dashboard singing on the record, and so for this to become a reality, is a serendipitous ending of that chapter in my life."
Acclaimed for their heartfelt narratives, writing prowess, and sonic hooks for days, Slowly Slowly will cement their status with Daisy Chain. Stewart self-produced the release, with mixing duties by UK heavyweight Jonathan Gilmore (Wolf Alice, The 1975, Nothing But Thieves).
SLOWLY SLOWLY ARE:
Ben Stewart — Vocals + Guitar
Albert Doan — Guitars
Alex Quale — Bass
Patrick Murphy — Drums
DAISY CHAIN TRACK LISTING:
"Daisy Chain"
"Blueprint"
"Turn It Around"
"Forget You"
"Nothing On"
"Achilles' Heel"
"Hold My Breath"
"Medicine"
"God"
"Longshot"
"Moving Trains" (Feat. Dashboard Confessional)
"Papier-Mache"