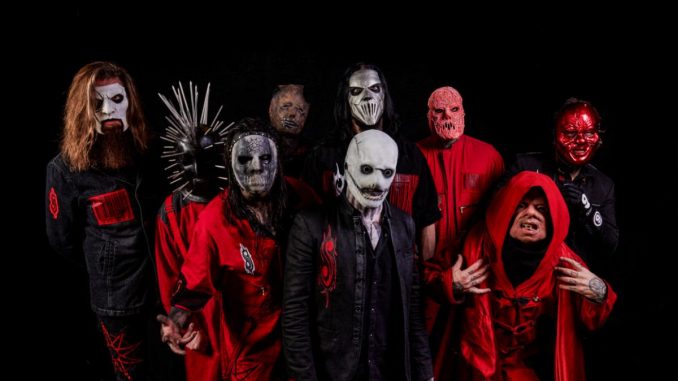 Wage War Added As Leg 1 Support
Leg 1 – March 16th, 2022 – April 17, 2022
Headlined by Slipknot
With Special Guests In This Moment and Wage War
Leg 2 – May 18th, 2022 – June 18th, 2022
Headlined by Slipknot
With Special Guests Cypress Hill and Ho99o9
Friday, March 4, 2022 – Slipknot are set to kick-off the 2022 iteration of their jaw-dropping Knotfest Roadshow Tour on March 16th. It was announced today that previously announced support, Jinjer, will no longer be joining the tour, as they focus on the safety of their families in their home country of Ukraine. Taking their place on this run will now be metalcore quintet, Wage War.
Eugene Abdukhanov of Jinjer shares the following statement:
"Thank you all for your concerned messages and prayers sent to us over the last week, we may not answer but we are reading them and they mean the world to us. As you know, there is war raging through the streets and cities of Ukraine right now. Many people have little or no food or water and are very afraid of what tomorrow may bring. Together with Napalm Records, we're releasing two new T-Shirt designs to raise funds to be donated to various charities throughout Ukraine to help with medical and food supplies, water and so on. If you cannot donate then please share this or any news related to what's really happening here. Each sale may save somebody's life in Ukraine. Thank you."
Knotfest Roadshow's return will also feature on-site merchandise from official tour sponsor, Blackcraft Cult.
Knotfest Roadshow 2022
LEG 1
Slipknot w/ In This Moment & Wage War
Wed Mar 16 Fargo, ND FARGODOME
Fri Mar 18 Omaha, NE CHI Health Center
Sat Mar 19 Wichita, KS INTRUST Bank Arena
Tue Mar 22 Memphis, TN FedExForum
Wed Mar 23 Tulsa, OK BOK Center
Fri Mar 25 North Little Rock, AR Simmons Bank Arena
Sat Mar 26 Durant, OK Choctaw Grand Theater
Tue Mar 29 Birmingham, AL Legacy Arena at the BJCC
Wed Mar 30 N. Charleston, SC North Charleston Coliseum
Fri Apr 01 Greensboro, NC Greensboro Coliseum Complex
Sat Apr 02 Reading, PA Santander Arena
Mon Apr 04 Cleveland, OH Rocket Mortgage FieldHouse
Wed Apr 06 Green Bay, WI Resch Center
Thu Apr 07 Peoria, IL Peoria Civic Center
Sat Apr 09 Minneapolis, MN Target Center
Mon Apr 11 Winnipeg, MB Canada Life Centre
Tue Apr 12 Regina, SK Brandt Centre
Thu Apr 14 Saskatoon, SK SaskTel Centre
Fri Apr 15 Edmonton, AB Rogers Place
Sun Apr 17 Vancouver, BC Pepsi Live at Rogers Arena
LEG 2
Slipknot w/ Cypress Hill and Ho99o9
Wed May 18 University Park, PA Bryce Jordan Center
Fri May 20 Brooklyn, NY Barclays Center
Sat May 21 Providence, RI Dunkin' Donuts Center
Sun May 22 Manchester, NH SNHU Arena
Tue May 24 Albany, NY MVP Arena
Thu May 26 Montreal, QC Bell Centre
Sat May 28 Québec, QC Videotron Centre
Sun May 29 Ottawa, ON Canadian Tire Centre
Mon May 30 Toronto, ON Budweiser Stage
Wed Jun 01 Cincinnati, OH Heritage Bank Center
Thu Jun 02 Grand Rapids, MI Van Andel Arena
Sat Jun 04 East Troy, WI Alpine Valley Music Theatre
Sun Jun 05 Moline, IL TaxSlayer Center
Tue Jun 07 Bonner Springs, KS Azura Amphitheater
Thu Jun 09 Colorado Springs, CO The Broadmoor World Arena
Sat Jun 11 Nampa, ID Ford Idaho Center
Mon Jun 13 Seattle, WA Climate Pledge Arena
Tue Jun 14 Ridgefield, WA RV Inn Style Resorts Amphitheater
Fri Jun 17 Las Vegas, NV MGM Garden Arena
Sat Jun 18 Chula Vista, CA North Island Credit Union Amphitheatre
About Slipknot: Slipknot sit alongside musical institutions like Metallica and Iron Maiden, as one of a select few bands whose legacy is secured within heavy music's elite. The band emerged at the end of the 20th Century from the American mid-western town of Des Moines, IA and quickly established themselves as the most enigmatic, provocative and aggressive music collective of the modern era. 1999's eponymous debut is widely viewed as a modern day classic and was honored by Metal Hammer magazine as the 'Best Debut of the Last 25 Years.' The release racked up double RIAA platinum certification in the US, with many of Slipknot's subsequent releases achieving platinum status both in the US and around the globe. To date, the band have been nominated for 10 Grammy Awards (winning in 2006 for 'Before I Forget'), as well as scoring 12 Platinum and 41 Gold album certifications around the world and over 3.2 billion YouTube views and counting. Slipknot's fanbase is as unwavering as it is ubiquitous – the band's most recent studio album, 2019's 'We Are Not Your Kind' debuted at #1 in the Official Album Charts of 12 countries around the world, including the US, UK, Australia, Canada and Mexico and in the Top 5 of an additional 12 countries including Germany, France and Sweden.
About Knotfest: Knotfest is Slipknot's own self-curated, destination festival brand, currently held in four international locations; the US, Japan, Mexico, Finland, Germany, Colombia and Brazil. Designed as an immersive, unforgettable, 'dark carnival experience', the event invites you into Slipknot's apocalyptic underworld where stunning visuals, fire breathers and nightmarish creatures on stilts set the stage for an intoxicating and memorable weekend of live music.
About Live Nation Entertainment: Live Nation Entertainment (NYSE: LYV) is the world's leading live entertainment company comprised of global market leaders: Ticketmaster, Live Nation Concerts, and Live Nation Sponsorship. For additional information, visit
www.livenationentertainment.com
.
About In This Moment
Since coming to life in 2005, gold-selling hard rock provocateurs In This Moment have presided over a diehard fan base under the watch of "mother" figure and frontwoman Maria Brink—joined by co-founder and lead guitarist Chris Howorth, bassist Travis Johnson, guitarist Randy Weitzel, and Kent Dimmel. As millions convened upon the group's otherworldly and unforgettable concerts, they quietly emerged as one of the most influential and impactful bands of the 21st century. To date, the quintet have garnered two gold singles—"Blood" and "Whore"—and one gold album, Blood [2012]. The latter notably launched a trifecta of Top 25 entries on the Billboard Top 200 with Black Widow [2014] and Ritual [2017]. Bringing their total stream tally well past 200 million as of 2020, Ritual elevated them to new creative and critical peaks as well. In a 4-out-of-5 star review, KERRANG! called it "their best vehicle to date" as Alternative Press claimed, "Maria Brink is the Lady Gaga of the metal world" and went on to add, "Ritual flourishes as the metal love child of art-pop, gospel, Morrissey and Johnny Cash that the world didn't know it needed until now." Between selling out headline tours coast-to-coast, the group performed in arenas everywhere alongside Disturbed and appeared at countless festivals from Welcome To Rockville to Sonic Temple. Along the way, they assembled their seventh full-length, the aptly titled Mother [Roadrunner Records] with longtime trusted collaborator Kevin Churko [Ozzy Osbourne, Five Finger Death Punch]. Whereas Ritual hinted at a bluesy sonic sorcery, Mother breathes the activating mantra of an unbreakable spell, commenced on first single "The In-Between," which was nominated for a "Best Metal Performance" Grammy in 2020.
About Wage War
We define ourselves between extremes. Life's lowest lows and highest highs ultimately show us how much we can take. Wage War have forged an ironclad hybrid of battering ram grooves, gnashing guitars, and melodic hooks in the heat of those extremes. Following the most trying year in recent memory, the Florida quintet— Briton Bond [lead vocals], Cody Quistad [rhythm guitar, clean vocals], Seth Blake [lead guitar], Chris Gaylord [bass], and Stephen Kluesener [drums] — only strengthened their creative bond on their fourth full-length offering, Manic [Fearless Records]. Musically, the band struck a seamless balance between bludgeoning grooves, soaring melodies, electronic fits, and battering ram riffs, straining their past, present, and future into one cohesive statement. Thematically, they confronted everything from personal struggles to trolls and two-faced friends.
About Cypress Hill: Three decades ago, B-Real, Sen Dog, and DJ Muggs sparked a trip that left popular culture stoned, stunned, and staggering in anticipation for more. Naming themselves after a local street in Los Angeles, Cypress Hill burst on the scene in 1991 with the release of their self-titled debut album. The singles "How I Could Just Kill a Man" and "The Phuncky Feel One" became underground hits, and the group's public pro-marijuana stance earned them many fans among the alternative rock community. Cypress Hill followed their debut with Black Sunday in the summer of 1993, which debuted at #1 on Billboard's Top 200, garnered three GRAMMY® Award nominations, and went triple platinum in the U.S. As a result, Cypress Hill became the first rap group to have two albums in the top 10 of the Billboard 200 charts at the same time and are the first Latino-American hip-hop group to achieve platinum and multi-platinum success. Since the release of Black Sunday, Cypress Hill have put out seven more albums including 2018's critically acclaimed, Elephants on Acid. Cypress Hill made history once again in 2019 when the group was honored with their very own star on the Hollywood Walk of Fame. In 2021, Cypress Hill released "Champion Sound." Produced by Black Milk, the single appears on the soundtrack of R.B.I Baseball 21 and is also the featured song for the band's partnership with Montejo Cerveza. 2021 also saw Cypress Hill celebrate the 30th anniversary of their self-titled debut this year with a SONY reissue on vinyl, 7-inch box set, a reissue across all DSP's that includes eight unreleased tracks, as well as a graphic novel and their very own STANCE sock.
Cypress Hill continue to be busier than ever in 2022. The band will release a new album this spring and have already dropped three singles, "Champion Sound," "Open Ya Mind," and "Bye Bye." Their "Hits From The Bong" documentary, which is part of Mass Appeal's "Hip Hop 50" franchise in partnership with Showtime, will also be released this year.
About Ho99o9
Ho99o9 [HORROR] is a volatile conflagration of digital hardcore punk, gritty trap-infused hip hop, then cross-contaminated with explosive elements of industrial, electronic, metal, and noise. The experimental Avant-grarde project originated in New Jersey by Yeti Bones & theOGM, and is currently joined by drummer Billy Rymer of The Dillinger Escape Plan. Ho99o9 has built a cult-like following over the last decade, perpetually blazing around the globe laying waste with their legendary, visceral, live performances. Ho99o9's completely unique and uncompromising style has created its own lane for the future of heavy, alternative music.