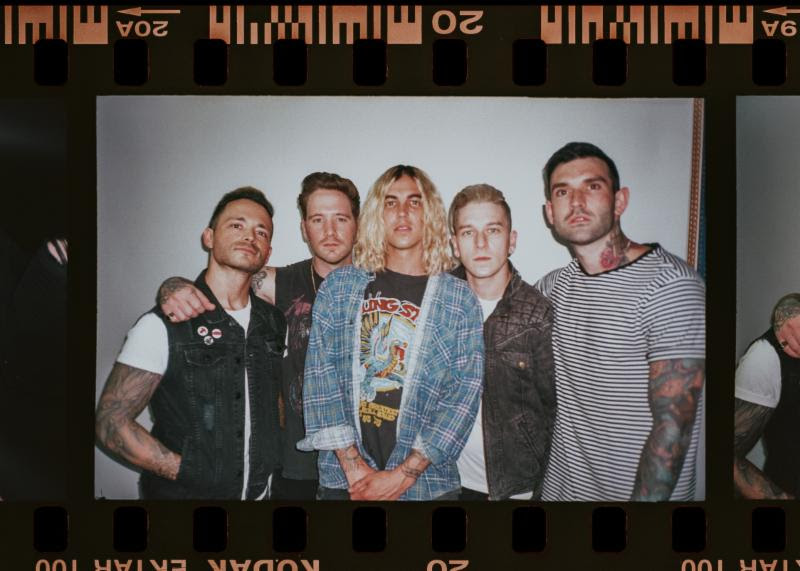 Drop Brand New Track
'Break Me Down'
Taken From Upcoming New Album
'How It Feels To Be Lost'
Releasing Via Sumerian Records on September 6th
LOS ANGELES, CA – Friday July 19th 2019 – Gold-certified quintet, Sleeping WIth Sirens have dropped 'Break Me Down' today. The second new track from upcoming album 'How It Feels To Be Lost' which will be released via Sumerian Records on September 6th. Pre-order bundles are available now from
SirensMusic.co
"Break Me Down' follows the release of first new single from the upcoming album, 'Leave it All Behind' which delighted Sleeping With Sirens fans across the globe upon its release. Being heralded as a return to the band's earlier, heavier form, 'Break Me Down' is a further taster of this return to their heavier roots with huge riffs, frantic drums and visceral screams from the band's frontman, Kellin Quinn.
Released exactly 1 month ago (June 19th), first single 'Leave It All Behind' has already hit over 2.2 million streams on Spotify, the official music video has clocked up 1.5 million views on YouTube and it's been featured on the cover major streaming playlists including Spotify's 'Rock This' and 'New Core', Amazon Music's 'Rock Scene' as well as being included on Apple Music's 'Breaking Hard Rock', Spotify's 'New Music Friday' & 'Kickass Metal' and Deezer's 'Heavy New Rock'. You can also hear 'Break Me Down' now on Spotify's 'New Music Friday' playlist.
Since emerging in 2010, Sleeping With Sirens have tested the boundaries of rock by walking a tightrope between pop, punk, metal, hardcore, electronic, acoustic, and even a little R&B. This high-wire balancing act attracted a faithful fan base known as "Strays," generated global album sales in excess of 1.5 million, ignited over half-a-billion streams, and achieved a trio of gold-selling singles: "If I'm James Dean, You're Audrey Hepburn," "If You Can't Hang," and "Scene Two-Roger Rabbit." They launched two albums—Feel and Madness—into the Top 15 of the Billboard Top 200. Additionally, they collaborated with MGK on "Alone" and Pierce the Veil on the gold-certified "King For A Day." Beyond selling out shows worldwide and receiving acclaim from The New York Times, Alternative Press crowned them "Artist of the Year" at the Alternative Press Music Awards, proclaimed "Kick Me" the 2015 "Song of the Year", and featured them as cover stars a whopping seven times.
Now, the band are wiping the slate clean and turning the page to the next chapter. Sleeping With Sirens re-center, recalibrate, and realign on their fifth full-length and first album for Sumerian Records, 'How It Feels to Be Lost', which was recorded at MDDN Studios in Los Angeles and produced by Zakk Cervini (Yungblud & Good Charlotte) and Matt Good (Asking Alexandria).
Track Listing For 'How It Feels To Be Lost'

1. Leave It All Behind

2. Never Enough

3. How It Feels To Be Lost

4. Agree To Disagree

5. Ghost

6. Blood Lines

7. Break Me Down

8. Another Nightmare

9. PS Missing You

10. Medicine

11. Dying To Believe
Pre-Order Bundles are available now from

SirensMusic.co

Bundles available are listed below :

1. CD Digipak + 18×24″ Poster

2. CD + Poster + Hourglass Black Tee

3. CD + Poster + Agree To Disagree Acid Wash Tee

4. CD + Poster + Injection UV Green Longsleeve

5. CD + Poster + Hourglass Black Pullover Hoodie

6. Neon Red Inside Clear 12″ Gatefold Vinyl
Sleeping With Sirens have been touring the USA as part of the Rockstar Disrupt Festival and will appear at Vans Warped Tour in Mountain View, CA this weekend. They will also play Exit 111 and Las Rageous this Summer/fall.
ROCKSTAR DISRUPT TOUR
7/20 – Irvine, CA @ Five Point Amphitheater
7/23 – Auburn, WA @ White River Amphitheater
7/24 – Boise, ID @ Idaho Center Amphitheater
7/26 – Chula Vista, CA @ North Island Credit Union Amphitheater
7/27 – Phoenix, AZ @ Ak-Chin Pavilion
7/28 – Albuquerque, NM @ Isleta Amphitheater
VANS WARPED TOUR
7/21 – Sacramento, CA @ Shoreline Amphitheater
EXIT 111 FEST
10/12 – Manchester, TN @ Exit 111
LAS RAGEOUS
10/18 – Las Vegas, NV @ Downtown Las Vegas Events Center
The band also announced the 'How It Feels To Be Lost' European Headline Tour today, due to hit the road in November.
Sleeping With Sirens By Numbers
2 million monthly listeners on Spotify
11.5 million combined social media followers
695 million total YouTube views
591.42 million total Spotify streams
'Leave It All Behind' – 2.2 million Spotify streams and 1.5 million YouTube views