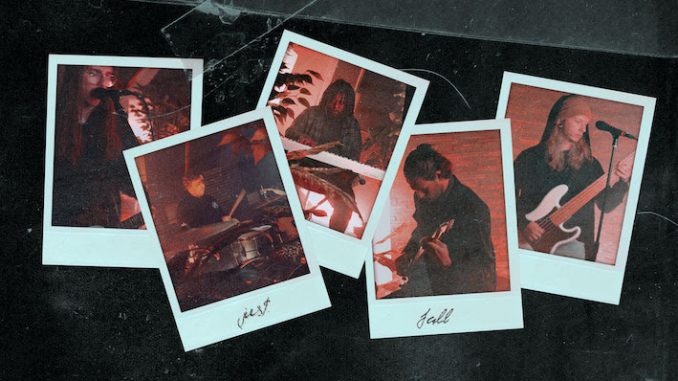 BAND PREMIERES NEW VERSION AT GEAR GODS — WATCH
Grand Rapids band SLEEP WAKER — guitarists Jake Impellizzeri and Jason Caudill, vocalist Hunter Courtright, drummer Frankie Mish, and bassist Aaron Lutas — have shared the reimagined version of their song "Distance." Watch it over at Gear Gods here.
Originally released as the lead track from their latest album Alias, out now via UNFD, "Distance" is a commanding and emotional exploration of loss, unraveling vocalist Hunter Courtright's experience witnessing his grandfather battle with dementia.
For "Distance Reimagined," the band leaned into its love for alternative music genres. Also, the band switched around the entire lineup — each member is playing a different instrument, showcasing how multi-talented they are!
Drummer Mish tackles the vocals, while guitarist Impellizzeri sits behind the kit. Bassist Luta plays the piano, while vocalist Courtright is now playing bass. Caudill still plays guitars!
The song also takes on a different style and tone — the band is known for its brutally heavy music and this version has a completely unique vibe. It's a softer, gentler Sleep Waker.

"'Distance Reimagined' came from our love of softer emo and shoegaze music," says the band. "Everyone in the band has a major affinity for it, and we felt it would be a good time to highlight that some of us have talents outside of our usual instruments. Hunter used to play guitar in the band before Sleep Waker, Jake started as a drummer for a pop punk band, Aaron had this hidden piano talent no one knew about, and Frankie is constantly writing with guitar. This song is an expression of the band from a different and much more personal perspective. We love to experiment and mess around, and we're very excited to bring more experimentation into the sound of Sleep Waker."
Click the link below to watch the video.
Alias, which follows the band's 2017 debut EP Lost in Dreams and the 2018-released full-length Don't Look at the Moon, is the sort of album that asks listeners to examine who we are, how we quantify our reality, and what it means to be alive. Although rooted in many of the same conceptual themes and ideas that gave the band their successful start in 2017, this time they're diving even deeper. This time, it's not just conceptual exploration. This time, it's personal.
The band draws inspiration from the dream-like surrealism of David Lynch's Twin Peaks series, and futuristic sci-fi movies The Matrix, Blade Runner, Ghost in the Shell, and Japanese sci-fi anime series Cowboy Bebop.