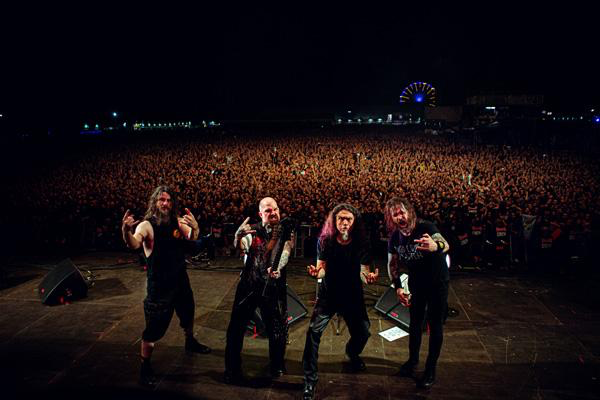 –
Sells Out Los Angeles Forum In One Day!
Overwhelming Demand Sees Second L.A. Forum Show
Added to SLAYER's Final World Tour!
November 29 and November 30:
A two-night, back-to-back send-off for Southern California's hometown band
LOS ANGELES, CA – Tuesday, July 16, 2019 – Tickets for Slayer's November 30 show at the Los Angeles Forum went on sale last Friday and by the end of the day, had sold out. Due to the quick sell out, today Slayer announces a second Forum show now confirmed for Friday, November 29 for fans who may have missed out on getting tickets. This show is the last addition to Slayer's Final World Tour. Tickets go on sale this Friday, July 19 at 10AM (local). Log on to www.slayer.net for all ticketing and VIP package details.
The Final Campaign, Leg Seven of Slayer's Final World Tour, kicks off in Asheville, NC on November 2 and will wrap with two nights at the L.A. Forum on November 29 and November 30, seeing the band end its touring career in Southern California where it all began back in 1981**. Primus, Ministry and Philip H. Anselmo & The Illegals performing a vulgar display of Pantera, will support on all dates.
Slayer just wrapped Leg Six of its Final World Tour with headline and festival dates in Europe and will perform at various North American festivals over the summer, including Chaos AB (Edmonton), Heavy Montreal (Montreal), Riot Fest (Chicago) and Exit 111 (Manchester, TN). All remaining dates of this last Slayer trek are below.
** Go HERE for the Slayer Timeline
At GrasPop, Belgium, 6/21/19: Paul Bostaph, Kerry King, Tom Araya, Gary Holt
Photo Credit: Tim Tronckoe
JULY
26 Chaos AB Festival, Edmonton, AB
28 Heavy Montreal, Parc Jean-Drapeau, Montreal, QC

AUGUST
2 Wacken Open Air, Wacken, Germany
3 Hanns-MMartin-Schleyer-Halle, Stuttgart, Germany

SEPTEMBER
13 Riot Fest, Chicago, IL
27 Coliseo General Ruminahui, Quito, Ecuador
29 Estadio Luna Park, Buenos Aires, Argentina

OCTOBER
2 Espaço das Americas, Sao Paulo, Brazil
4 Rock In Rio, Rio De Janiero, Brazil
6 Gets Louder Festival, Santiago, Chile
11 Exit 111 Festival, Great Stage Park, Manchester, TN

NOVEMBER
2 Explore Asheville Arena, Asheville, NC
3 PNC Arena, Raleigh, NC
5 Salem Civic Center, Salem, VA
6 Giant Center, Hershey, PA
8 Mass Mutual Center, Springfield, MA
9 Madison Square Garden, New York, NY
11 KFC Yum! Center, Louisville, KY
12 Nationwide Arena, Columbus, OH
14 TaxSlayer Arena, Moline, IL
15 Denny Sanford Premier Center, Sioux Falls, SD
17 Fargodome, Fargo, ND
18 CHI Health Center, Omaha, NE
20 Broadmore World Arena, Colorado Springs, CO
22 First Interstate Arena at MetraPark, Billings, MT
24 Spokane Arena, Spokane, WA
26 Oracle Arena, Oakland, CA
27 Grand Garden Arena, Las Vegas, NV
29 The Forum, Los Angeles, CA – ADDED SHOW
30 The Forum, Los Angeles, CA

**********

ABOUT SLAYER – www.slayer.net:
For nearly four decades, Slayer's onslaught has proven them to be the supreme thrash-metal band on the planet, the band that other heavy acts are measured against and aspire to. Their membership in "The Big Four" – Metallica, Slayer, Megadeth and Anthrax – the four bands that defined the thrash/metal genre – secures the band's place in music history.

The five-time nominated, two-time GRAMMY-winners have accumulated an abundance of certified Gold albums along with "Best…" awards from media outlets all over the world, including Kerrang!,
SPIN, Metal Hammer, Revolver, and Esquire. Throughout Slayer's history, the band has never faltered in unleashing its extreme and focused sonic assault, and, unlike many of its contemporaries who commercialized their sound, Slayer has remained crushing and brutal, steadfastly refusing to cater to the mainstream. Slayer's founding member, guitarist Jeff Hanneman passed in 2013, and Exodus guitarist Gary Holt has been filling in for him since. Paul Bostaph, who was Slayer's drummer from '94 – '01, rejoined bassist/vocalist Tom Araya and guitarist Kerry King in 2013, and is back behind the kit to the end.

In January 2018, Slayer announced they were calling it a day and would be doing one final world tour to thank its fans for their support over the years. Launched on May 10, 2018, by the time the 18-month tour wraps, Slayer will have said goodbye to fans in 30 countries around the world and in 40 U.S. states.
Slayer: Final World Tour * Photo Credit: David Bonvillain