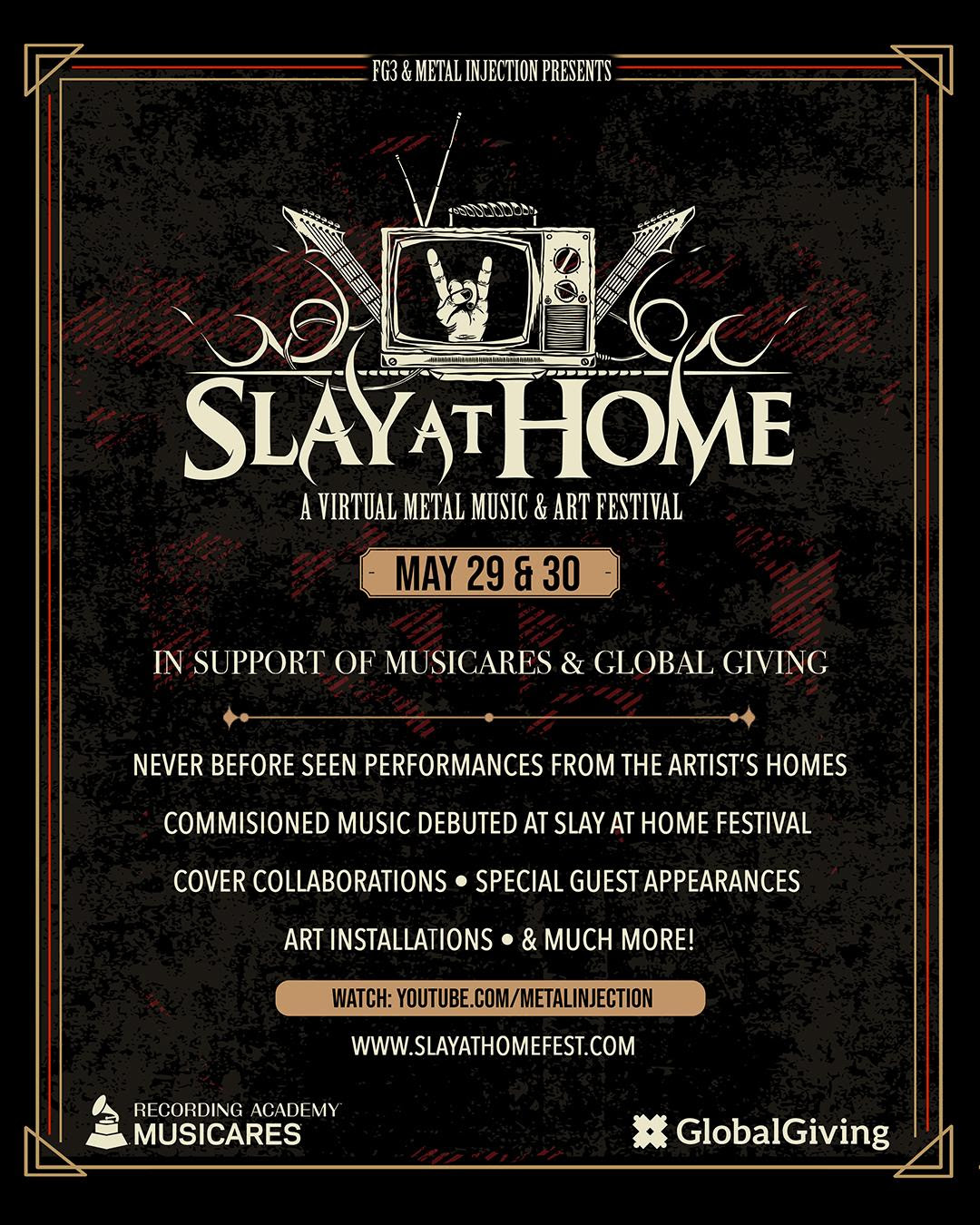 "The Covid-19 pandemic has affected nearly everyone on the planet, and sadly some of the last people to get their lives back will be the ones we depend on to get us through these times," says Godla. "I wanted to create a platform that aids artists, their crew, and global healthcare efforts alike. The experience of a live concert is irreplaceable, but my aim with Slay At Home is to provide every person in the world an experience they haven't seen yet, right from their own devices. I've never been more proud to be part of the metal community and have so many great friends willing to join the fun, as we support two great organizations."
Slay At Home has announced the first wave of bands, with more each day through May 22nd.
The initial initial release include never before seen performances from the homes of:
Tesseract
Darkest Hour
Twelve Foot Ninja
O'Brother
Der Weg einer Freiheit
Silvertomb
Astronoid
Contracult Collective
Myrone
A.A. Williams
There will also be commissioned music created by curated groups, set to debut at the festival. The first group announced includes:
Luc Lemay (Gorguts)
Dave Davidson (Revocation / Gargoyl)
Liam Wilson (Azusa, The Dillinger Escape Plan)
Elliot Hoffman (Carbomb)
There will be a dozen brand new cover collaborations, with over 40 musicians. The first names released are:
Pustulus Maximus (GWAR)
Tiziano Volante (Zeal & Ardor)
Trevor Strnad (The Black Dahlia Murder)
Sacha Dunable (Intronaut)
Johnny Kelly (Silvertomb / Type O Negative)
Ash Pearson (Revocation)
Brody Uttely (Rivers Of Nihil)
The initial announcement also includes special guest appearances from
Jessica Pimentel (Orange Is The New Black), Gost, Charlie Benante (Anthrax) Along with art installations from Vincent Castiglia, Trine Grimm, Jodi Cachia.