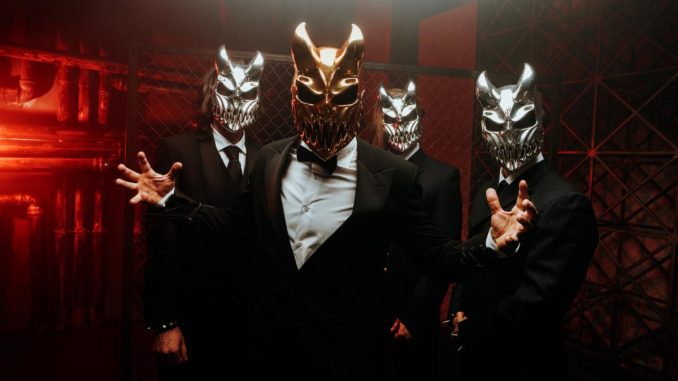 LIVE IN MOSCOW
Available Digitally On All Streaming Platforms Now | Listen HERE
Slaughter To Prevail | Download HERE
Friday, June 30th, 2023 – Russian Deathcore demolishers, Slaughter To Prevail, have released new live album, 'Live In Moscow' today. The album was recorded at the band's sold-out performance at 1930 in Moscow on December 15th, 2021 in front of 2500 crazy fans. Stream the album in full now HERE.
The band previously announced the global premiere of the concert footage, which took place during a livestream PPV broadcast earlier this month. The full concert film is now available to rent or purchase via the Sumerian store HERE. The live concert footage is directed by Nikita Korzhov with sound by Aleksandr Zhelekov.
To give fans a taste of what to expect from 'Live In Moscow', Slaughter To Prevail previously dropped a live video of their performance of track "Bratva" earlier this month. The clip can be viewed HERE or by clicking the image below.
Live In Moscow Artwork | Download HERE

Slaughter To Prevail | Live In Moscow

Setlist

1. Bonebreaker

2. Agony

3. Zavali Ebalo

4. Hell

5. Bratva

6. Made in Russia

7. Chronic Slaughter

8. I Killed a Man

9. Death

10. Baba Yaga

11. Demolisher

12. King
About Slaughter To Prevail
Slaughter To Prevail released their debut EP, 'Chapters Of Misery' in 2016 and followed with their debut full-length album, 'Misery Sermon' in 2017. They released stand alone singles "Agony" and "Demolisher" in 2019 and 2020 respectively, followed by their second full-length, Kostolom, released in 2021 to huge critical acclaim with Revolver describing the album as "one bloody deathcore barrage after another" when including it on their 25 Best Albums Of 2021 list and Metal Injection stating that "Kostolom proves that Slaughter to Prevail can get hooky without getting wimpy". Kostolom spawned massive hit singles "Baba Yaga" and "Zavali Ebalo".
The released anti-war anthem '1984' in August of 2022 to oppose Russia's war on Ukraine. The video for which has racked up 2.3 million views.
The band are one of the most popular and heavily featured bands within the YouTube 'reacts' community, on account of vocalist Alex Terrible's insane vocal abilities and his own YouTube channel which has over 1.01 million subscribers.
To date, the band have clocked up an impressive 971.1 million cross-platform streams.
Expect more from Slaughter To Prevail soon.
Slaughter To Prevail Are
Alex Terrible – Vocals
Jack Simmons – Guitar
Mikhail Petrov – Bass
Dmitry Mamedov – Guitar
Evgeny Novikov – Drums
Find Slaughter To Prevail Online: