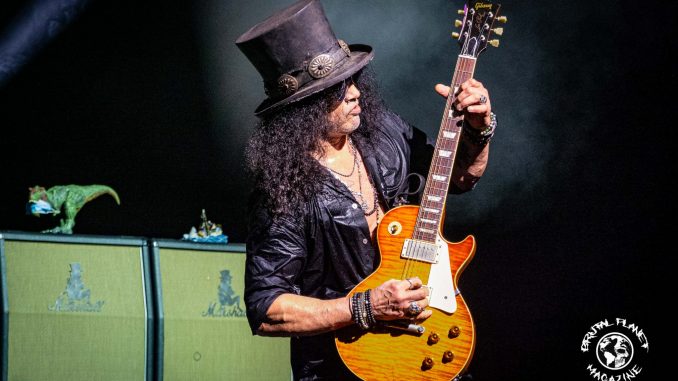 The Eccles Theater in Salt Lake City is a venue that would normally welcome Broadway Musicals, but on February 22, 2022 it was rocked by the mighty guitar of Slash featuring Myles Kennedy and the Conspirators.
The newly remodeled theater has featured some of Broadway's best including Wicked, The Lion King and Hamilton just to name a few. It can now add some of Rock and Roll's best to that list of accomplishments. Slash's rise to fame started in Guns and Roses and has continued with a list of high profile projects that include Velvet Revolver, Slash's Snakepit and of course his solo work featuring Myles Kennedy and the Conspirators.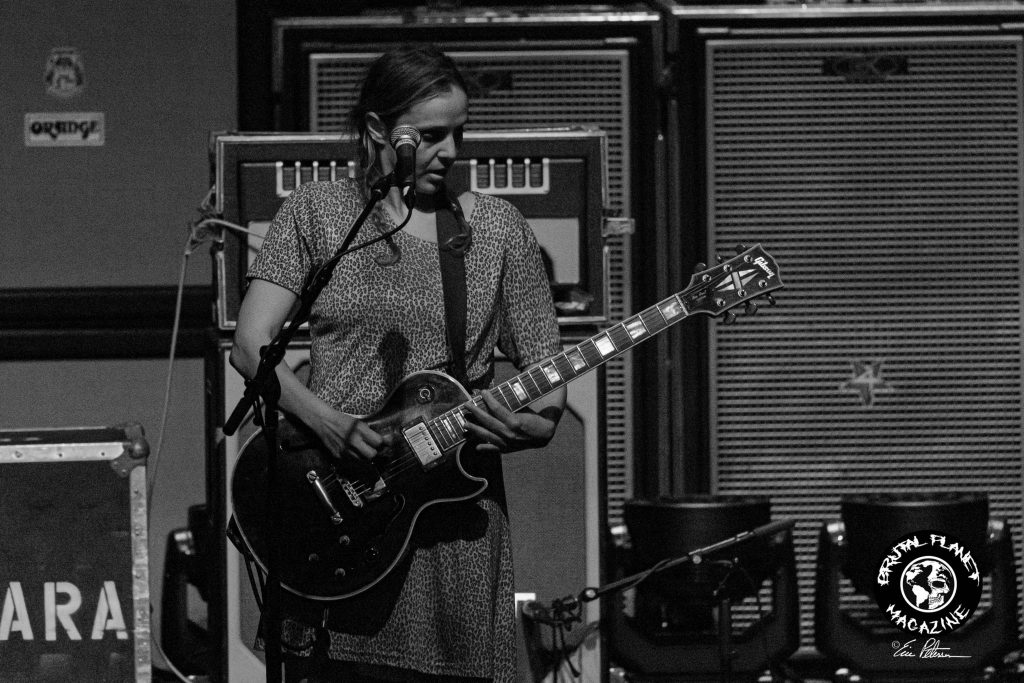 The evening started off with Dead Sara out of Los Angeles. This trio features the gritty vocals of Emily Armstrong also on guitar, Siouxsie Medley on lead guitar and Sean Friday on Drums. On the bass was Drew Beck who instantly gained street credibility wearing his vintage Las Angeles Raiders shirt. The set started with the gritty "Lemon Scent." Next was "LA City Slum." This song had a great early 60's surfer vibe featuring some great guitar work by Emily. Next was "Lights Out" from their latest release Ain't It Tragic. The set continued with "Hypnotic," "Gimmie Gimmie," and "All I Know Is That You left Me For Dead." Dead Sara ended with one of their biggest hits "Weatherman" from their 2012 self-titled debut album.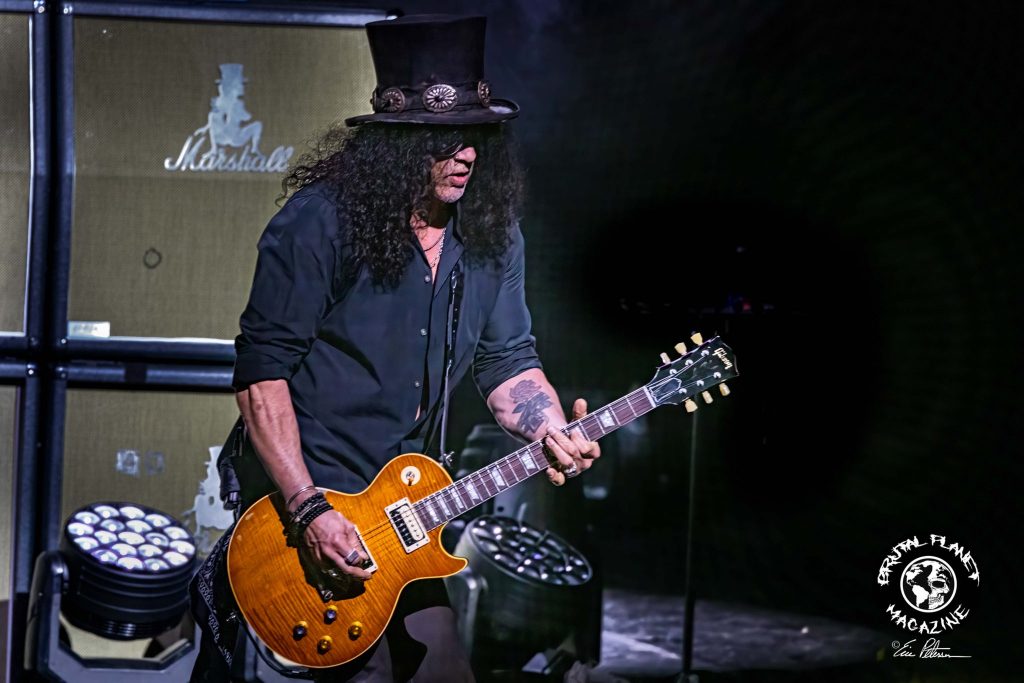 Slash, Myles and Conspirators took to the stage with amps lining either side of the drum kit. On top of the amps were a myriad of trinkets and toys. Most noticeable was a T-rex. The music began with the familiar guitar riff of "Driving Rain." Slash emerged with his iconic top hat and sunglasses as he effortlessly and perfectly nailed the solo to the song with Myles by his side belting out the lyrics. "My Antidote" was followed by "Shots Fired" from 2012's Apocalyptic Love. The song fits perfect in a live set with its galloping beat and screaming vocals. "Serve You Right" took the set in a slower and more melodic direction. "Back From Cali" took the set back to Slash's solo album which featured Myles on vocals. As the band continued Myles' presence on stage never outshined Slash's but his vocal performance was essential to the success of their collaboration. "Whatever Gets You By" had a groovy feel to it and the crowd reacted to the grooves by dancing in their seats. Myles eventually slipped away and bassist Todd Kerns took center stage for an amazing rendition of the Lenny Kravitz song "Always on the Run."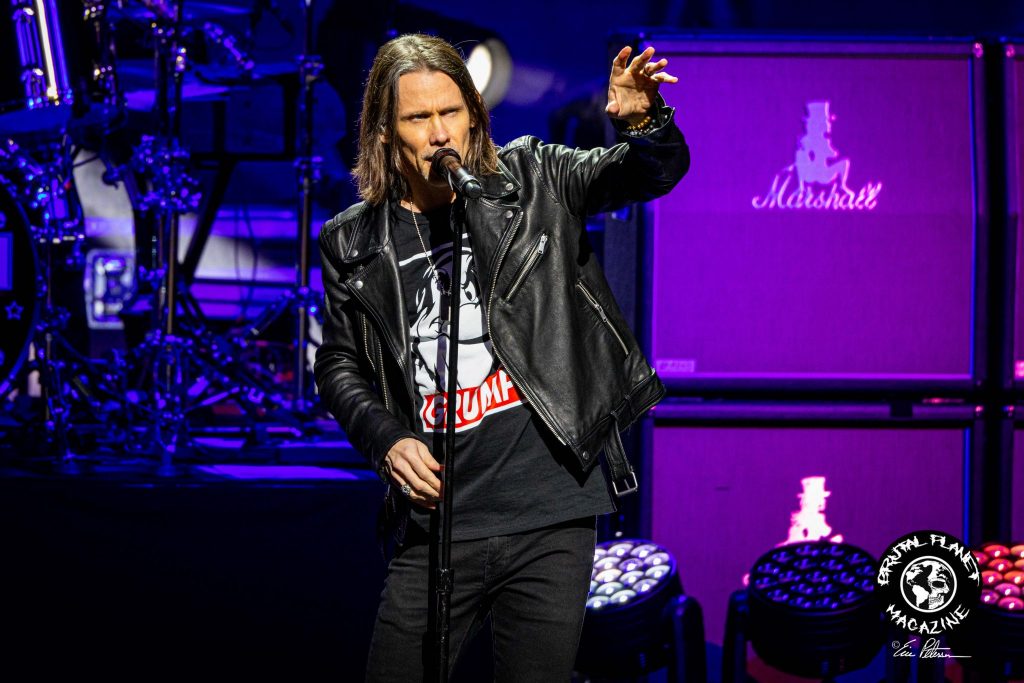 The set included many songs from the new album 4. One of them being "Fill My World." This song was written from the perspective of a dog and has a marvelous guitar work by Slash and some brilliant lyrics. Hearing the song live was enough to bring a tear to my eye having lost many loyal four legged companions in my life. Every good rock show needs a ballad and "The One You Loved Is Gone" filled that void followed by another track from 4 titled "Call Off the Dogs." Todd returned to center stage for "Doctor Alibi" and crushed another vocal performance. The iconic song "Rocket Man" by Sir Elton John was up next with the crowd waving cell phone lights illuminating the theater.
One of the highlights of the show occurred when the band performed "Nothing to Say" from Slash's 2010 solo album. This song features a blistering guitar solo and some serious drumming by Brent Fitz. Often overlooked due to the presence of Slash was rhythm guitarist Frank Sidoris. His contribution to the set was low key amazing and he kept a solid rhythm going throughout the night.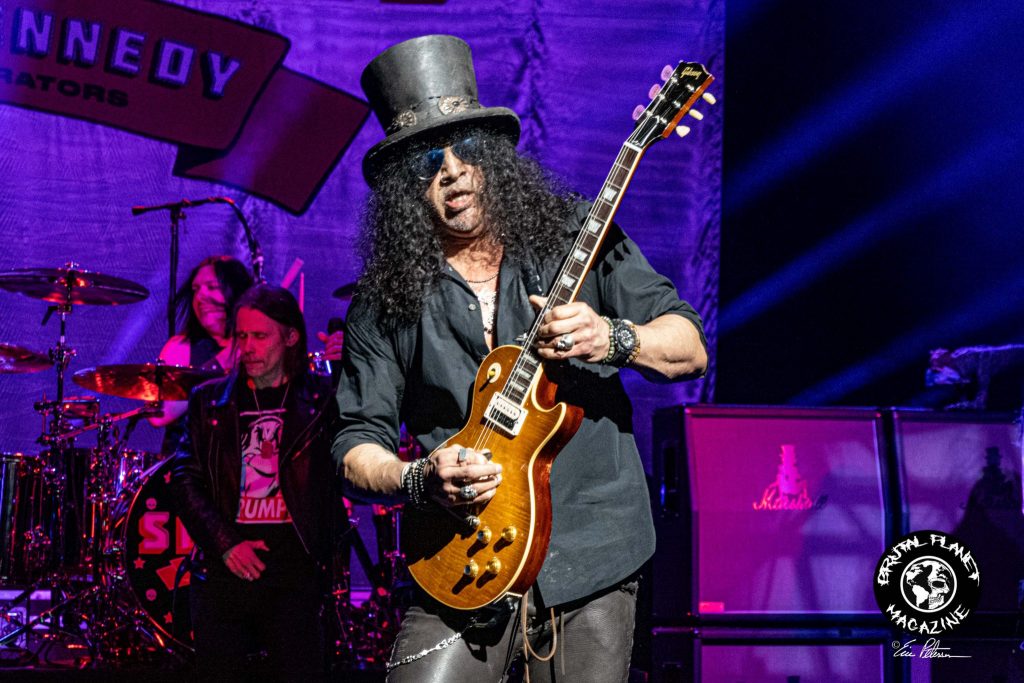 The last three songs left an impressionable mark that would linger on for days. "You're a Lie" has a beat that urges some serious head banging. "World on Fire" features lyrics that provoke some serious thought and the final song of the night was "Anastasia." This song is seriously so amazing it could be a professional guitar seminar. Myles' vocals on that song left an indelible mark on me. As good of a guitar player as Slash is Myles is equally as amazing on vocals and the two of them together makes for a magical pair.
Slash featuring Myles Kennedy and the Conspirators tour continues throughout the spring and it is a show that should not be missed. Check for a local date and if you need to travel a little to see the show do it… you won't be disappointed.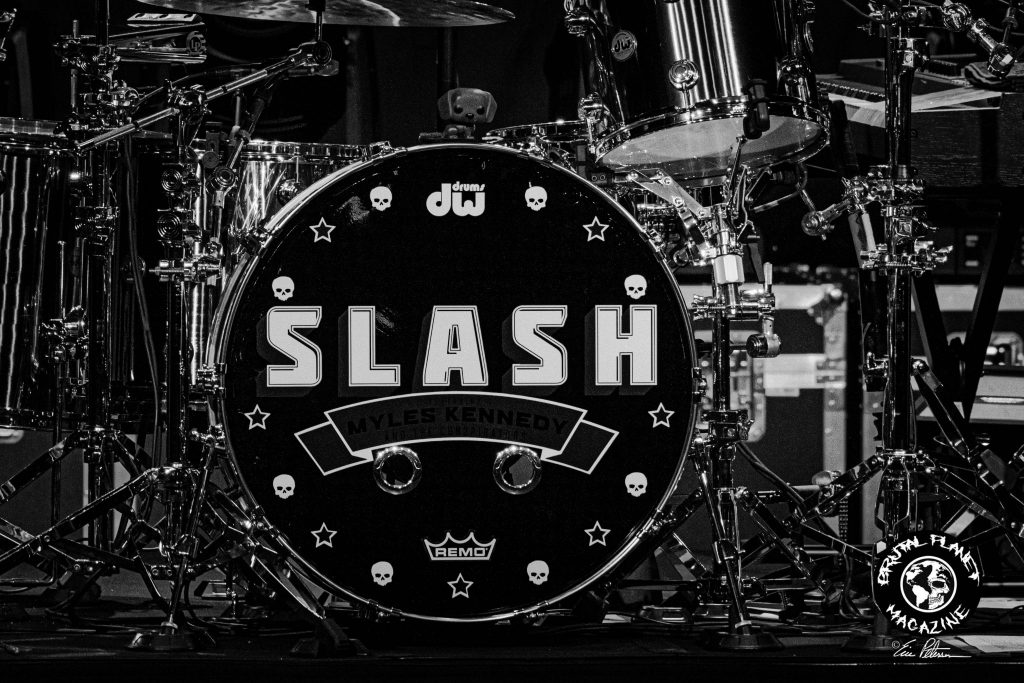 March 2 – Chicago, Ill. @ The Riviera Theatre
March 4 – Windsor, Ontario @ Caesars Windsor – The Colosseum
March 5 – Waterloo, N.Y. @ The Vine at Del Lago Resort
March 7 – Boston, Mass. @ House of Blues
March 9 – Silver Spring, Md. @ The Fillmore – Silver Spring
March 11 – Atlantic City, N.J. @ Tropicana – Atlantic City
March 12 – New York, N.Y. @ Beacon Theatre
March 14 – Richmond, Va. @ Dominion Energy Center
March 16 – Nashville, Tenn. @ Grand Ole Opry House
March 18 – Atlanta, Ga. @ Coca Cola Roxy
March 19 – Durham, N.C. @ Durham Performing Arts Center
March 21 – Charlotte, N.C. @ The Fillmore – Charlotte
March 23 – Charleston, S.C. @ N. Charleston Performing Arts Center
March 25 – Clearwater, Fla. @ Ruth Eckerd Hall
March 26 – Orlando, Fla. @ Hard Rock Live – Orlando