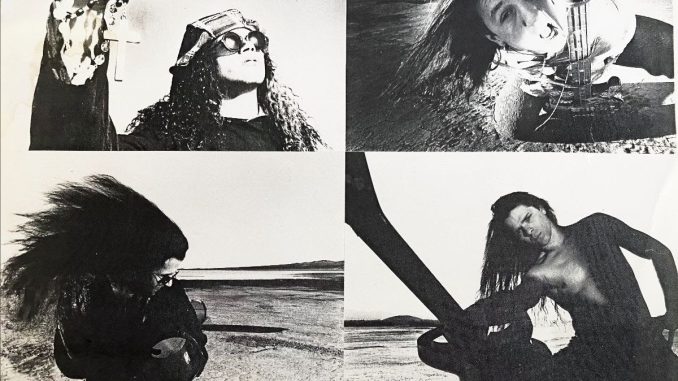 In 1991 the funk-metal explosion was in full swing with albums from Extreme, Dan Reed Network, Living Colour, Kingofthehill and others seeing solid coverage in the press and airplay everywhere you could possibly look. The Prince-meets-Glam Metal combination would prove to a short lived phenomenon that appealed to not only the headbanging nightclub goer but also to those that liked to get their groove on a bit whilst 'banging their heads'. These bands had one thing in common: incredible musical chops.
Enter the Los Angeles' funky, trippy, musically bone crushing quartet SLAM!
Led by the already highly respected Jeff Scott Soto (who, at this point, had recorded with Yngwie Malmsteen and Eyes and had just begun his journey with the Swedish group Talisman) and lead guitar extraordinaire George Bernhardt, known for his work with Canadians Hanover Fist, Lee Aaron and most recent to that timeline, Beau Nasty. After a few hit and miss personnel, they found their way over to SLAM in short order with bassist Ricky Wolking and drummer Mark Bistany. Explains Soto, "George and I had the vision, the songs and the intention…finding the right cast of musicians and personalities took a minute but we finally landed on it all sadly just before the demise of the band".
Hitting the Los Angeles clubs with the subtlety of a hammer to the skull, the band showcased for semi-interested labels, none of which could make a full commitment to the band. "We knew we had the goods but the music scene was shifting so quickly back then we just seemed to be a little late to the table at the time" details Bernhardt.
With the Holy Grail out of reach, the members of SLAM would go on to projects with varying degrees of success and a unique band with boundless possibilities would go by the wayside. However, the few cassettes being shopped seemed to fall into non-industry hands and the SLAM demos were shared worldwide becoming an underground phenomenon for the then defunct group.
Thirty years after the recordings, specialty label 20
th
Century Music, (with cooperation of Soto & Bernhardt who dug up all the digital finals and had them mastered) has unleashed this masterpiece to the world at large. Sixteen tracks in total, the songs represent SLAM's demo/studio work from 1991 – 1993 and consists of the following:
01 – Love Parade
02 – Body Language
03 – Lonely Shade Of Blue
04 – What U Want It
05 – Wastin' Our Time
06 – Dear God
07 – Candy
08 – Dance The Body Elektrik
09 – Funk Me
10 – 4 U
11 – B-Jam
12 – Wildflower
13 – People
14 – Y U Doggin'
15 – Monogamy & Lust
16 – EverybodyWantWhatTheyCantHave
Included amongst the fifteen original numbers is a remarkable cover of the Billboard Top 5 single, "
Wildflower
" from the Canadian act Skylark. "George called me one morning saying he heard a song on the radio he loved as a kid and hadn't heard in ages thinking it would be a great vehicle for my voice if we covered it, I couldn't agree more!" recounts Soto.
When you're in the mood to dance HARD, throw on a copy of the SLAM album and move your ass across the floor like the world is watching. The album can be streamed and purchased digitally on your favourite link at
this location
and physical copies can still be purchased
here
in North America and
here
worldwide.
For those that prefer streaming and digital download options, the album will be available May 12, 2023 on all streaming platforms and for vinyl lovers, the album will be available as a double vinyl release late summer '23.
SLAM was:
Jeff Scott Soto – Lead vocals
George Bernhardt – Guitars
Ricky Wolking – Bass
Mark Bistany – Drums, percussion
Former personnel:
Craig Polivka – Guitars
Chris McCarvill – Bass
Gary Schutt – Guitars
###