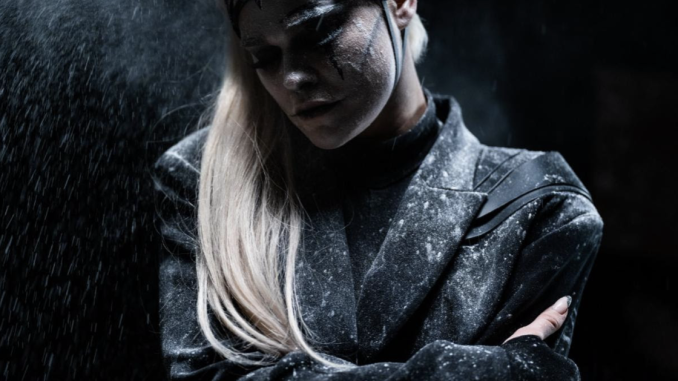 Industrial-tinged and true crime-inspired electronic duo SKYND is the dark creative outlet and the alter ego of its lead singer, Skynd, and producer and multi-instrumentalist Father. They are known for taking inspiration from inexplicable and brutal criminal cases and the mystery surrounding unsolved deaths, and transforming them into songs to remind us of the darkness within the human psyche, while taking great care to avoid any glorification. Small clusters of songs have been released as EPs, titled in numbered chapters.
Today, SKYND begin Chapter V, with the release of new track "Robert Hansen" and its official video.
Watch the video here.
Skynd muses, "I was surprised not many people talk about Robert Hansen, the 'Butcher Baker.' I personally consider him one of the most evil serial killers in American history. He not only had a high victim count; he literally hunted his victims in the woods like wild animals sometimes. I can't think of any other serial killer who's done that to the extent that Hansen did. That's why I had an urge to write about it. The hunting, the run, run, run seemed logical to use because the mental image I had while writing the song with Father, was a young girl running barefoot though the forest."
The official video was directed once again by noted film maker PR Brown, who comments, "Robert Hansen was a particularly twisted monster. For the video, we explored an uncomfortable space through the lens of watching a baker at work. His violence was too brutal to show or frankly glorify, so we expressed through yeast and powder. We filmed the forest while it was snowing and it was not lost on any of us just how cold his victims must have been. Alaska must have been a thousand times worse, surviving only on adrenaline as the women were set loose like game. Skynd delivered a haunting portrayal as the voice in their head. This video and the whole process stands out to me as one of the more difficult to shoot but maybe one of the most rewarding in terms of the finished piece. Run, run, run."
ABOUT SKYND:
We all conceal something behind the earthly façade we show to the world. Maybe it's an unspoken fetish. Perhaps it's a covetous urge. Or it could just be the kind of darkness we acknowledge in passing —but don't dare reference out loud. SKYND peel back those layers and uncover what lurks beneath in all of its painful glory. The industrialized gothic electronic duo — Skynd [lead vocals] and "Father" [producer, multi-instrumentalist] —exorcize beauty by bloodletting as they mine some of history's most baffling, bizarre, and brutal crimes across their EPs.