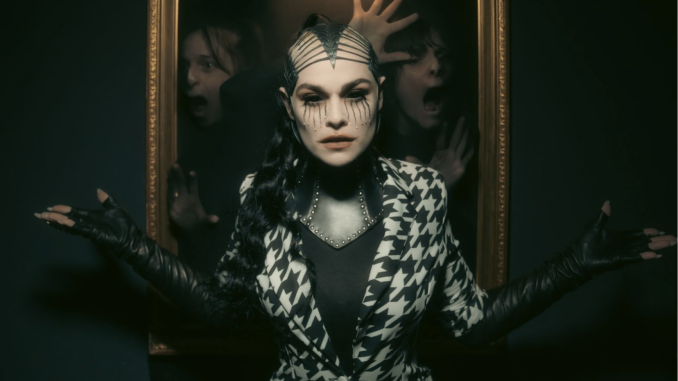 SINGLE CONCLUDES CHAPTER IV + FEATURES A SPECIAL GUEST GUITARIST
BAND ANNOUNCES EUROPEAN HEADLINE TOUR + BLOODSTOCK FESTIVAL IN AUGUST
Industrial-tinged and true crime-inspired electronic duo SKYND is the dark creative outlet and the alter ego of its lead singer, Skynd, and producer and multi-instrumentalist Father. They are known for taking inspiration from inexplicable and brutal criminal cases and the mystery surrounding unsolved deaths, and transforming them into songs to remind us of the darkness within the human psyche, while taking great care to avoid any glorification. Small clusters of songs have been released as EPs, titled in numbered chapters.
Today, SKYND concludes Chapter IV with the release of the new single "Edmund Kemper" and its accompanying video, directed by Anique Wild. The song features a mysterious guitarist as the special guest. Watch the video here.
Often asked why about each particular case that is covered Skynd comments, "There is a detail to this story that stuck with me and sparked my creativity to write about Edmund Kemper. As a young boy, Edmund liked to play with Barbie dolls and dolls. He 'took' their heads off and that made a sound like a 'pop,' performing funeral rites. While translating true crime cases into music, I have a visual idea of the song, and the dolls had to be in the video. It was important to me to show the beheading of the doll because it illustrates his crimes, without being too gratuitous."
Director Wild adds, "I had the great honor to translate Skynd's new song into a visual world. A hardly believable story of a brutal monster who could not appear more normal in the outside world. The video is meant to convey the values of this song in an artistic, visual way. Find the story behind the story — try to look behind the curtain."
ABOUT SKYND:
We all conceal something behind the earthly façade we show to the world. Maybe it's an unspoken fetish. Perhaps it's a covetous urge. Or it could just be the kind of darkness we acknowledge in passing —but don't dare reference out loud. SKYND peel back those layers and uncover what lurks beneath in all of its painful glory. The industrialized gothic electronic duo — Skynd [lead vocals] and "Father" [producer, multi-instrumentalist] —exorcize beauty by bloodletting as they mine some of history's most baffling, bizarre, and brutal crimes across their EPs.