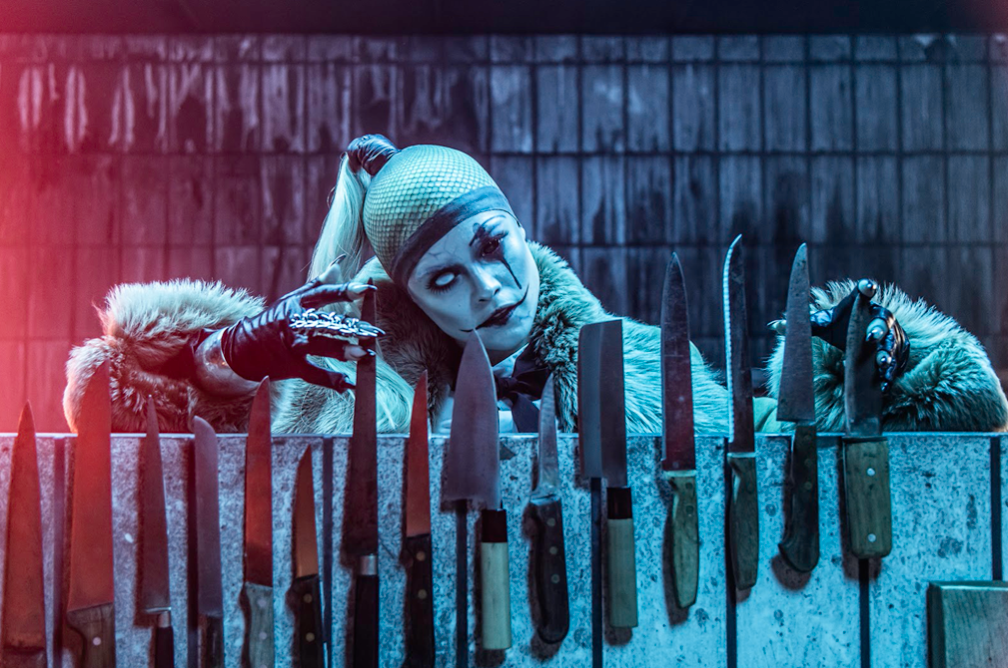 LAUNCH NEW MERCHANDISE STORE
Following an exclusive sold-out show last night at London's Electrowerkz, industrial-tinged and true crime-inspired electronic duo SKYND reveal the official video for the Chapter II track "Katherine Knight."
Watch it here.
"Katherine Knight" is inspired by the story of the infamous Australian murderer, who is still serving a life sentence in jail. "We were searching for a theme. And I thought, 'Why don't we just write a kind of twisted love song?,'" explains singer Skynd. "Katherine Knight wasn't able to feel true empathy and true love; that's why I wanted to write a love song about her. If you have love and hate and you put them together, they cancel each other out so you can't feel anything, and that is what I am saying in the lyrics."
She continues, "I wanted to come up with a love song that is actually not a love song. Because she wasn't able to feel that as a psychopath. I had her story in my diary since I was 14 — she was one of the reasons that I went to Australia, because I wanted to have an interview with her, but that was just impossible. She never really talked about the whole crime, she never told anyone what was her trigger, why she killed her husband, and cooked him into stew."
SKYND recently released their second EP, Chapter II, which further explores the darkest and most disturbing parts of the human psyche. The duo represents the next level of aural immersion, intermingling sound, visuals, and a warning worth heeding.
SKYND also today launch a brand-new merch store, including a Skynd doll. Fans can shop here.
Following amazing performances at Wacken, Download, and Great Escape Festivals this summer and support dates with Rob Zombie, the band has already confirmed a string of festivals and shows for 2020 — with more still to be announced. All dates are below.
SKYND LIVE:
1/15 — Groningen, NL — Eurosonic
3/20 — Melbourne, AU — Download Festival
3/21 — Sydney, AU — Download Festival
5/5 — Charlotte, NC — Epicentre Festival
6/18-6/20 — Hradec Kralove, CZ — Rock For The People
6/26 — Helsinki, FI — Tuska
6/28 — Ferropolis, DE — Full Force
7/16-7/19 — Cuxhaven, DE — Deichbrand
ABOUT SKYND:
We all conceal something behind the earthly façade we show to the world. Maybe it's an unspoken fetish. Perhaps it's a covetous urge. Or it could just be the kind of darkness we acknowledge in passing—but don't dare reference out loud. SKYND peel back those layers and uncover what lurks beneath in all of its painful glory. The industrialized gothic electronic duo—Skynd [lead vocals] and "Father" [producer, multi-instrumentalist]—exorcize beauty by bloodletting as they mine some of history's most baffling, bizarre, and brutal crimes across their Chapter I and Chapter II EPs.