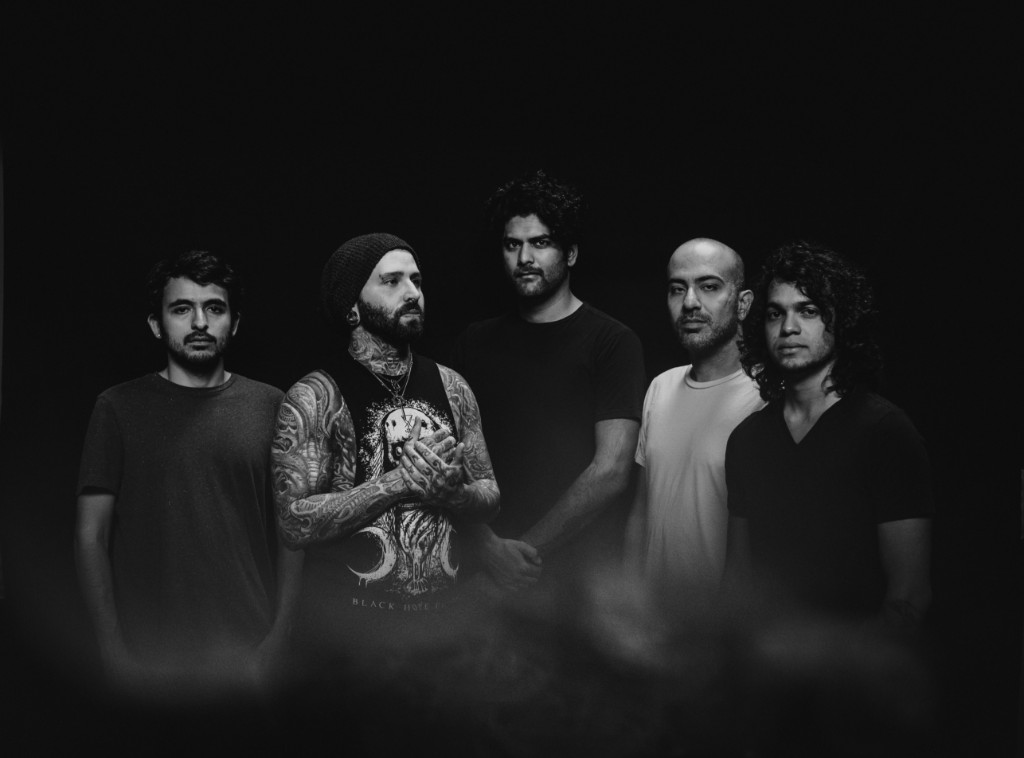 January 16, 2019 — Indian/American progressive metal band
SKYHARBOR
has announced the 2019 "Sunshine Dust" European Tour.
"We can't wait for what will be our first time playing in Europe since 2017 with Deftones,"
says guitarist Keshav Dhar.
"Our international performing career began here and we're very excited to bring the new album to stages all across the beautiful continent." Dates will begin on March 27, 2019, in Wiesbaden, DE and wrap up at the famous Underworld in London about a month later.
27-Mar-19    Wiesbaden    Schlachthof
28-Mar-19    Munich    Backstage
29-Mar-19    Budapest    ROBOT
30-Mar-19    Cluj-Napoca    Flying Circus
31-Mar-19    Bucharest    Control Club
02-Apr-19    Vienna    Viper Room
03-Apr-19    Prague    Strahov 007
04-Apr-19    Aarau    Kiff
05-Apr-19    Modena    La Tenda
06-Apr-19    Milan    Circolo Svolta
08-Apr-19    Madrid    Nazca
09-Apr-19    Barcelona    Bóveda
11-Apr-19    Düsseldorf    The Tube
13-Apr-19    Copenhagen    High Voltage
14-Apr-19    Oslo    John Dee
17-Apr-19    Rotterdam    Baroeg
18-Apr-19    Roeselare    De Verlichte Geest
19-Apr-19    Paris    Backstage By The Mill
21-Apr-19    Manchester    Satan's Hollow
22-Apr-19    Nottingham    Bodega
23-Apr-19    London    Underworld
SKYHARBOR released Sunshine Dust last year, via Entertainment One (eOne) / Good Fight Music and was received quite well. PROG Magazine called it "Memorable, catchy and heavy, with groggy surprises." Metal Injection called the new release "tighter, more approachable offering than anything Skyharbor has released" and Metal Hammer said it "boasts a collection of songs as instantaneous and memorable as they are engaging" in their 8/10 review.

Sunshine Dust was recorded in Australia with renown producer Forrester Savell. Sunshine Dust, the band's nearly four years in the making third full-length album, delivers on the atmospheric and emotional promise of their earlier material, with breathtaking tectonic shifts between a wall of sound ambiance and groove.
On Sunshine Dust, the immersive wall of sound SKYHARBOR first perfected in the studio environment, while as polished and precise as ever, shines with a new almost analog warmth, born of the kind of collaborative camaraderie that only happens when musicians trust each other enough to experience growth.

This is music filled with empowering inspiration and sweeping passions, a supernatural slice of transcendent sonic indulgence.

SKYHARBOR erode the boundaries between traditional hit making structures and technicality dexterity with grace and poise, employing the gentle force of the changing of the tides, in all of its stealthily bombastic earth shaping might.
"Dim" (Official Video)
1. Signal
2. Dim
3. Out of Time
4. Synthetic Hands
5. Blind Side
6. DisengageEvacuate
7. Ethos
8. Ugly Heart
9. The Reckoning
10. Dissent
11. Menace
12. Temptress
13. Sunshine Dust
SKYHARBOR is: Keshav Dhar / Eric Emery / Devesh Dayal / Krishna Jhaveri / Aditya Ashok