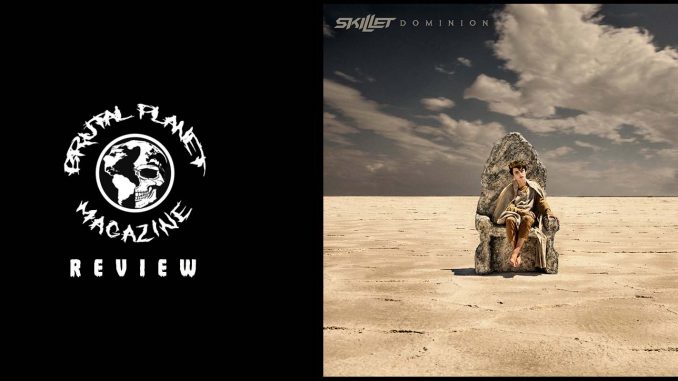 The multi-platinum group, Skillet, has been working hard once again. Many fans may not realize that this band first emerged on the Christian music scene with their self-titled debut back in 1996. They experimented with many different sounds during their early years- which is why the band was called "Skillet" in the first place. It was as if they threw a bunch of ideas into a skillet, and out came something amazing.

Finally, in 2004, after four albums known only to the Christian music scene, they started to get the recognition they deserved. They "hit" the mainstream rock scene with "Collide" and there seemed to be a steady theme in their album titles ever since. After "Collide" was "Comatose," then "Awake," "Rise," "Unleash," and finally, "Victorious." What can one do after being victorious? Dominate- and that's exactly what the band is planning on doing with their eleventh studio album, aptly named "Dominion." The album will be released on January 14th through Atlantic Records.

The album starts out with the band's first single, "Surviving the Game." The song was released on September 15, 2021, and garnered a lot of positive reviews from fans. If you've been living under a rock for the last four months and haven't heard the song, you need to check it out in the YouTube link below. It's fast-paced and heavy. You won't be disappointed. Track two, "Standing in the Storm," was released as a single on November 11, 2021. This song takes the sound in a slightly different direction as lead vocalist, John Cooper, spits the lyrics out faster and the riffs aren't quite as heavy as its predecessor. The strong lyrical content and Jen Ledger's backing vocals make this a solid single.
More than any of their last six albums, "Dominion" represents the band's ability to mix many divergent writing styles and experiment with different sounds. The title track, "Dominion," is a fast-paced track that features the best solo I have heard on any Skillet song. Lead guitarist, Seth Morrison, lets his fingers fly up the fretboard, and just when you think the solo is over, he comes back in for more to end the song. I knew he was a talented musician, but this solo gave me mad respect for him as a player. "Beyond Incredible" and "Shout Your Freedom" are both upbeat, driving rock songs with catchy choruses. The latter features some synth-like tones that older fans might find slightly reminiscent of the band's earlier material like "Invincible" or "Eating Me Away."

"Destroyer" and "Ignite" are both groovy, beat-heavy songs that keep Jen Ledger quite busy behind the kit. Not only is she a powerful drummer, but she manages to multi-task by singing backing vocals at the same time. I have always loved the way Jen's elegant voice contrasts with John's gritty leads. Skillet is great at writing ballads, and this album features several. Whether it's a robust, anthemic one like "Forever or the End" or a softer, inspirational one like "Refuge," this quartet knows the secret to move emotion through song.

I typically like the heavier side of music, but as I listened to the album, I found that my favorite song is "Valley of Death." This track is truly dynamic- it starts with a beautiful piano intro and begins to build with John's vocals and some light string accompaniment. As the song swells to its climax, the listener is confronted with lyrics that encourage choosing hope in the midst of dark times. The album closes with a quasi-dubstep song called, "White Horse." For those familiar with the Biblical book of Revelation, you will quickly notice that the song is about Jesus' second coming- when he returns with vengeance on a white horse, followed by the armies of heaven.
All in all, this is another solid album by these veteran Wisconsin rockers. I really admire Skillet's ability to keep their familiar sound, while still boldly bringing diversity to these twelve new tracks. They are also one of the few bands nowadays that really focus on offering listeners a positive message in the midst of such dark times. "Dominion" is powerfully uplifting and filled with hope.