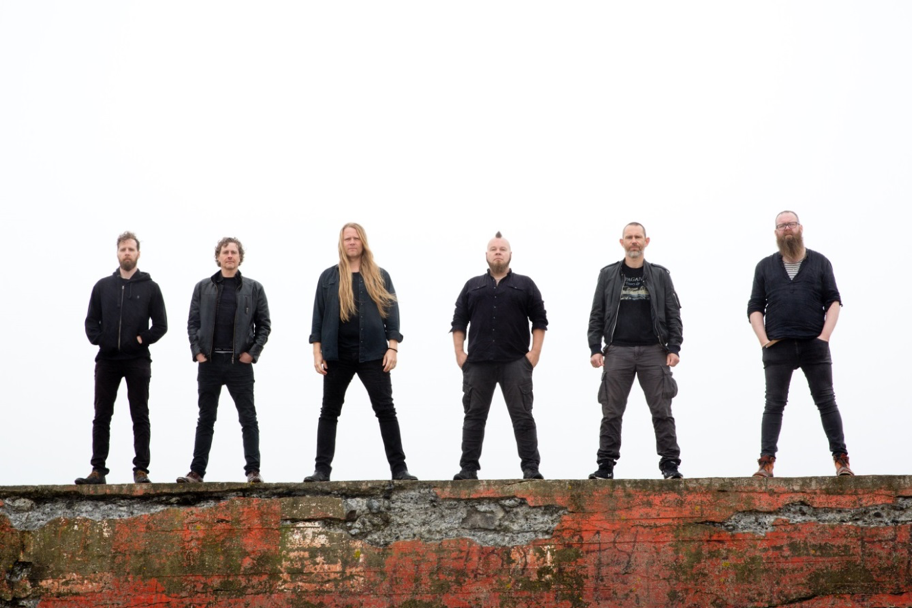 New Live Album/BluRay 10 Year Anniversary – Live In Reykjavík

Out October 23
A smashing live highlight to remember!
Icelandic Viking Metal giants SKÁLMÖLD will release their second live album and their first as solo band, 10 Year Anniversary – Live In Reykjavík, on October 23, 2020 via
Napalm Records
. Taken from this exciting ride through the band's discography, SKÁLMÖLD have just unveiled the fourth single "Að Vetri" (eng: In Winter).
The fast and driving live version of "Að Vetri" is putting heat on the crowd at that unforgettable evening in Reykjavík's sold out Gamla Bíó, while the song's protagonist Þórunn's fight against Iceland's harsh winters of ice and snow. Unrelenting driving drums and guitar riffs create a tight and oppressive atmosphere and underline SKÁLMÖLD's versatility!
Watch the live video for "Að Vetri"
HERE
:
10 Years of Pure Viking Spirit – Live On Stage in Reykjavík
Three consecutive sold-out shows at the Gamla Bíó in their hometown Reykjavík were the adequate setting to celebrate the 10th anniversary together with their devotees. 10 Year Anniversary – Live In Reykjavík transports the mythical atmosphere directly into their fan's homes.
SKÁLMÖLD on 10 Year Anniversary – Live In Reykjavík:
"In late 2009 we started SKÁLMÖLD. Nothing serious. Was just supposed for the pure fun of meeting up once in a while to play some metal music. Fast forward 10 years and we are celebrating the release of 10 YEARS OF SKÁLMÖLD – Live in Reykjavík. Recorded in the heart of Iceland's capital at one of our 3 amazing sold out shows. Here is SKÁLMÖLD in its purest form – on stage, feeding on the energy of our beloved fans. We feel really proud and happy to present this to you. Enjoy!"
Pre-Order your copy of 10 Year Anniversary – Live In Reykjavík
NOW
!
Starting off with their chant-worthy song "Heima", SKÁLMÖLD had concert-goers screaming along from the first second. Quickly transforming into "Árás", fans almost immediately got to see the wild side of the band which manifests in menacing vocals, fast riffs and protruding drums. SKÁLMÖLD classics, like the story of Loki's son, "Narfi", and just how dangerous and manipulative Loki's children truly are, were essential for the setlist. "Niðavellir", the obscure home of the dwarves, tells the story of tombs and caves, underlined with propelling drums and heavy rhythms. This is pure Viking Spirit!
Vanitas will be available in North America in the following formats:
– 4 Page Digipak
– Wooden Box: Digipak, Bonus CD, Leather Wrist Band, 4 Coaster, Deck of cards – Ltd. to 500 copies
– Shirt & Digipak Bundle
– Digital Album
Tracklist 10 Year Anniversary – Live In Reykjavík:
1. Heima
2. Árás
3. Að hausti
4. Fenrisúlfur
5. Narfi
6. Miðgarðsormur
7. Niflheimur
8. Með fuglum
9. Mara
10. Móri
11. Niðavellir
12. Að vetri
13. Dauði
14. Gleipnir
15. Með jötnum
16. Kvaðning
Bonus: Band Documentation & The Last 10 Years
SKÁLMÖLD is:
Baldur Ragnarsson – Guitar/Vocals
Björgvin Sigurðsson – Vocals/Guitar
Gunnar Ben – Keyboards/Vocals/Oboe
Jón Geir Jóhannsson – Drums/Vocals
Snæbjörn Ragnarsson – Bass/Vocals
Þráinn Árni Baldvinsson – Guitar/Vocals