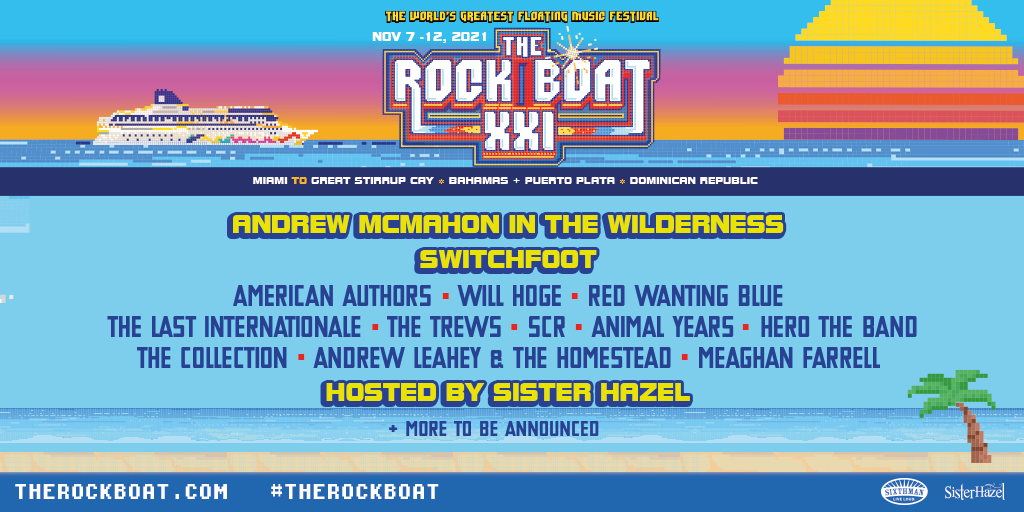 THE WORLD'S GREATEST FLOATING MUSIC FESTIVAL, THE ROCK BOAT, SIXTHMAN'S FLAGSHIP FESTIVAL AT SEA HOSTED BY SISTER HAZEL AND FEATURING ANDREW MCMAHON IN THE WILDERNESS, SWITCHFOOT, AND MANY OTHERS IS ALMOST SOLD OUT
2021 MARKS THE ROCK BOAT'S 21ST VOYAGE WHILE COMMEMORATING SIXTHMAN'S 20TH ANNIVERSARY
Sister Hazel and Sixthman are back for the 21st voyage of The Rock Boat, their flagship music festival at sea, as it sails November 7-12, 2021. The voyage will take guests from Miami to their own private island in the Bahamas, Great Stirrup Cay as well as to Puerto Plata, Dominican Republic on Norwegian Jewel. With Sister Hazel as hosts, The Rock Boat XXI will feature several performances from the band as well as other artists including Andrew McMahon In The Wilderness, Switchfoot, American Authors, Will Hoge, Red Wanting Blue, The Last Internationale, The Trews, SCR, Animal Years, Hero The Band, The Collection, Andrew Leahey & The Homestead, Meaghan Farrell with more to be announced.
Year after year, The Rock Boat brings together hundreds of fans who are drawn to The Rock Boat for one reason, the music. Created by Sixthman, The Rock Boat was the first ever festival put on by the industry leader of immersive destination events at land and sea. The 21st voyage of The Rock Boat will commemorate the 20th anniversary of Sixthman. Aside from performances and collaborations, The Rock Boat will also offer guests a variety of experiences with the artists on board, theme nights, infinite activities and a jam-packed music schedule filled with special artist collaborations. With each year's elaborate theme topping the next, this year will be no exception transporting guests to a 'pixel perfect paradise' centered around classic video games.
"I went on The Rock Boat as a guest starting in 2004 and sailed 7 years as a guest before I started working at Sixthman. Since then, I have worked alongside Sister Hazel to plan the experience over the last 10 years. When it comes to the theme and the lineup, we want each year to feel different and not predictable. We'll always bring back a mix of our alumni guests' favorites, but we really take the time to dig in and find new, up-and-coming artists we know the crowd will love, even if they aren't familiar with them yet. This element of discovery is such an important part of keeping our guests on their toes and hopefully leaving them wanting more each year. As we head into our third decade of Rock Boat-ing, the thing I'm looking forward to most is simply seeing the Rock Boat guests in person again. TRB is really a lifestyle and mindset for most of us, not just a 5-day event," explains Jen Wedick, Creative Manager of Sixthman.
Double occupancy rooms on The Rock Boat XXI begin at $1,140 per person, plus taxes and fees. Low deposits and flexible payment-plans that feature zero interest rates are available. Fans who reserve their stateroom on The Rock Boat XXI, prior to December 31
st
, 2020 will qualify for a Free Beverage Package. With less than 100 cabins remaining, fans are encouraged to reserve their stateroom now at
www.therockboat.com
ABOUT SIXTHMAN: Since 2001, Sixthman has set the stage for moments that make life rock, serving over 300,000 guests unforgettable vacations on sand and at sea with their favorite artists, athletes, actors, comedians and brands. These carefully curated, intimate events bring non-stop performances, artist collaborations, in depth panels and Q&As, fan-artist activities, museums and overall truly immersive experiences that celebrate community and change expectations of what a vacation can be. Sixthman's domestic home port of Miami will bring escapes for guests to dream destinations in the Virgin Islands, Belize, Honduras, Mexico, and The Bahamas. In 2019, Sixthman expanded their festivals at sea to Europe, sailing from Barcelona, Spain to exotic Mediterranean ports. 2021 will bring sailings through the Greek Isles. In addition to festivals at sea, in 2019 Sixthman brought their innovative vacation concept to world class, all-inclusive resorts in the Dominican Republic. In 2020, Sixthman Services was launched to support other event holders with a suite of on-site and virtual event management services.