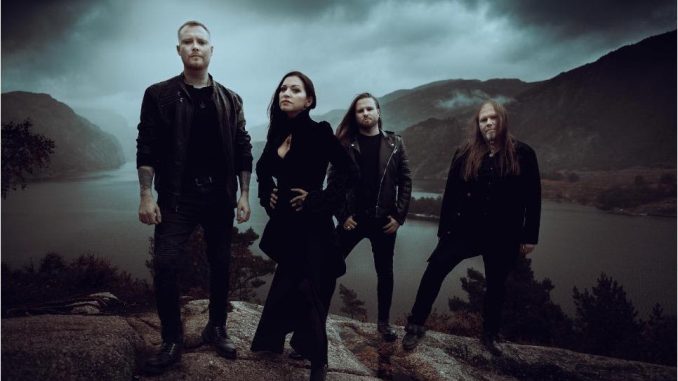 Watch HERE
New Album, '1977', Out May 26, 2023 via Napalm Records
Pre-Order Your Copy NOW
The symphonic metal icons effortlessly merge 80s rock and synthwave elements on their immense 11th studio album!
Symphonic metal unit SIRENIA have unveiled their powerful second single, "Deadlight", today, accompanied by a visually palpable official music video! The international four-piece led by mastermind Morten Veland is set to release their 11th album, '1977', on May 26, 2023 – exploring a new style like never before. SIRENIA are positioned at the top of the scene, maintaining their spot for over two decades while gathering worldwide chart entries and touring throughout Europe, Latin America, North America, Asia and Australia.
The new single, mesmerizing album opener "Deadlight", is captured within the magic of 80's sonics. The world of soulful violin and fragile piano lines build up an enchanting, energetic atmosphere that is underlined by the impressive voice of multi-talented mezzo soprano singer Emmanuelle Zoldan. Transporting the listener to a retro auditory arcade harking back to when groovy synthwave melodies dominated the world of music, the international band merges late 70's and 80's pop rock stylings with synthwave elements and their remarkable, hard-hitting symphonic melodies – shaking the listener to the core.
Mastermind Morten Veland about "Deadlight":
"'Deadlight' is in many ways a typical SIRENIA song, it has all those elements which are representable for our sound and style.
"I find it to be a very melodic and catchy song, and a good choice for our second single off the new album '1977'. I hope you'll enjoy it."
Watch the Official Music Video for "Deadlight" HERE
"Deadlight" is followed by the fast-paced "Wintry Heart", which gives a bittersweet taste of early 90's vibes and roaring guitars, while "Nomadic" represents SIRENIA's characteristic dark and heavy side as shredding guitar riffs alternate with playful interludes while relentless drums and symphonic electronic elements go hand in hand with one another.

"A Thousand Scars" marks a totally new fusion for SIRENIA, as heavy symphonic tunes dressed as remarkable rock riffs and poppy rhythms dance together with the feathery light vocals of Emmanuelle. With the eerie and epic tunes of "Fading to the Deepest Black", the song is reminiscent of their last album, 'Riddles, Ruins & Revelations' (2021).

Kicking off with vertiginous blast beats and a mesmerizing performance by Emmanuelle Zoldan, a warm vocal interlude by Morten Veland supports the song's stunning atmosphere before it leads into an impressive guitar solo. Following their operatic symphonic highs, the heavy side of SIRENIA is not forgotten and appears especially towards the end of their 11th record.
'1977' Track List:
1. Deadlight
2. Wintry Heart
3. Nomadic
4. The Setting Darkness
5. A Thousand Scars
6. Fading to the Deepest Black
7. Oceans Away
8. Dopamine
9. Delirium
10.Timeless Desolation
11.Twist in my Sobriety (Bonus track)
'1977' will be available in the following formats:
=> Digipak Album
=> Digital Album
SIRENIA are:

Morten Veland – Vocals, guitars, bass, synth, programming

Nils Courbaron – Solo Guitar

Emmanuelle Zoldan – Vocals

Michael Brush – Drums