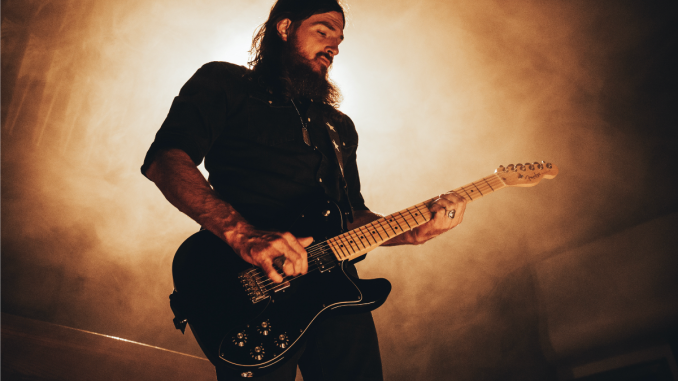 For as much as singer/songwriter/guitarist
Tim Montana
may be known as a wild man
(and he certainly is)
, he really asserts himself as a tried-and-true storyteller with his new single "
Devil You Know
." He has shared the video today. Watch it
here
.
The song finds Montana exploring his moody, rock 'n' roll roots, as the song is propelled forward by the high-octane riffs that introduce the song's gritty and emotionally crackling and lyrically raw chorus. "Devil You Know" certainly shows off a different side of Montana's musical personality and fans of bands like Foo Fighters, Staind, Godsmack, Theory of a Deadman, and Three Days Grace will easily gravitate towards the propulsive rhythms and energy.
The accompanying visual finds Montana in various performance states, knuckling down on his guitar.
Drawing on his own experience growing up without his biological father, only to find that he wasn't the man he'd hoped he would be, "Devil You Know" is a grunge ballad for everyone who's suffered through the let down. The concept that in life, there are "the devils you know" and "the devils you don't" showcases Montana at his most lyrically honest, emoting soulfully through grizzly vocals. Married with four kids of his own, "Devil You Know" is his dedication to "be the dad I never had," a relatable, familiar circumstance for so many to attach.
Additionally, Tim Montana was just christened an "On the Verge" rock artist by iHeartRadio.
Tim Montana's story has twisted and turned with the unforgiving unpredictability of a Montana winter. He went from a rough youth spent off-the-grid in a trailer powered by a faulty generator to captivating a devout global fanbase, dropping successful independent albums, selling out shows, and earning the endorsement of childhood heroes such as Dave Grohl. At 21-years-old, Tim settled in Music City. He busted his ass and found a way to be heard. He caught the attention of David Letterman, who personally booked Montana on
The Late Show with David Letterman
. Unlocking a creative chemistry with Billy Gibbons of ZZ Top, their collaborations included "This Beard Came Here to Party," which served as the anthem for the 2013 World Series champion Boston Red Sox and the Nashville Predators during the 2017 Stanley Cup Playoffs. Following 2021's
Long Shots
, Tim let his grunge flag fly, while still telling the kind of stories fans fell in love with in the first place. Now, he infuses Space Needle-shaking grunge grit with a different kind of frontier poetry, bringing together vivid lyricism, vulnerable melodies, and vicious distortion. He's formally introducing himself on a series of 2023 singles for BBR Music Group/BMG, beginning with "Devil You Know."
And what can fans expect from the upcoming Tim Montana album? A celebration of rock music that channels the spirit of the great grunge explosion of the late '90s and early '00s. A tracklist of anthems that will have you stomping your feet, banging your head, and most likely, inspire the beardless to embrace their Montana-approved stubble. Butte, Montana born and raised, Tim Montana is not your average cowboy. Completely equipped to dominate the arena nearest you, armed with voracious distortion and truly well-oiled chops, Tim Montana tours hard and rocks even harder. Life as a fearless musician means living in accordance with Montana's motto: "We're all just one disaster away from something awesome."