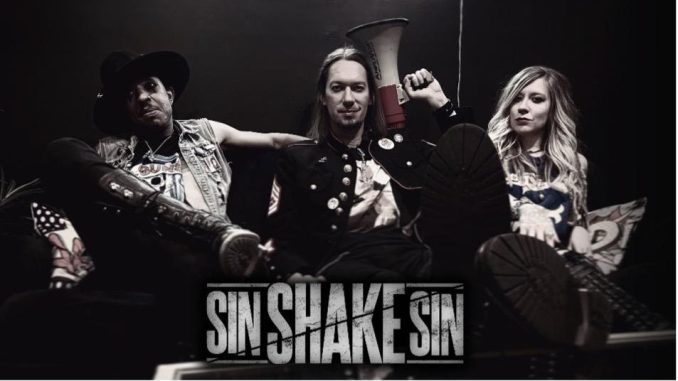 Alt-rock iconoclasts SIN SHAKE SIN are back with a brand new single! The trio's latest offering, titled "Congratulations, You're In A Cult", is available now on all streaming platforms.

The brainchild of modern rock songwriting virtuoso Stacy Hogan, SIN SHAKE SIN continues to wield a unique blend of industrial hard rock meets bombastic punk, all while delivering an unapologetically political slant on present day societal discourse. As biting and impassioned now as they were on their debut LP, 'Lunatics and Slaves', the band pushes back against zealotry and the divisive forces that seek to pit us against each other for self-serving gain.

Commenting on the message behind their new song, Stacy Hogan shares:

"'Congratulations, You're In a Cult' is our direct response to those who blindly follow and defend corrupt leaders. Whether it's in a political or religious setting, we find ourselves consistently elevating people not based on merit or morals, but their ability to spark a response through fear, lies, and manipulation."

Hogan goes on to add, "I guess I love writing songs that deal with all the things you're not supposed to bring up during a family dinner."

Watch the Music Video for "Congratulations, You're In a Cult" HERE
BIO:

After writing songs behind the scenes for other bands such as Starset, RED, Brian Head Welch of KORN, and others, much has happened since SIN SHAKE SIN's creator Stacy Hogan hit "upload" on his own self-released project. Surpassing 80,000,000 streams so far between Spotify, YouTube, and Apple Music (and growing), Stacy is excited to keep the momentum going with his upcoming releases.

Unsigned, SIN SHAKE SIN managed to reach #5 on Billboard's Rock Radio Most Added charts in late 2017 with their independent single "Can't Go To Hell", which was also added to Sirius/XM Octane, and featured as Pick of the Week by both nationally syndicated radio shows "Hard Drive with Lou Brutus" and "The L.A. Lloyd Top 30 Countdown".

Recently featured as the ending credits song for the Netflix movie Little Evil, as well as prominent placements in the hit TV show Vampire Diaries, WWE Raw and more, SIN SHAKE SIN has accomplished many things in a short period of time.

Stacy Hogan has written over 15 major label songs for other artists across multiple genres, including 2 Billboard Top 10 Hard Rock singles, and even produced an album that topped the Billboard Classical charts in August 2017. After licensing his music for TV/Film as well as winning multiple songwriting awards, he decided to reboot and begin his new project, SIN SHAKE SIN.

IN SHAKE SIN is a bold signature mix of industrial hard rock, punk rock, old school southern blues, and in your face pop hooks. This is Stacy's most passionate project yet. He wrote, sang, performed all the instruments as well as produced and mixed all the songs himself.
SIN SHAKE SIN are:

Stacy Hogan – vocals, guitar

Lauren Hogan – bass

Johannes Greer – drums