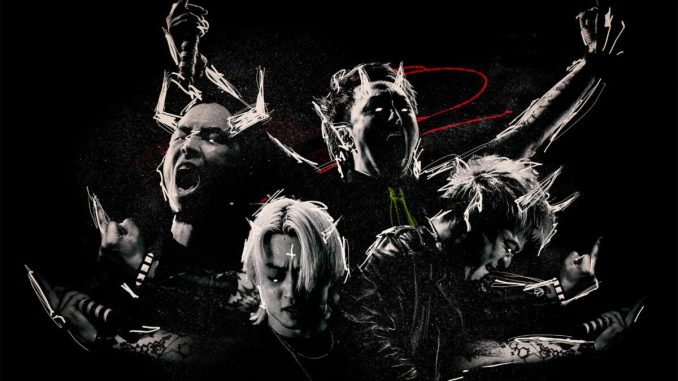 SiM
Drop New Single + AI-Generated Music Video
"HiDE AND SEEK"
Taken From Upcoming New Album
'PLAYDEAD'
Out September 27 via UNFD
Stream HERE | Watch HERE | Pre-Save HERE
See The Band On Tour This Month On The
Jackpot Juicer North American Tour
With Dance Gavin Dance, Rain City Drive + Within Destruction
Ticket Info HERE
Thursday, August 17, 2023 – Genre-blending Japanese metal, punk, and reggae outfit SiM has today dropped their latest offering "HiDE AND SEEK" and the accompanying music video, created by AI visual artists The Dor Brothers. Drawing inspiration from a previously recorded reggae melody created during the lockdown in 2020, "HiDE AND SEEK" morphed into its final form when SiM vocalist MAH reconstructed the verse, changed the key of the melody, and added a chorus on a track that was originally written for the band's previous album "THANK GOD, THERE ARE HUNDREDS OF WAYS TO KiLL ENEMiES". Luckily, today's release can be found on SiM's upcoming new album 'PLAYDEAD' out on Friday, September 27 (via UNFD). When asked about the lyrical inspiration of the track, MAH shared:
"In [the children's game] 'HiDE AND SEEK', the equivalent Japanese phrase "Mouiikai" by the seeker is "Ready or Not". But [in the Japanese version] the following response "Madadayo" meaning "not-yet (ready)" doesn't exist in the English version of the game suggesting that the demons will come looking for you regardless of whether you're "Ready or Not."
Speaking about the incredible "HiDE AND SEEK" AI video, MAH commented:
"This is SiM's very first AI-Generated music video. Will AI truly take over mankind one day?! I want people to embrace that "AI-nxiety" and enjoy the video."
After making waves with their smash-hit singles "The Rumbling" and "Under The Tree" featured on the massively popular anime series "Attack On Titan", SiM has since released their lead single "RED", the theme song for the new season of the Netflix anime series "Kengan Ashura". Most recently, the band released a visualizer for "DO THE DANCE". Listen to "HiDE AND SEEK" here, watch the video here, and pre-save 'PLAYDEAD' here.
WATCH: SiM's New Video For "HiDE AND SEEK"
PLAYDEAD

SiM

Tracklisting:

1. PLAYDEAD

2. RED

4. SWEET DREAMS

5. Die Alone

6. TOO LATE

7. KiSS OF DEATH

8. Sad Song

9. BBT

10. DO THE DANCE

11. Not So Weak

12. UNDER THE TREE (Full Length Ver.)

13. The Rumbling (Orchestra Ver.)
SiM has just wrapped up having sponsored their very own music festival in Japan dubbed Dead Pop Festival which was streamed by Amazon Music Live. Now, US fans will have their opportunity to see the band's high-energy show on the road on the Jackpot Juicer North American Tour (with Dance Gavin Dance, Rain City Drive, and Within Destruction), beginning on August 24 in Tempe, AZ. The quartet will also be performing at Louder Than Life Festival and Swanfest later this fall. Tickets are running out, so be sure to secure yours at the link here, and be sure to stay tuned for more SiM news coming soon.
Jackpot Juicer North American Tour Dates

August 24 || Tempe, AZ || The Marquee Theatre (VERY LOW TICKETS)

August 25 || Las Vegas, NV || Brooklyn Bowl (LOW TICKETS)

August 26 || Los Angeles, CA || Shrine Auditorium & Expo Hall (LOW TICKETS)

August 29 || Seattle, WA || Showbox SODO (LOW TICKETS)

August 30 || Portland, OR || Roseland Theater (LOW TICKETS)

September 1 || Garden City, ID || Revolution Concert House

September 2 || Salt Lake City, UT || The Union Event Center

September 3 || Denver, CO || Mission Ballroom

September 5 || Austin, TX || ACL Live At The Moody Theater (LOW TICKETS)

September 6 || Oklahoma City, OK || The Criterion

September 8 || Houston, TX || White Oak Music Hall

September 9 || Dallas, TX || The Factory in Deep Ellum

September 10 || Birmingham, AL || Iron City (LOW TICKETS)

September 12 || Fort Lauderdale, FL || Revolution Live at the Backyard (LOW TICKETS)

September 13 || Orlando, FL || Hard Rock Live (LOW TICKETS)

September 15 || Nashville, TN || Wildhorse Saloon (LOW TICKETS)

September 16 || Atlanta, GA || Coca-Cola Roxy

September 18 || Raleigh, NC || The Ritz (LOW TICKETS)

September 19 || Silver Spring, MD || The Fillmore (LOW TICKETS)

September 21 || Chicago, IL || Radius

September 23 || Milwaukee, WI || The Rave II

September 25 || Cleveland, OH || Agora Theatre

September 27 || Boston, MA || MGM Music Hall at Fenway

September 29 || New York, NY || The Rooftop at Pier 17 (LOW TICKETS)

September 30 || Asbury Park, NJ || Stone Pony Summer Stage

SWANFEST 2023

October 1 || Philadelphia, PA || Mann Center (LOW TICKETS)

FALL FESTIVAL DATES

September 22 || Louisville, KY || Louder Than Life