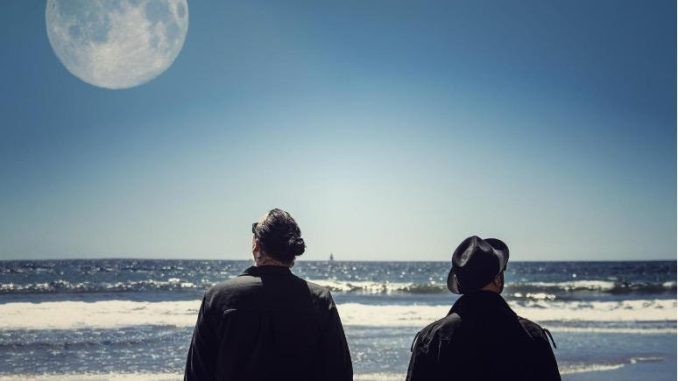 Cover of Iron Maiden's "The Trooper"
+ Visualizer Revealed | Watch/Listen HERE!
Pre-Order NOW!
Whenever EVERGREY's Tom S. Englund and acclaimed US-based pianist/composer Vikram Shankar (Redemption, Lux Terminus) come together to merge their creativity, the result is magical. Now arrives the next product of this fateful encounter, as the Swedish-American cinematic-pop duo releases its third album, 'Dormant', on September 1, 2023 via Napalm Records. Continuing on the atmospheric path of Scandinavian melancholy charted on their previous full-lengths, 'Nectar' (2022) and 'Satellites' (2020), 'Dormant', the new brainchild of Englund and Shankar, features stunning piano melodies, atmospheric keyboards, lush and expansive soundscapes, and hauntingly beautiful and intense vocals.

SILENT SKIES' third offering is melancholic and calming, yet effervescent and incandescent, expanding the duo's sonic universe in every direction – it is the result of brave sonic experimentation married to the tastefully artistic aesthetic that defines the group. Throughout the varied peaks and valleys of their compositions, it is their powers of expression, and reflection on the human experience – in their own words, "conversations with life, about life" – that give their music the power to speak to a vast array of lived experiences, and reach people with diverse tastes, as long as they are interested in appreciating art as a reflection of life itself.

SILENT SKIES add:

"We are thrilled to present 'Dormant', our third record, crafted with immense joy and offered with satisfaction and eagerness to share our heartfelt dedication over the past 18 months. With 'Dormant', SILENT SKIES propels itself further into more uncharted territory, embarking on a journey whose destination remains unknown even to us. Like passengers on a train, we embrace the excitement and exhilaration of the ride, relishing in the uncertainty of our future direction. The freedom of creativity is a vital source of energy for us during the composition and production journey for our music. Within 'Dormant', you will find a multitude of intricate details, a plethora of musical landscapes, and an abundance of concepts, all waiting for you to dive in and explore their depths. At its core, 'Dormant' delves into the awakening of a sleeping or forgotten consciousness, urging it to be present and take action in the now.

It is an album that, from the early stages, felt like a profound conversation with life, about life. It encapsulates the ongoing dialogue and introspection with our inner selves as we seek equilibrium and harmony. Ultimately, it is a realization that what we yearn for is a stillness of the mind and soul — a sense of contentment, pride, and connection with what is our most authentic selves. We believe that you will find resonance with many of the reflections we share within 'Dormant', and we eagerly anticipate continuing this dialogue with all of you.

This journey has only just begun. Let's awaken together.

Tom & Vikram"

Pre-Order 'Dormant' HERE
Before diving into ten tracks of gripping original compositions, the duo has unveiled their very own interpretation of Iron Maiden's opus "The Trooper", served in a never-before-heard auditory atmosphere.

After putting their stamp on Linkin Park's "Numb" earlier this year, hymnic "The Trooper" marks the next out of three bonus tracks closing the new album. The song lines up with a harmonizing visualizer video, underlining the incomparable atmosphere SILENT SKIES create with their inimitable soundscapes that speak directly to one's soul.

SILENT SKIES on "The Trooper":

"When you work on a world-class song like 'The Trooper', you approach it with the utmost respect, eager to honor its essence and craftsmanship. Everyone who hears it recognizes its iconic lyrics and knows that it has stood the test of time – it's a true classic. As for us, we never quite reflected deeply on the song's severe lyrics, instead focusing on its raw energy. However, given the current state of the world, we cannot ignore how poignant and relevant its words have become. It's disheartening to acknowledge that they are more pertinent now than ever before. Nonetheless…

We've poured our hearts into this song, with the hope of honoring its message and evoking a different emotional response from listeners than the original. As we embarked on the remaking process, we couldn't help but again be moved by the lyrics and their stark reminder of the horrors of war. The thought of those in the world who cannot feel safe, who have lost loved ones, and who have no certainty about their future, weighs heavily on our minds. We have strived to infuse our rendition of 'The Trooper' with the same intensity and passion as the original, while also recognizing and honoring its powerful message."

Watch the visualizer video for "The Trooper" NOW
Floor Jansen (Nightwish)
"Music can take you by the hand and into a world away from your own. This song took me; the melodies, Tom's amazing voice, the lyrics. The perfect combination left me in tears. A beautiful song that touches, and will surely help us to not forget what happens daily on this world, right next to our own little world."
Mikael Stanne (Dark Tranquillity)
"Another stellar reimagining of a classic from Silent Skies. The layers of melancholy over this iconic song really highlights the strength of the original as well as the skill and craft behind this version from Vikram and Tom.Who would have thought this could be
done in such a way? Absolutely incredible!"
Hannes van Dahl (Sabaton)
"To make an awesome song more awesome is rarely achieved… to me the emotion of an actually quite serious topic is felt and present, and the lyrics really shine through together with the arrangement to indeed make this an awesome version."
'Dormant' Track List:
1.Construct
2.New Life
3.Churches
4.Just Above The Clouds
5.Reset
6.Tides
7.The Real Me
8.Light Up The Dark
9.Dormant
10.The Last On Earth
11.The Trooper (Bonus Track)
12.Dancing In The Dark (Bonus Track)
13.Numb (Bonus Track)
The opening track "Construct" calls for the listener to join the two musicians on a soulful journey, building the atmosphere to a sublime conclusion, before continuing along a darker, brooding and intense path in the yearning "New Life". Englund's heartfelt vocals speak directly to the soul, while balancing perfectly with Shankar's thoughtful instrumentation, driven by tender piano and elevated by an engulfing production. The harmonious "Churches" and pop-inflected "Just Above The Clouds" – the latter featuring a compelling solo from Leprous/Musk Ox cellist Raphael Weinroth-Browne – build up to a mesmerizing daydream, leaving the listener lost in the wonderful nuances that 'Dormant' has to offer.

The calming and profoundly introspective "Reset" and "Tides" envelop the listener in seemingly endless melancholic soundscapes, whereas the poignant "The Real Me" is imbibed with electronic hues that yield a brighter, more modern atmosphere. Throughout these tracks, SILENT SKIES' work is characterized by deep and thoughtful expansion of their signature sound, where analog synthesizers, intricate programming, meticulously constructed soundscapes, and stately piano melodies are paired with the introspective vocals of Englund, who delivers profound lyrical sentiments with thoughtfully expressive character. The deeply moving "Light Up The Dark" and the serene atmosphere of the title track "Dormant" are followed by the glimmering hues of "The Last On Earth", the last original composition on 'Dormant', in which modular synth loops and moody piano reflections are paired with chiming guitars that encapsulate the duo's commitment to the development of their sound.
'Dormant' will be available in the following formats:
=> 1CD Digisleeve
=> 2LP Gatefold BLACK
=> Digital Album
SILENT SKIES are:

Tom S. Englund – Vocals, Production

Vikram Shankar – Piano, Keyboards, Production

FOLLOW SILENT SKIES: