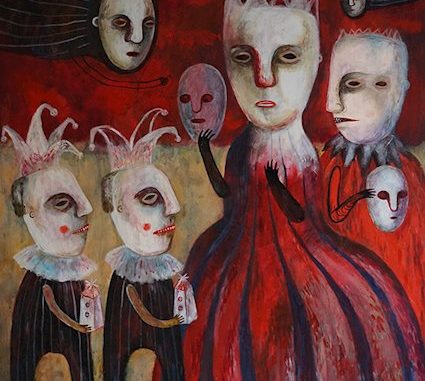 There is a new band on the scene, and they are dead set on making a presence. The members of Sicksense (Killer V- vocals/keyboard, Rob the Ripper- vocals, Breakdown Bran- guitar, Spot On Sam- bass, The Trve Cody Taylor- drums) hail from both Chicago, IL and Montreal, QB and they are resurrecting Nu-metal from the dead. Their debut EP, "Kings Today" was produced by Christian Donaldson (The Agonist, Beyond Creation) and will be released on April 22. I am drawn to albums by their cover art. This one features a creative and creepy painting and grabbed my attention immediately.
The title track, "Kings Today," introduces first-time listeners to the band's ability to blend every aspect of the early Nu-metal bands. The riffs are low and heavy, and the vocals are a mixture of singing, screaming, and rapping. Sicksense features two vocalists who fit well together, and they should since they are married! From a lyrical standpoint, "Kings Today" seems to discuss the societal rifts we all face in today's culture.  Lead vocalist Rob the Ripper explains- "We all have disagreements on politics; it's a bunch of nonsense. We should all be on the same side because we're all human beings. We could get along, but we have these trivial problems in our everyday lives that cause friction." The official music video premiered on YouTube on February 25 and has tens of thousands of views. 
The latest single, "Forgotten Days," was just released on April 1st. This song features a catchy chorus that was stuck in my head all afternoon.  It didn't seem as heavily influenced as "Kings Today" and reminded me a bit of another Canadian band, Sumo Cyco.  Another highlight from "Forgotten Days" was the low and prominent basslines. Definitely worth checking out if you like earworms.  "Make Believe" was released last summer as the band's first single. It starts out with a simple drum beat, killer guitar riff, and brutal vocals. If I didn't know better, I would've sworn it was Fred Durst rapping in the verses.  The inflection is spot on. As I am writing this, I am only three songs into this EP and can tell that these five musicians do not like to conform to a certain formula.  
"Soul Snatcher" features some of my favorite riffs and vocals on the EP.  The guitars hit hard and Killer V's screams seem to be conjured up from the depths of the Abyss.  The song also features an aggressive bridge that is sure to make you move so be careful if you are listening to this while driving.  The final song, "Heart of Stone," is another track that is loaded with Durst-like raps, but contrasts with Killer V's beautiful singing choruses. If you grew up with bands like Limp Bizkit, Crazytown, and Linkin Park, this debut EP by Sicksense is definitely for you!  Even if you're not a big fan of this late 90's style of music and like the heavier side of the genre, the aggressive guitar riffs and demonic screams will still be enough to appreciate.  "Kings Today" delivers a side of metal that's been missing for decades.