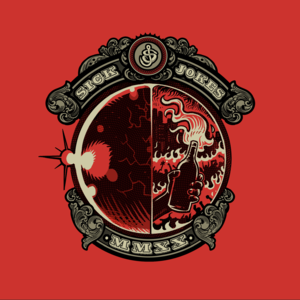 SICK JOKES
Releases Debut MMXX (2020) Today
Via Industrial Label COP International
Nine-Track EP Features John Fryer (Black Needle Noise)
Pop-Industrial-Metal Act Features Cohort Of Contributors Spanning The Globe, From Detroit, Los Angeles And Austin
To Normandy, France For An Entirely Virtual Collaboration
Digital Copies Are On Sale
HERE
The world is on fire, but nobody ever said the apocalypse shouldn't be fun! Or have a great soundtrack. Which is precisely where Sick Jokes comes in with their appropriately titled debut EP MMXX (2020 in Roman Numerals, naturally) out today via industrial label COP International fueled with all the aggression, rage and mania that have become the hallmarks of this year.
"The vision was to write some good, heavy industrial music again. It's been a while. The times seem to need it," says Michael Madill, guitarist/lyricist/sound designer behind the pop-industrial metal act, who co-produced the album with keyboardist Robert McCarroll. "Society in 2020 is full of anxiety and unease, and that makes us want to write anxious, uneasy music."
Heavy, brooding, at times even a bit uplifting, the nine-track MMXX (four original songs, five remixes) is the collaborative effort of a band of old cohorts spanning the globe with Madill stationed in Normandy, France and keyboardist Robert McCarroll, drummer Kenny Wilson and dual vocalists Sean Haezebrouck and Plasmic spread out between Los Angeles, Detroit and Austin.
Madill, McCarroll, Haezebrouck and Wilson spent their formative days in a handful of industrial bands local to Detroit in the first half of the '90s (HAL, Noc Barrage, Batterie Acid), and found the zeitgeist of 2020 to be the spark to create some new material in the genre—this time around, joined by colorful L.A.-based singer Plasmic, a prolific producer in her own right.
The new material caught the ear of legendary producer John Fryer, whose Black Needle Noise project featured Haezebrouck on drums for a series of live shows in 2019. With the help of Fryer, the newly minted Sick Jokes was signed to COP International and was able to hone in on four original songs and five additional remixes (one by Fryer himself).
Says COP International founder Christian Petke, "John [Fryer] called me up and said, 'You have got to check these guys out. I really think we should have them on the label.' I was sold after the first 8 measures. The guys gave Plasmic a solid 1990 cyberpunk backbone, but her energy and attitude pushed it squarely into the 21st century. We have been waiting for angry music!"
MMXX represents an entirely virtual collaboration, recorded individually by each member in their own studios. The record was then edited by Madill in Normandy and mixed by Tony Hamera in Detroit. Along with John Fryer, remixes are by Scott Wexton (The Voodoo Organist), Kirill Slavin Slavin (EXT EST), Mike Propst (Various Reasons) and Justin Mysza, another alumnus of HAL. MMXX serves as both a time capsule of life in 2020, and as a salute to the genre.
The EP is now available for purchase in digital formats
HERE
.
MMXX track listing:
01 The Barely Care Czar
02 Pop Goes The Vessel
03 Ruled By Liars
04 One Or The Other
05 Pop Goes The Vessel (John Fryer)
06 Ruled By Liars (EXT EST)
07 One Or The Other (Various Reasons)
08 The Barely Care Czar (Voodoo Organist)
09 Ruled By Liars (Justin Mysza)
Sick Jokes is…
Plasmic: Vocals
Sean Haezebrouck: Vocals
Michael Madill: Guitars, Keyboards
Robert McCarroll: Keyboards, Rhythms
Kenny Wilson: Drums