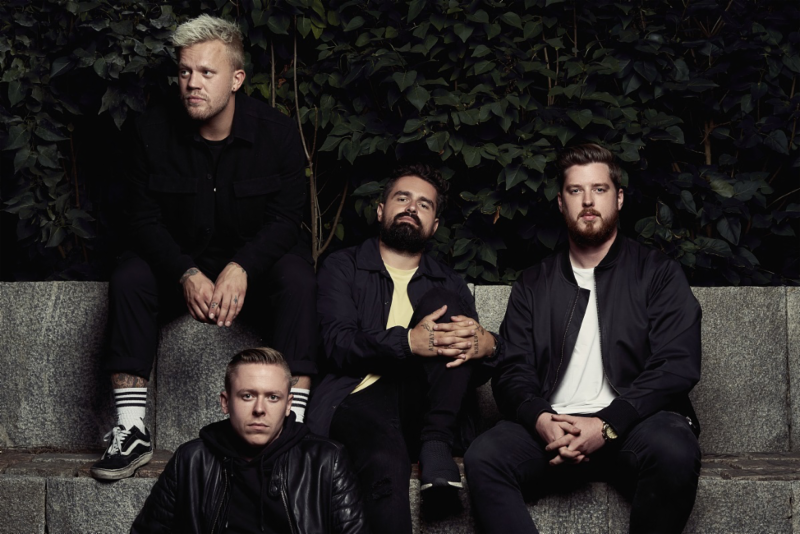 | | |
| --- | --- |
| New Studio Album Coming May 24th, 2019! | |
The award winning Danish Pop-Metal band Siamese share their new single and title track of the upcoming album "Super Human" along with a music video. It's the third new track taken from the album "Super Human" which will be released on May 24th, 2019. For the single Siamese joined forces with Danish R&B newcomer Olivio who sings the verses.
Watch the video for "Super Human (feat. Olivio)" here:
The new album "Super Human" is available for pre-order here:
Siamese singer Mirza Radonjica-Bang about "Super Human":
"The title track – It's a more personal one for me. It's about realizing that you are normal. No matter what you do. And that's fair man. I am privileged and get to travel, play music and do what I love, but to say that triviality will not prevail, by the end of the day is a lie. Opening up about being normal and that stardom is much more an illusion than a dream is the message here. Finally a massive shout out to our friend Olivio COMPLETELY nails those verses. Migos and Drake can sit down now."
SIAMESE LIVE
25.05. DK, Copenhagen – Hotel Cecil
02.07. UK, London – O2 Academy 2
03.07. UK, Bristol – The Crofters Rights
04.07. UK, Manchester – Satan's Hollow
05.07. UK, Newark – UK Tech-Fest
08.07. IT, Milan – Dissonance Festival
09.07. DE, Munich – Backstage Club
10.07. DE, Mainz – Schon Schön
11.07. DE, Berlin – Cassiopeia
12.07. DE, Hamburg – Astra Stube
/w Dead Letter Circus, Daze of June
13.09. DK, Copenhagen – Beta
14.09. DE, Hamburg – Headcrash
15.09. DE, Berlin – Cassiopeia
17.09. PL, Warsaw – Hydrozagadka
18.09. CZ, Prague – Futurum
19.09. AT, Wien – Viper Room
20.09. DE, Munich – Backstage Club
21.09. DE, Ludwigsburg – Scala
22.09. IT, Milan – Legend Club
23.09. CH, Baden – Werk Kulturlokal
25.09. DE, Frankfurt – Das Bett
27.09. DE, Cologne – Euroblast Festival
28.09. NL, Haarlem – Patronaat
29.09. UK, London – New Cross Inn
02.10. FI, Helsinki – On The Rocks
03.10. FI, Tampere – Lost In Music
07.12. DK, Randers – Von Hatten
10.01. DK, Odense – Posten
17.01. DK, Sønderborg – Sønderborghus
18.01. DK, Aarhus – Atlas
"Super Human" Tracklist:
1 B.A.N.A.N.A.S
2 Ocean Bed
3 Super Human feat. Olivio
4 Animals
5 You're Not Alone
6 Give Me Up
7 Party Monster
8 Unified
9 Not Coming Home
Siamese' new album "Super Human" is the successor of the latest
LP "Shameless" which flawlessly mixed R'n'B and metalcore and was widely acclaimed by the media. "Shameless" made the band known outside the borders of Denmark, catapulted them to more than 8 million streams and let them play sold out shows in Japan, UK and Germany.
With "Super Human" the band is continuing where they stopped with "Shameless", showcasing their trademark choruses, no nonsense compositions and the cheekiness to make Siamese every elitists guilty pleasure. For fans of the band the new material will hit home but with heavier edges. "Super Human" is self-produced as all outputs before and mastered by Chris Kreutzfeldt (Cabal, MØL, Ghost Iris).
Line-Up:
Mirza Radonjica-Bang – Vocals
Andreas Kruger – Guitar
Christian Lauritzen – Guitar, Violin
Joakim Stilling – Drums
For More Info Visit: